Melanie Beale
Tulsa Tough June 9-11, 2017
LA-Sweat
Day 1: Criterium: 57th (teammates Kim Lucie and Tiffany Pezullo took 9th and 20th)
Day 2: Criterium: 45th (teammates Kim Lucie and Christa Ghent took 10th and 27th)
Day 3: Criterium: 29th (teammate Anna Grace Christensen and Kim Lucie took 8th and 11th)
Cry Baby Hill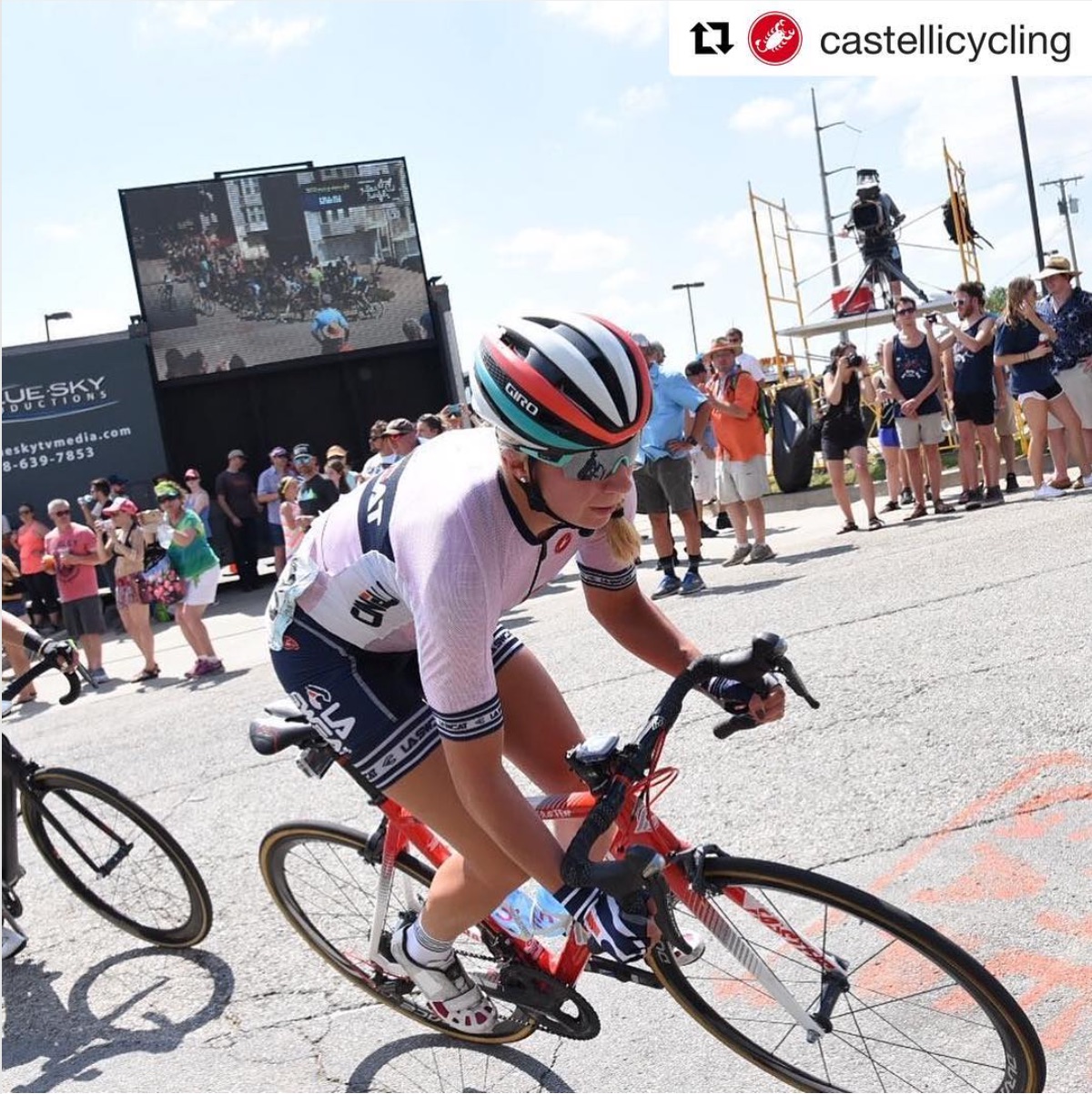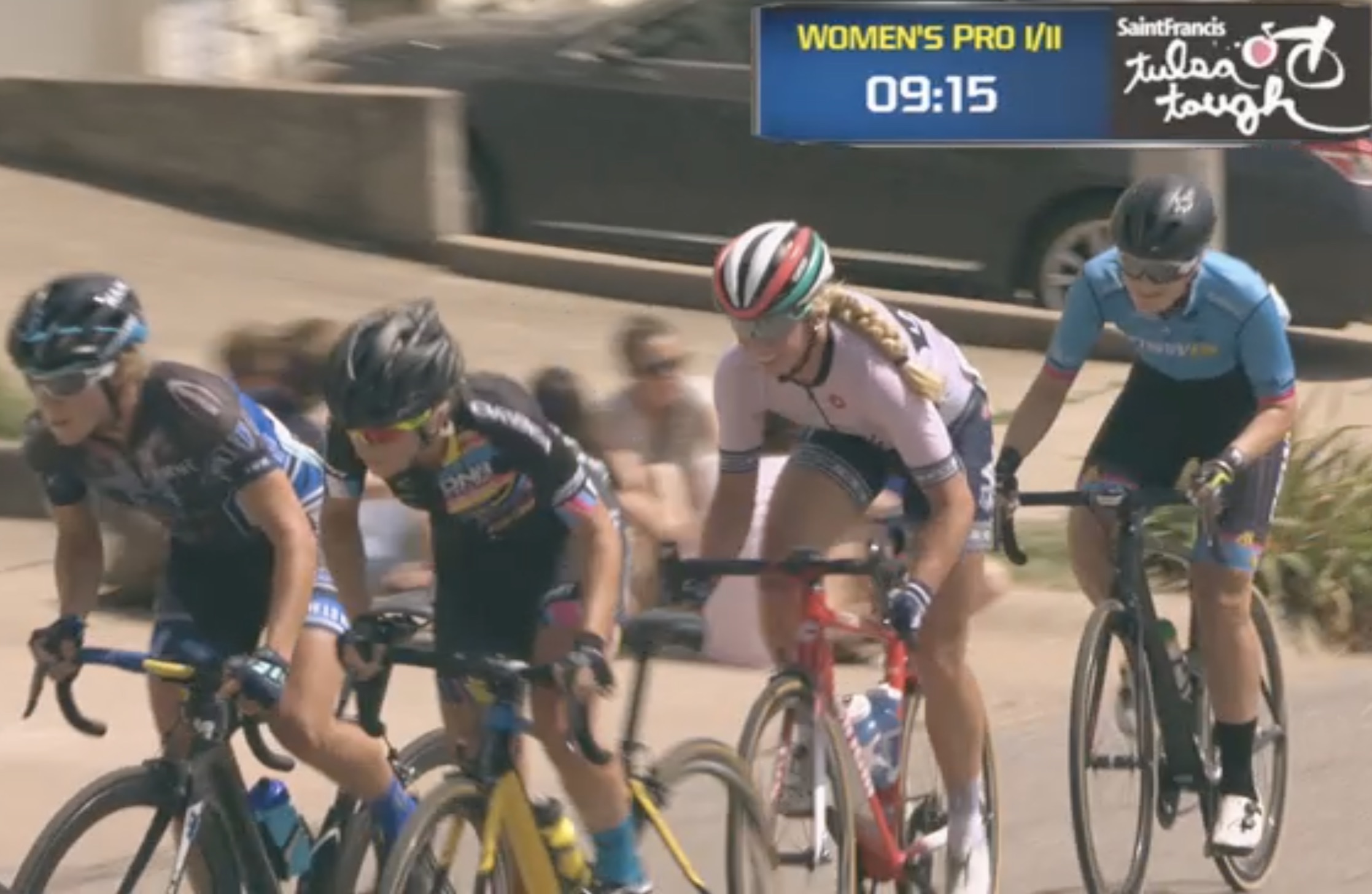 Oklahoma City Pro-Am Classic June 2-4, 2017
LA-Sweat
Day 1: Criterium: 11th (teammate Kim Lucie took 3rd)
Day 2: Criterium: 17th (teammates Christa Ghent and Kim Lucie took 5th and 6th)
Day 3: Criterium: 10th (teammate Kim Lucie took 4th)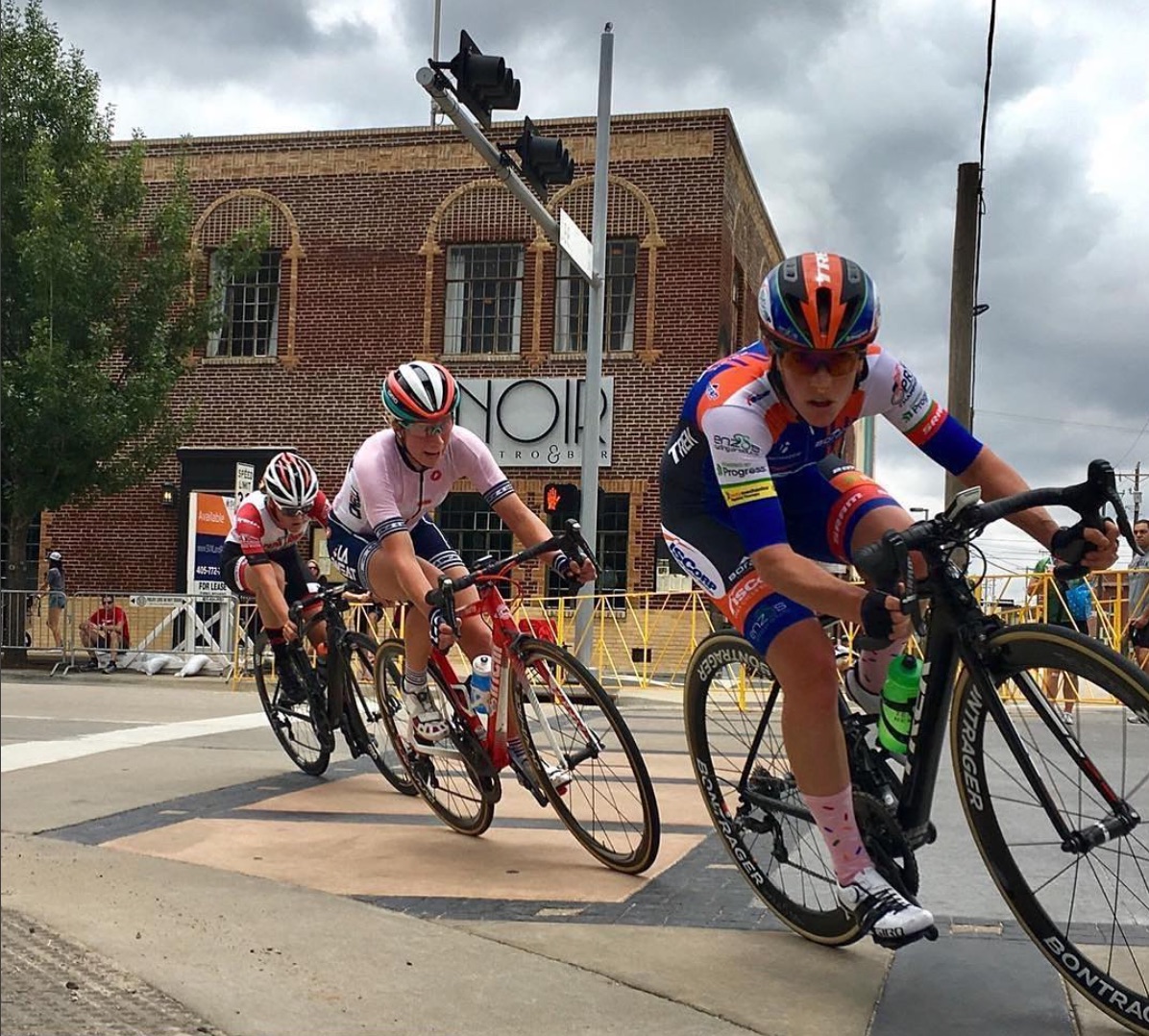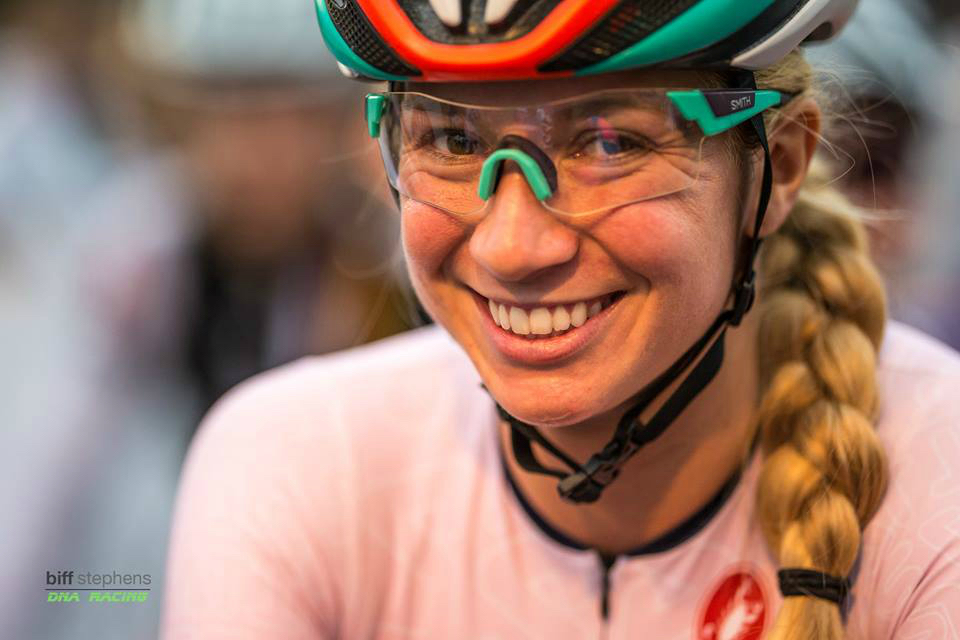 Speed Week April 22-30, 2017
LA-Sweat
Rock Hill Criterium: Rock Hill, SC: 38th (teammate Kim Lucie took 6th)
Caromont Health Criterium: Belmont, NC: 7th (Kim 3rd, and Mel was 2nd in the field sprint)
Downtown Walterboro Criterium, Walterboro, SC: 14th (Kim 7th)
Spartanburg Regional Healthcare System Criterium: Spartanburg, SC:
Athens Orthopedic Clinic Twilight Criterium, Athens, GA: 14th (Kim 12th)
Hennessy Historic Roswell Criterium: Roswell, GA: 13th (Kim 4th)
LA-Sweat: Third in GC at Speedweek!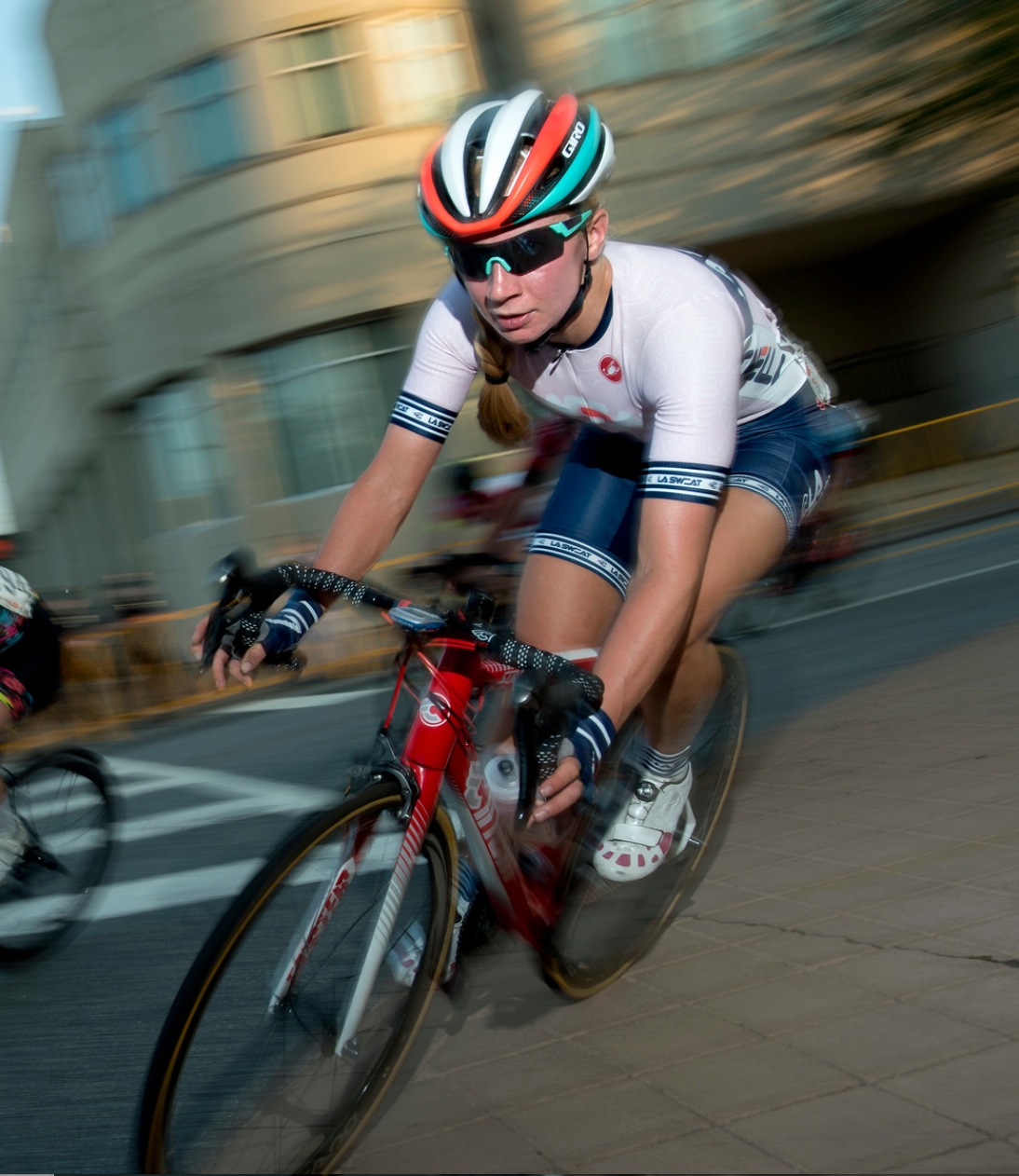 Athens Twilight Criterium www.shaneorrphotography.com/2017-Speed-Week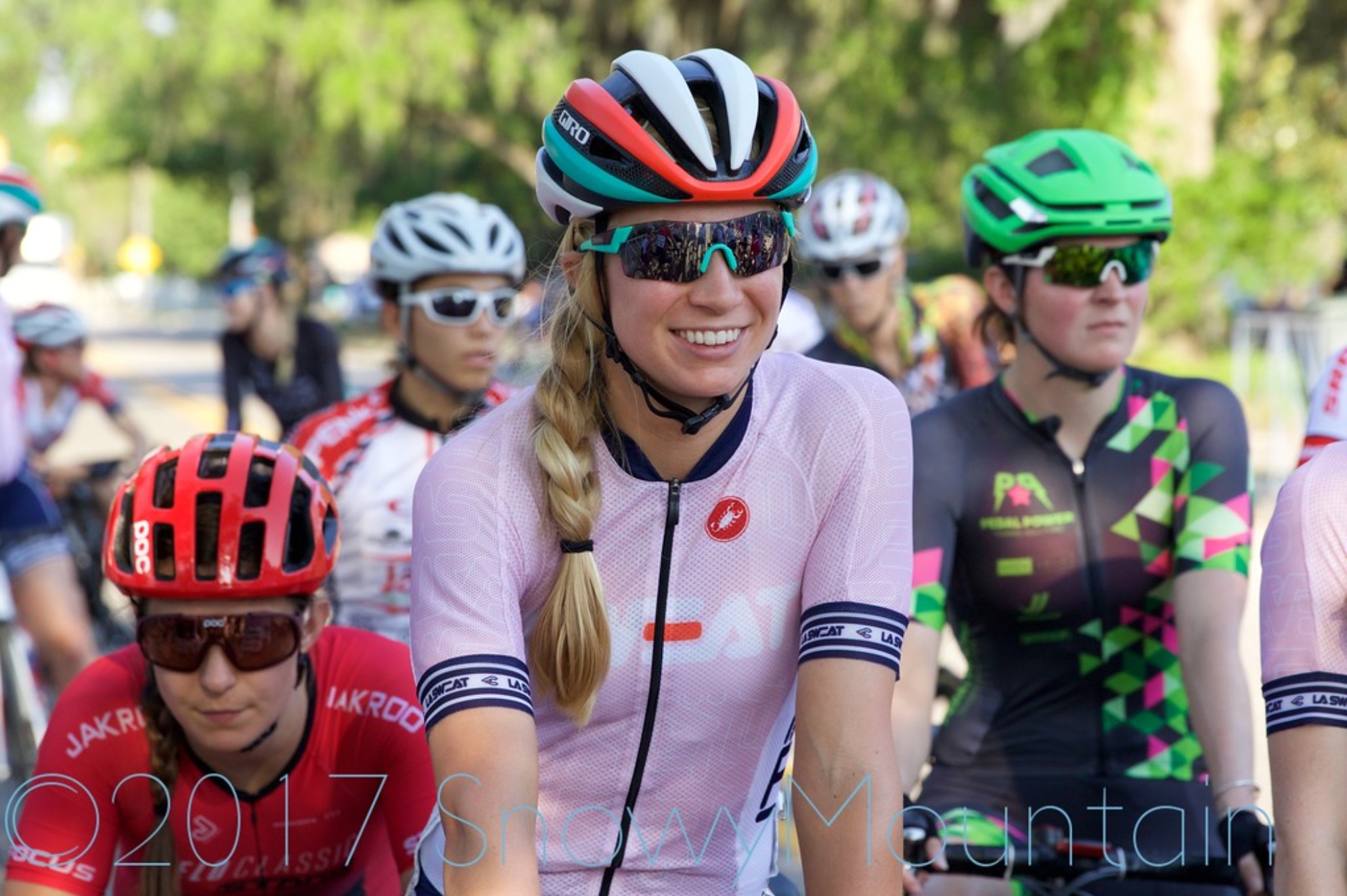 Mel on the startline at Walterboro.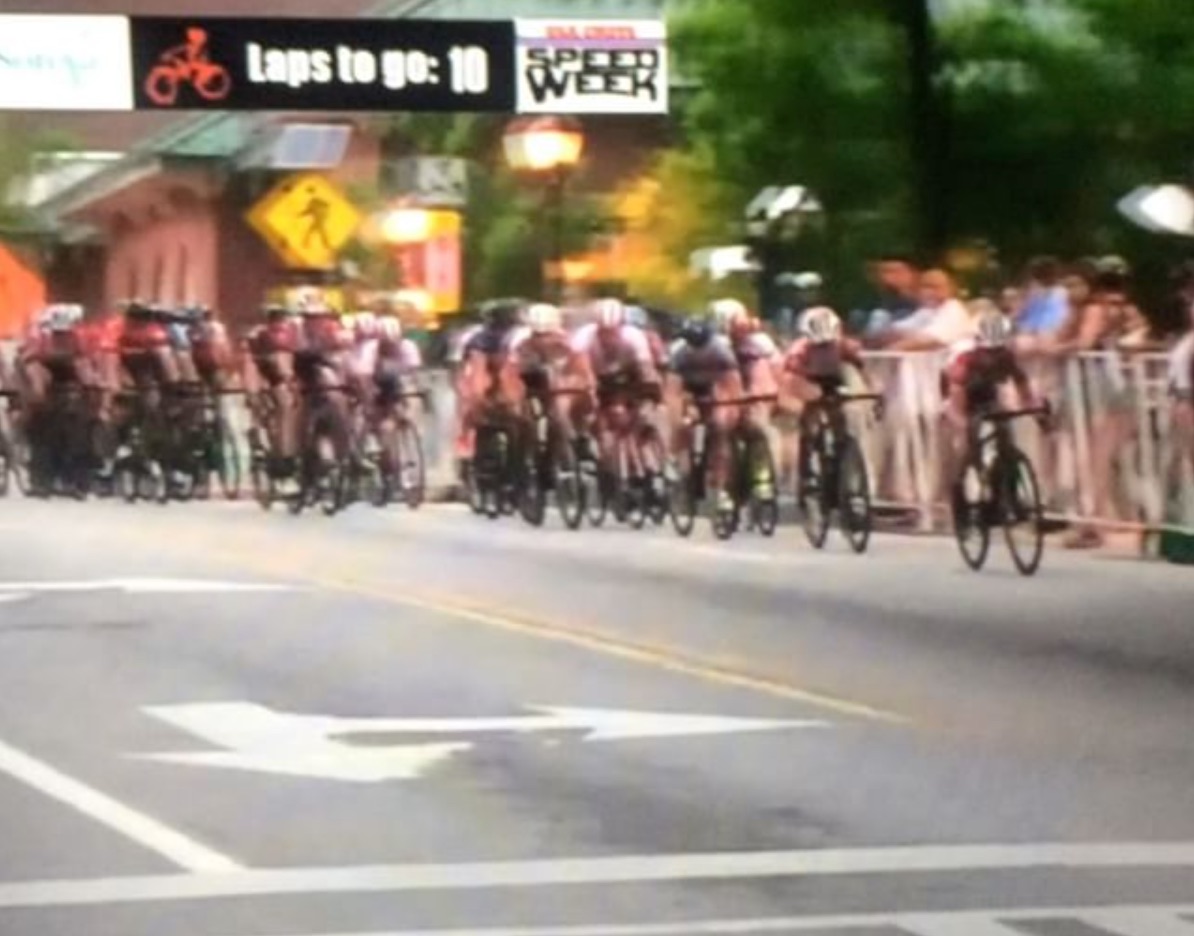 Athens live feed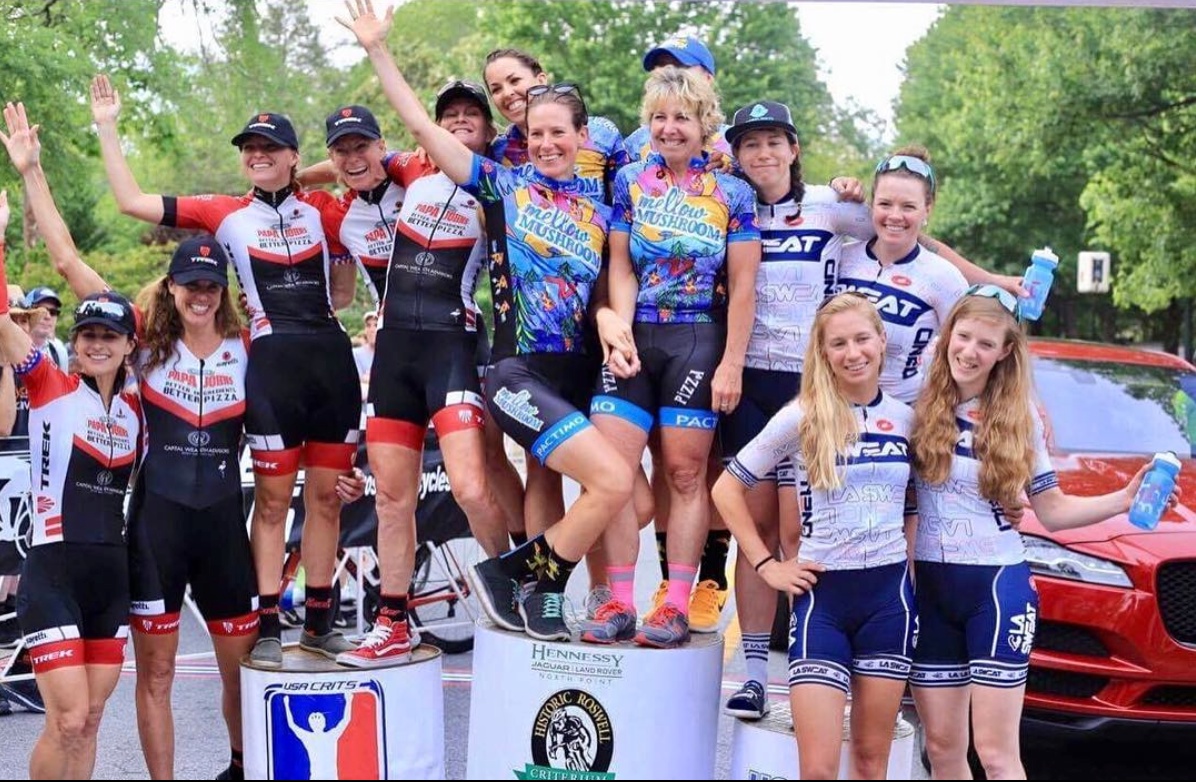 LA-Sweat 3rd in GC at Speedweek!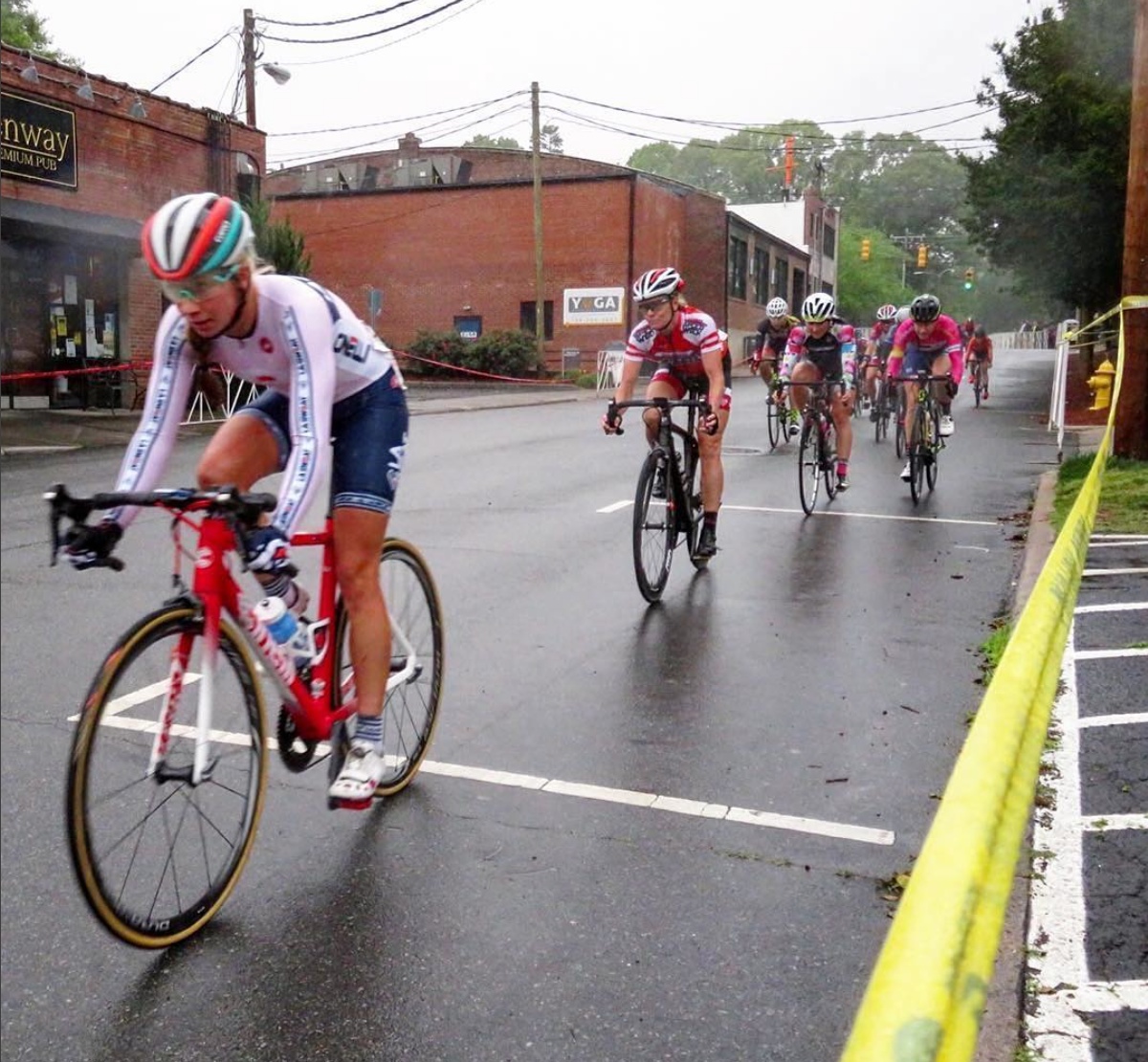 Mel on the lead in front of Tina Pic at Belmont.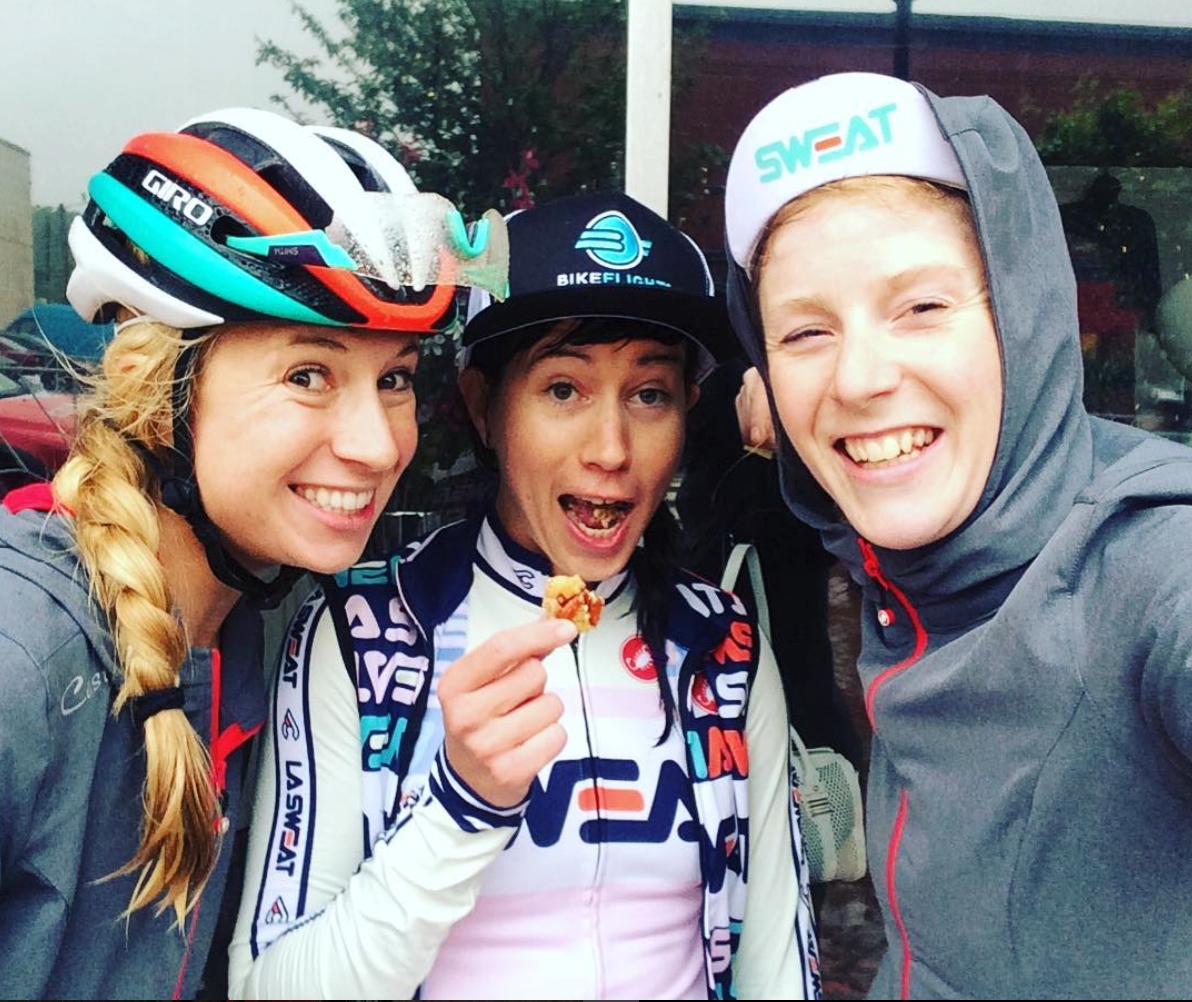 Mel, Kim, and Brenna all in the money at Belmont.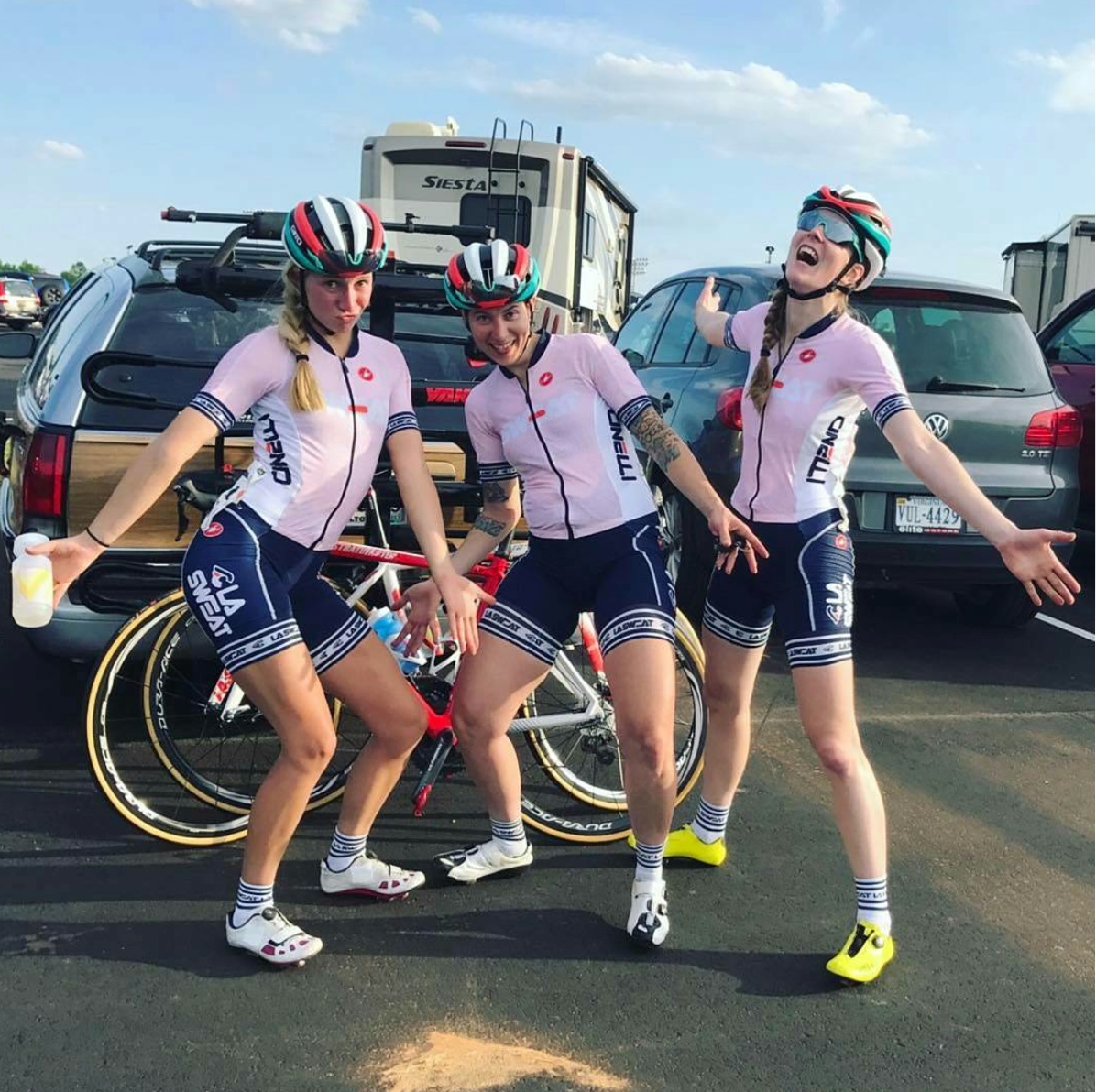 LA-Sweat Speed Week Team: Melanie Beale, Kim Lucie, and Brenna Wrye-Simpson
with The Wagon. Griswolds all the way, baby!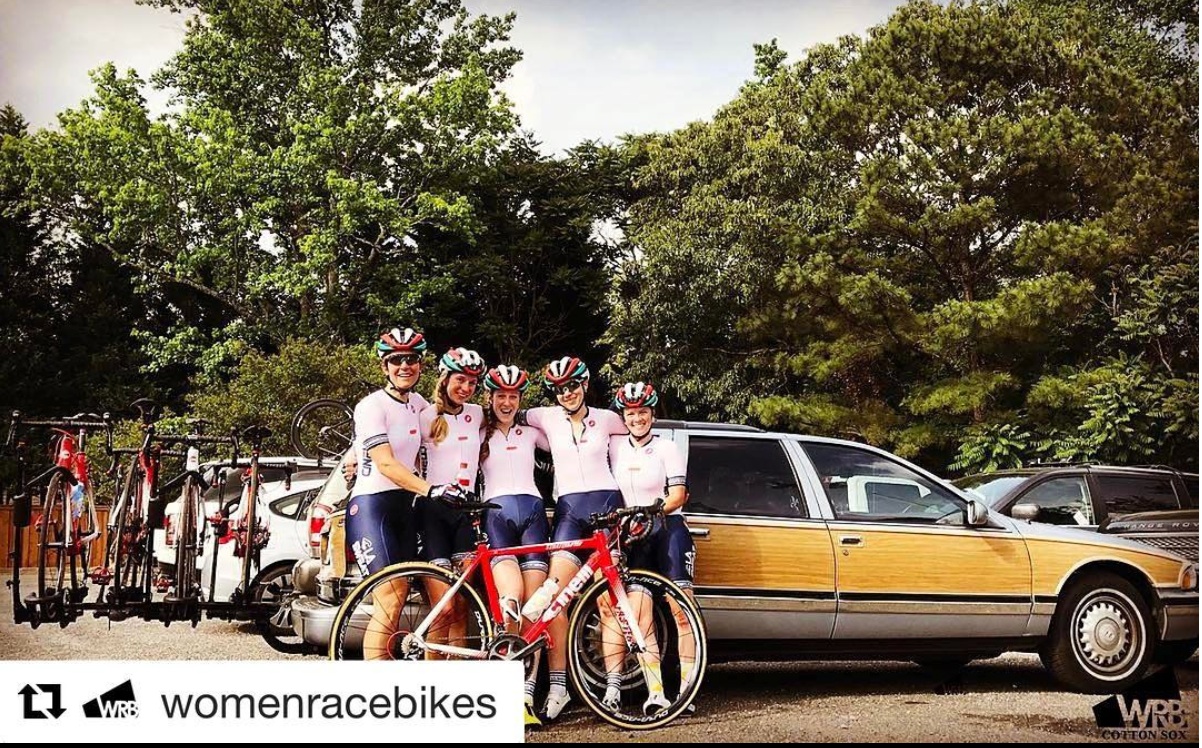 Cinelli Instagram Ad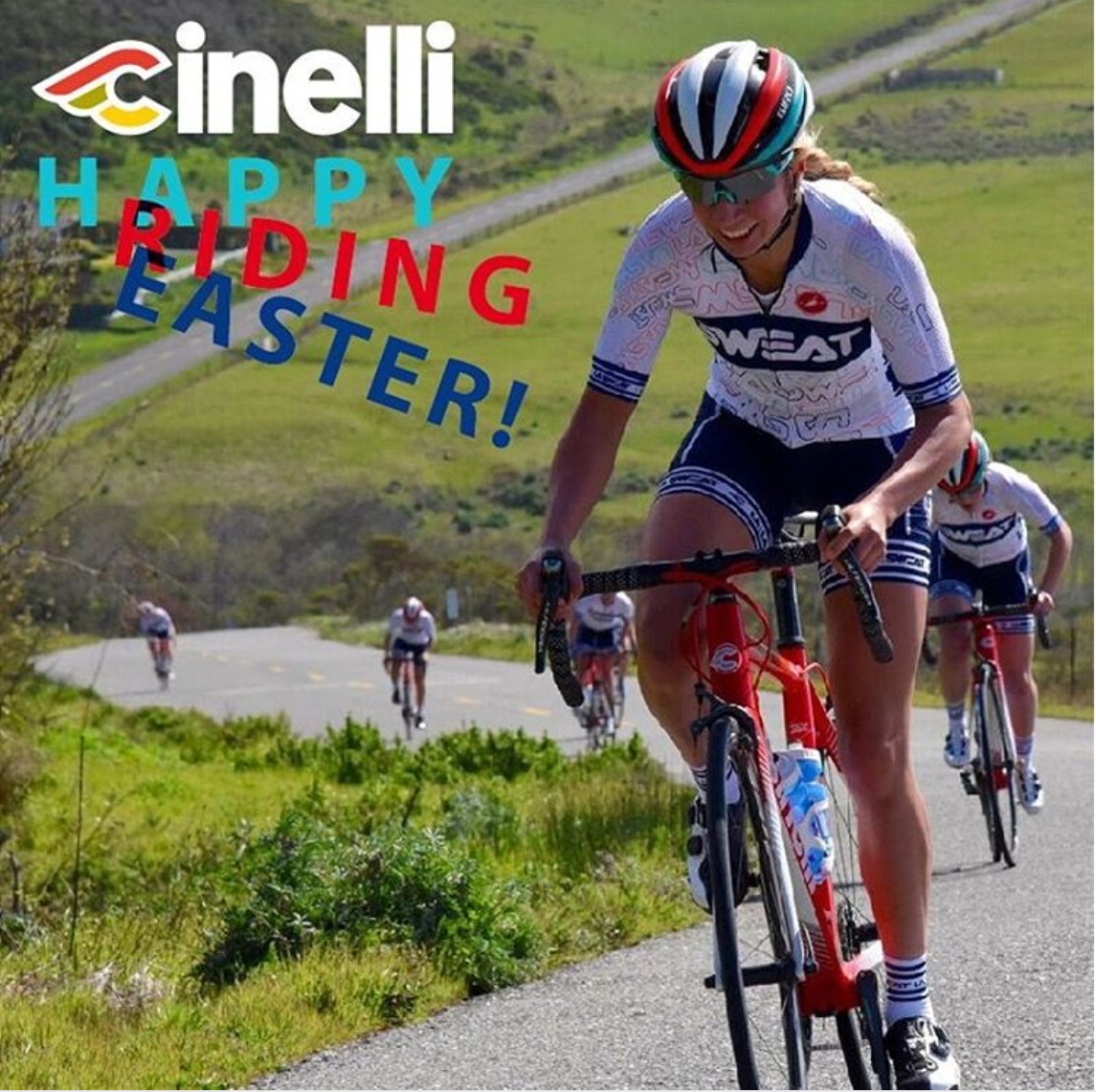 Castelli video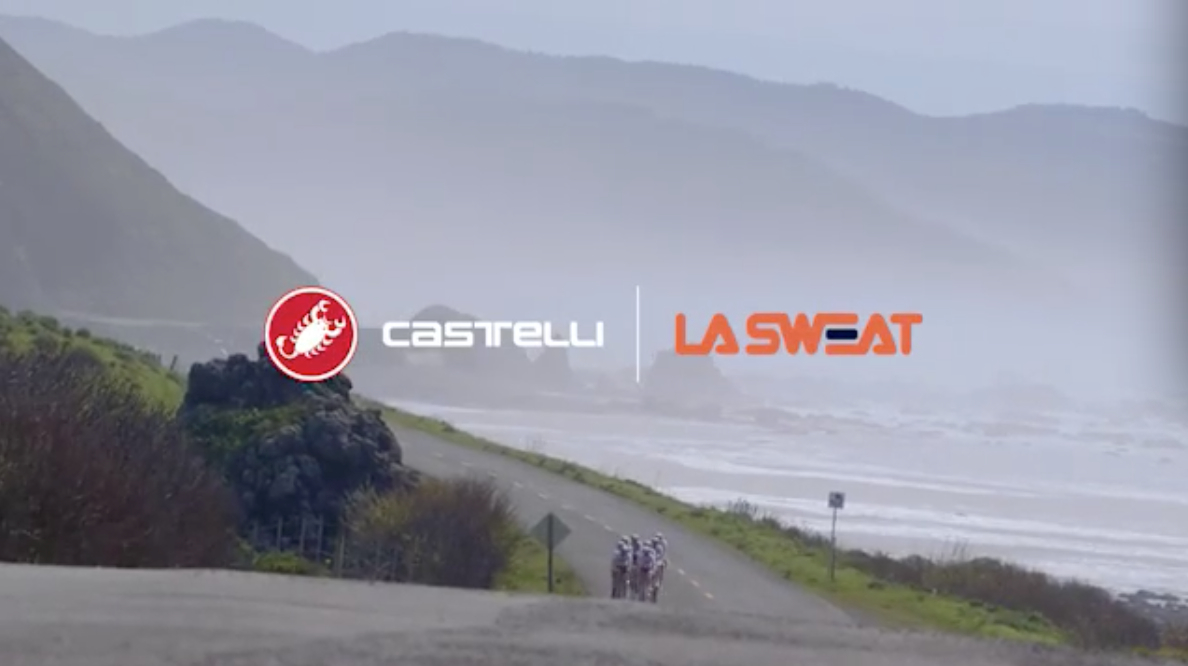 Arizona State Criterium Championships, Yuma, AZ, March 25, 2017
LA-Sweat
State Championship Pro-1-2-3 Criterium: 1st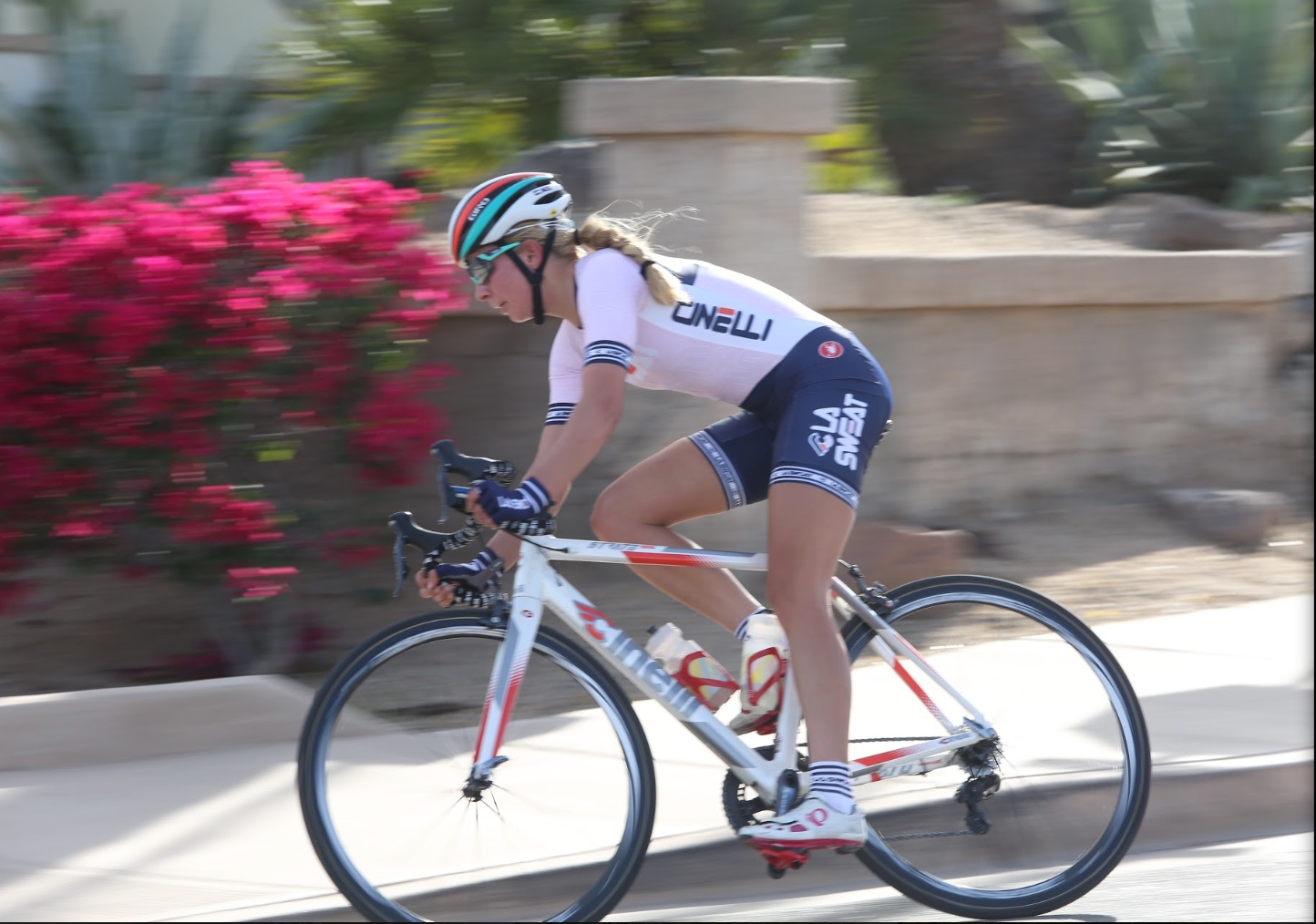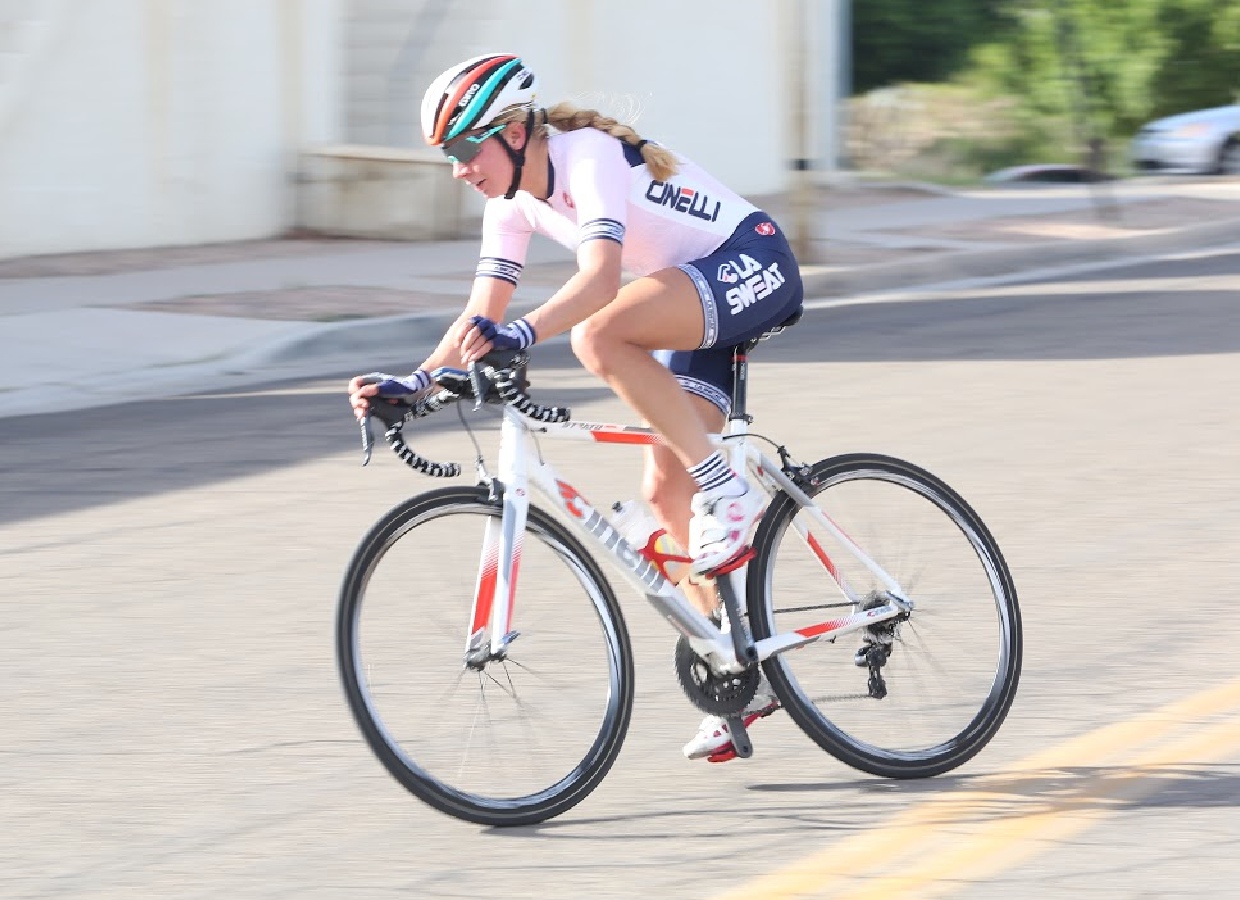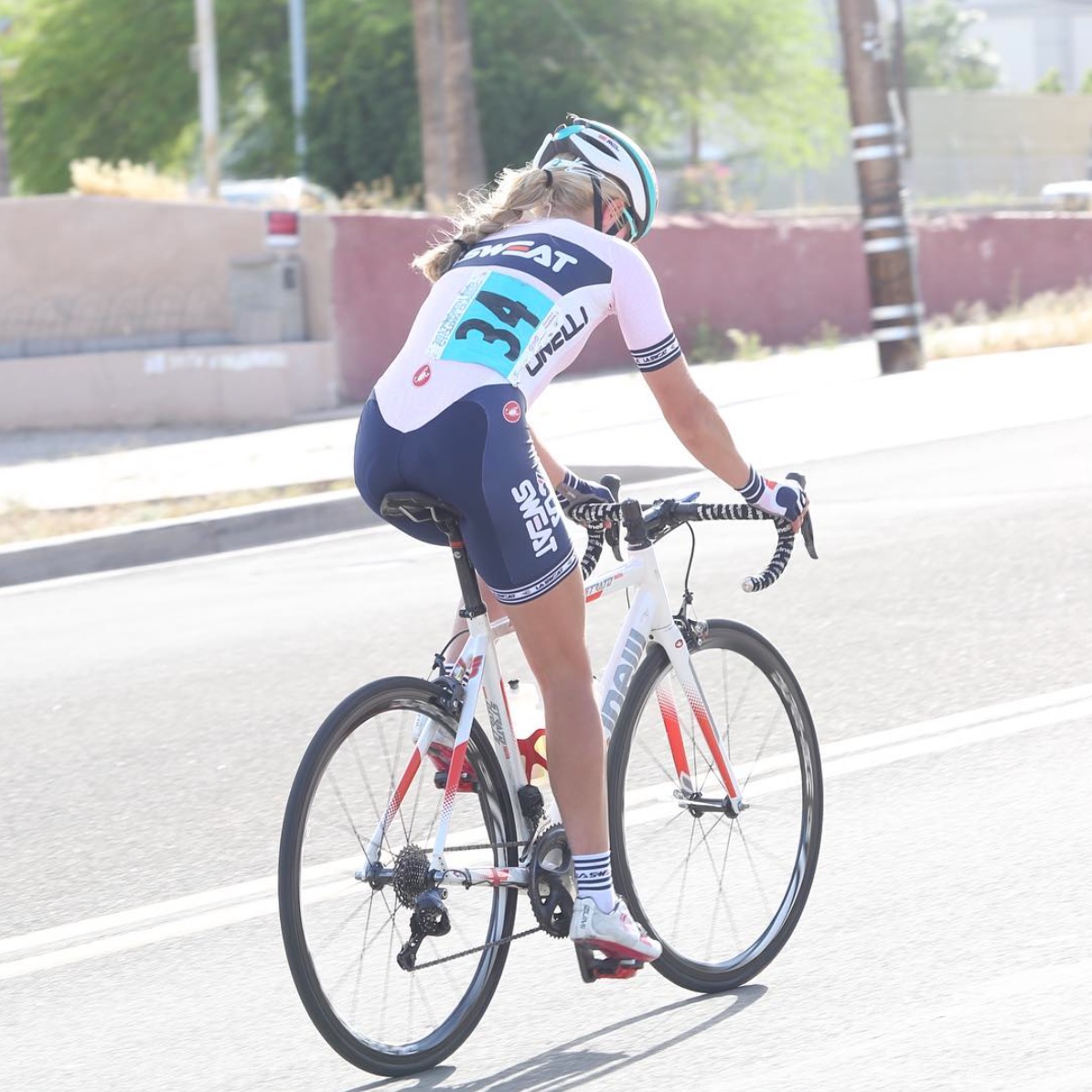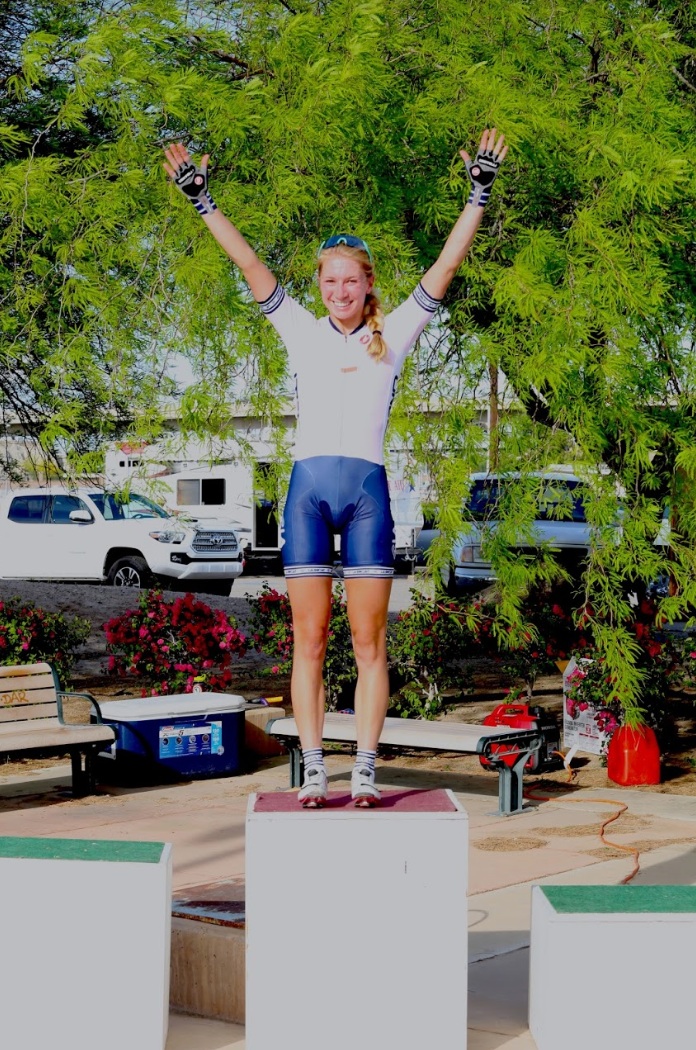 Tucson Bicycle Classic, Tucson, AZ, March 17-19, 2017
LA-Sweat
Time Trial: 20th
Road Race: 20th
Circuit Race: 9th
GC: 16th

Valley of the Sun Stage Race, Phoenix, AZ, February 17-19, 2017
LA-Sweat
Time Trial: 41st
Road Race: 27th
Criterium: 13th
GC: 30th

LA-Sweat Team Camp 2017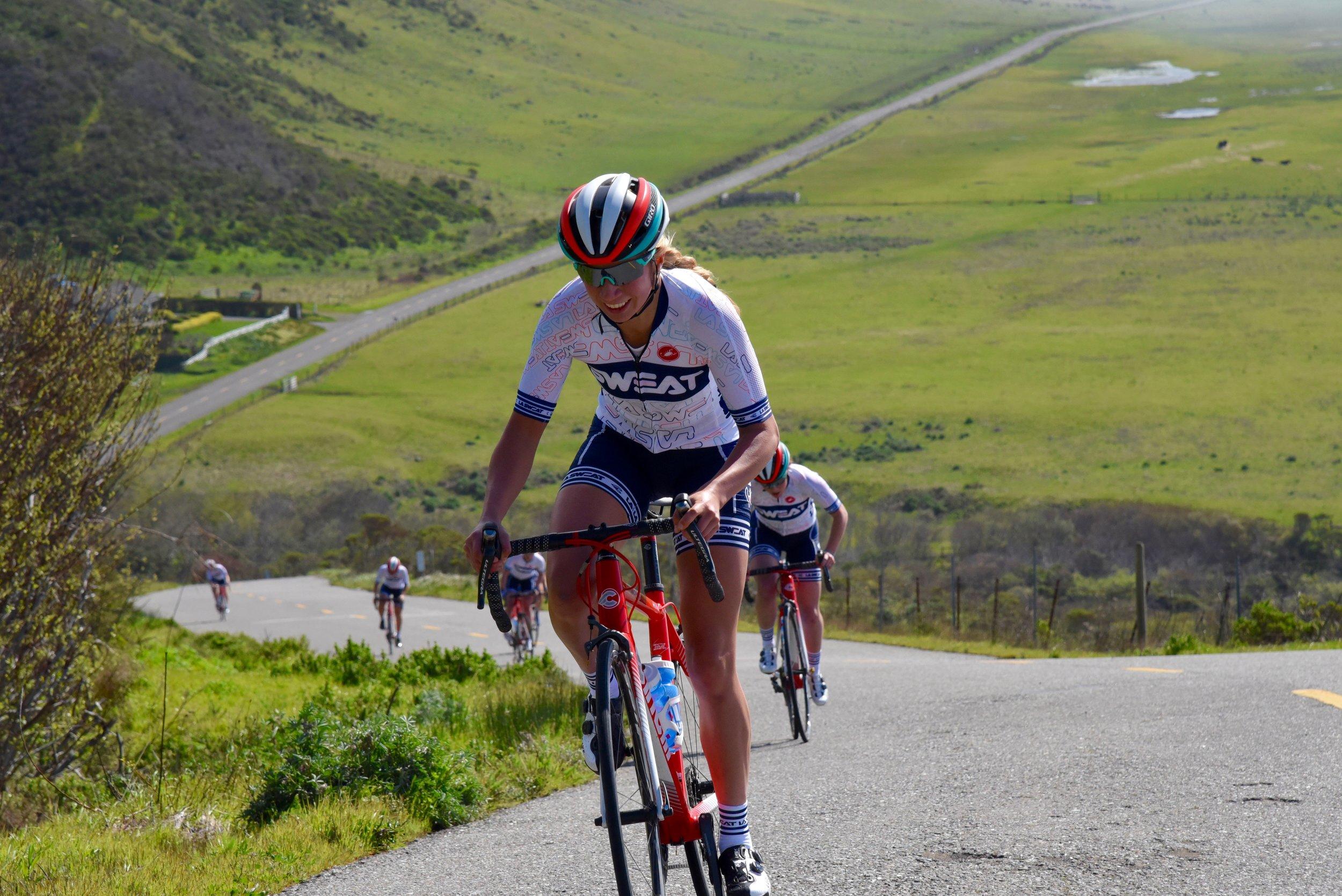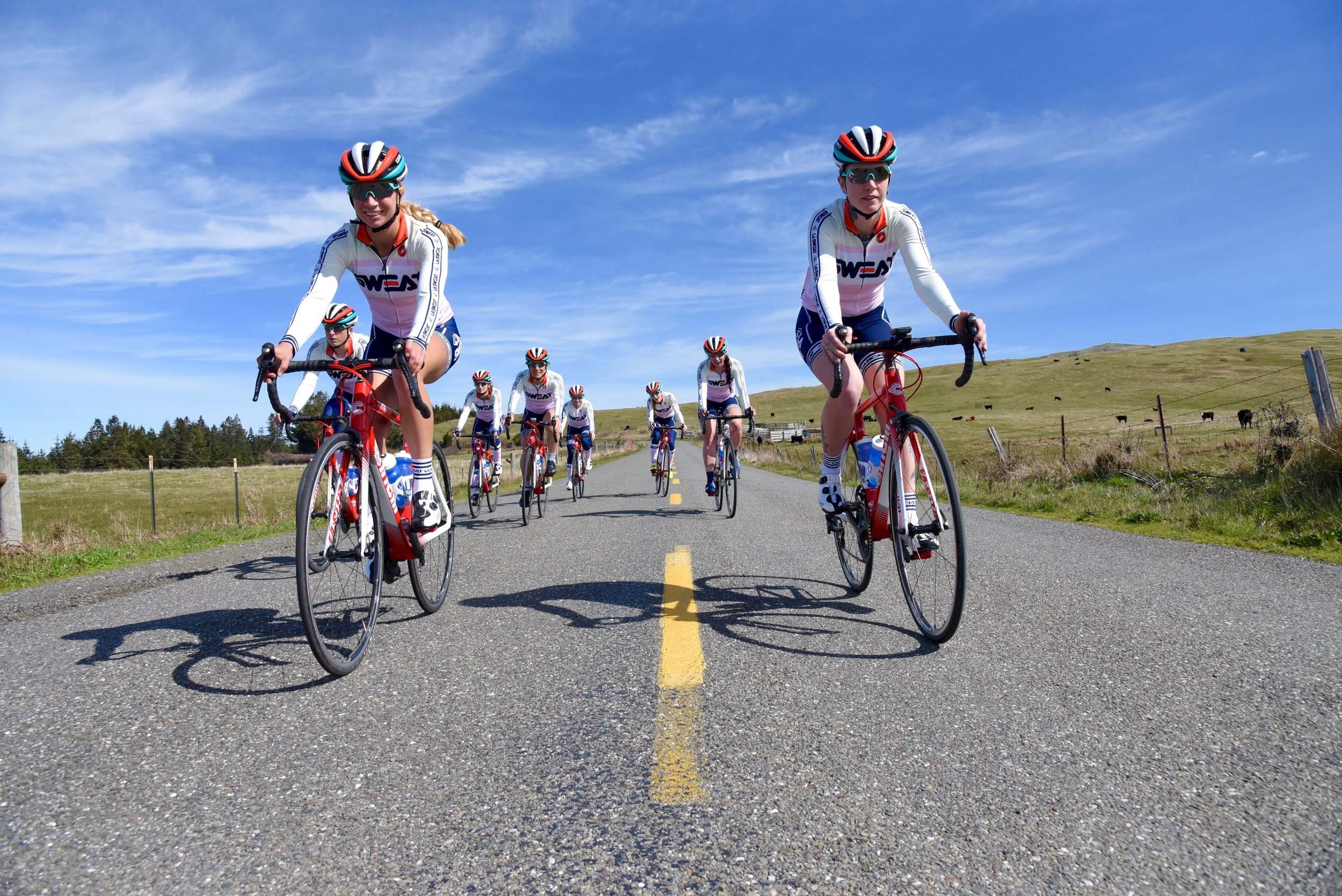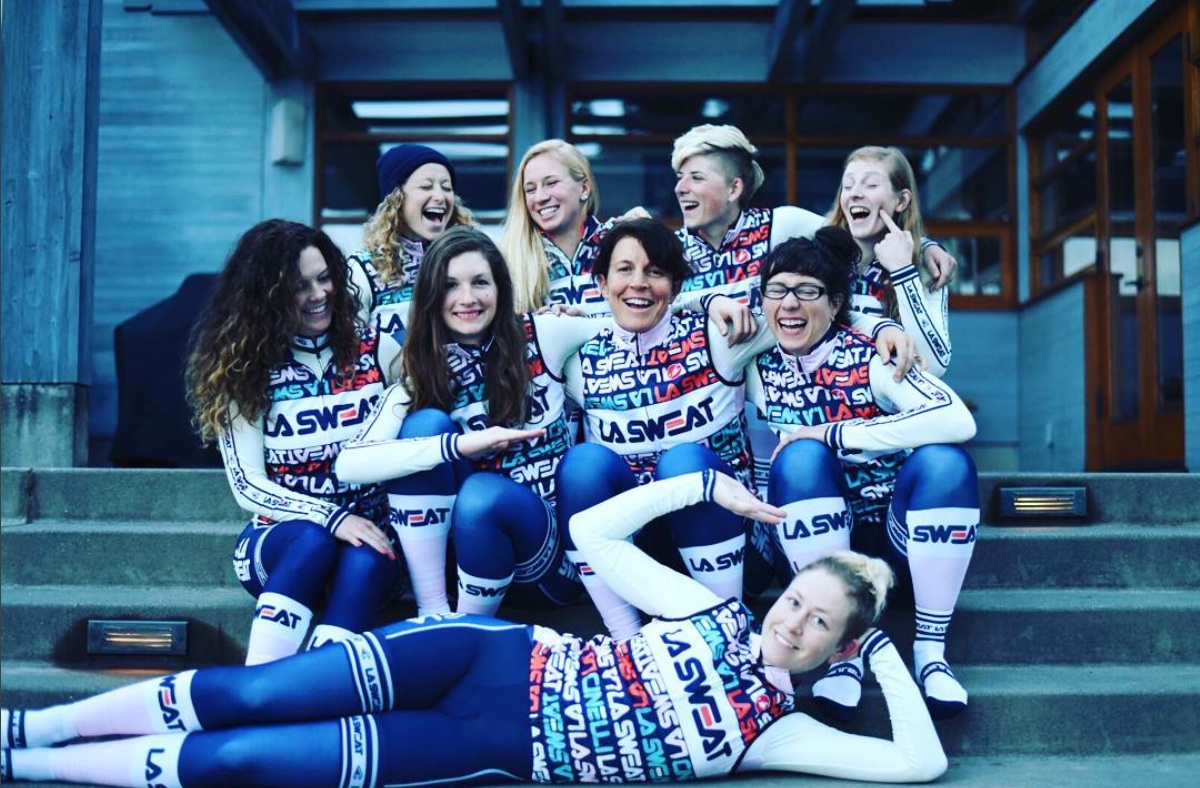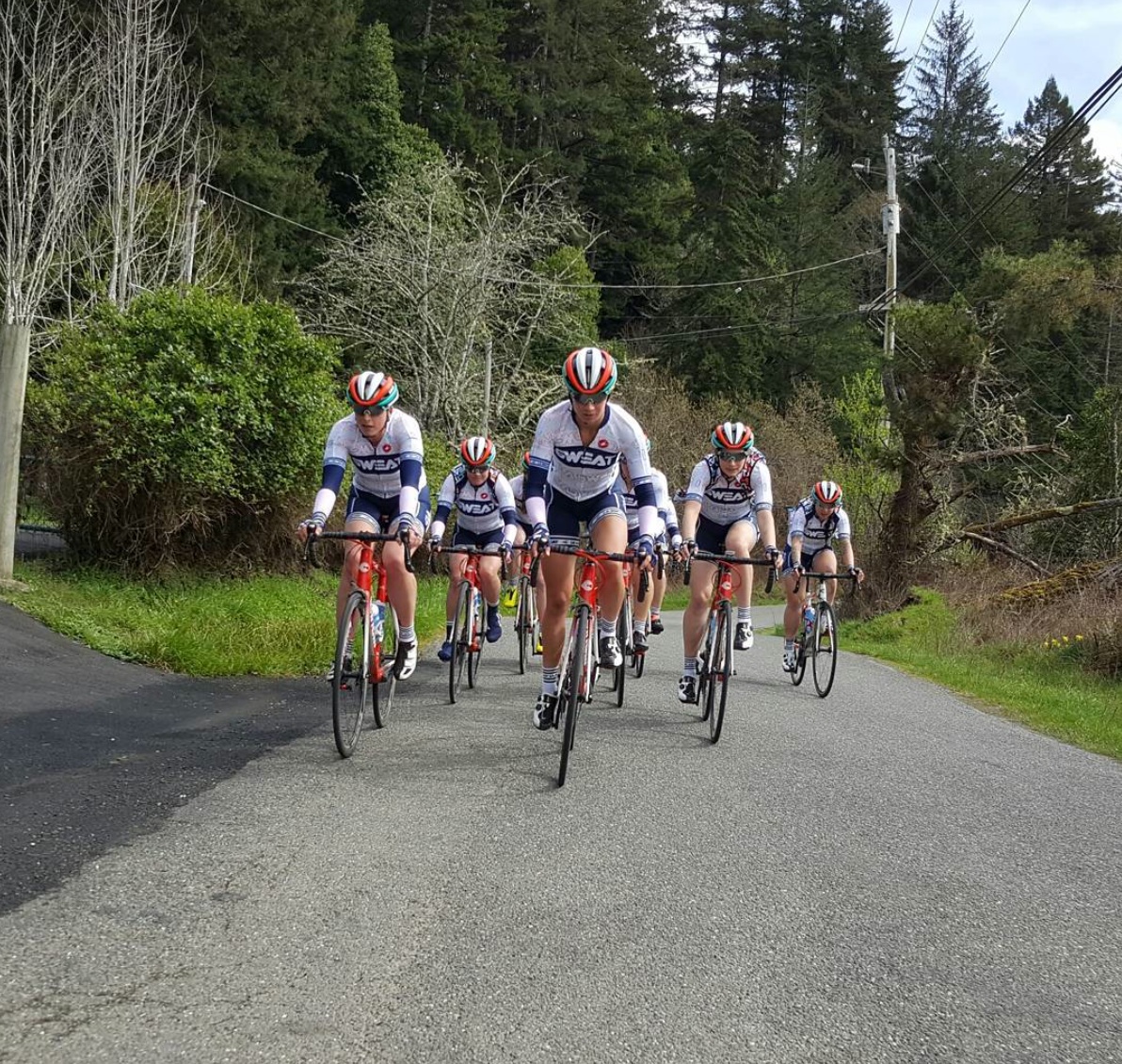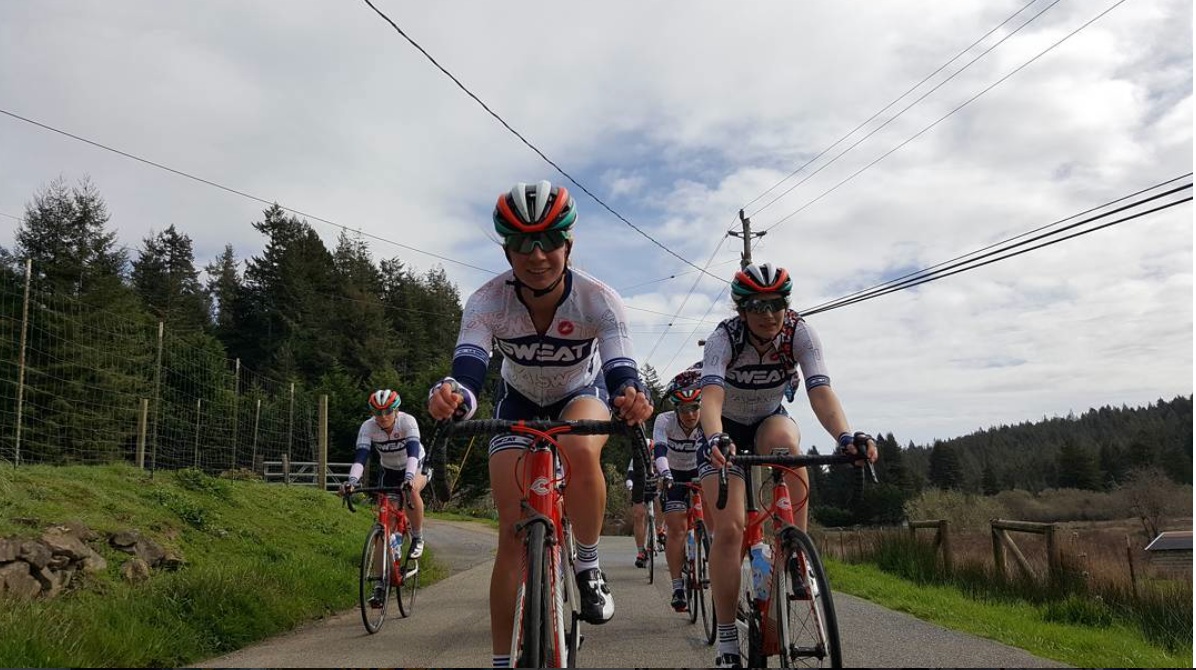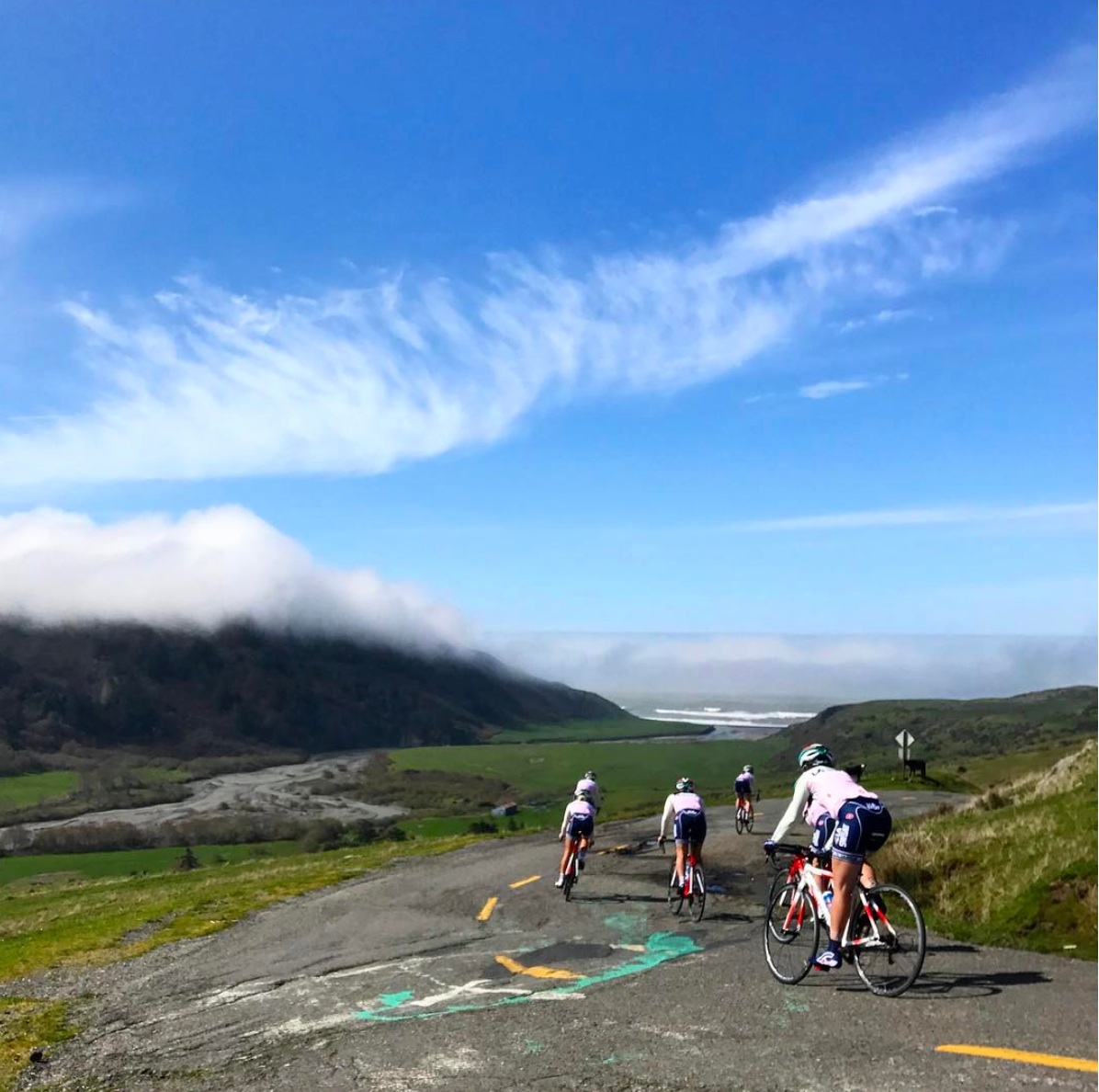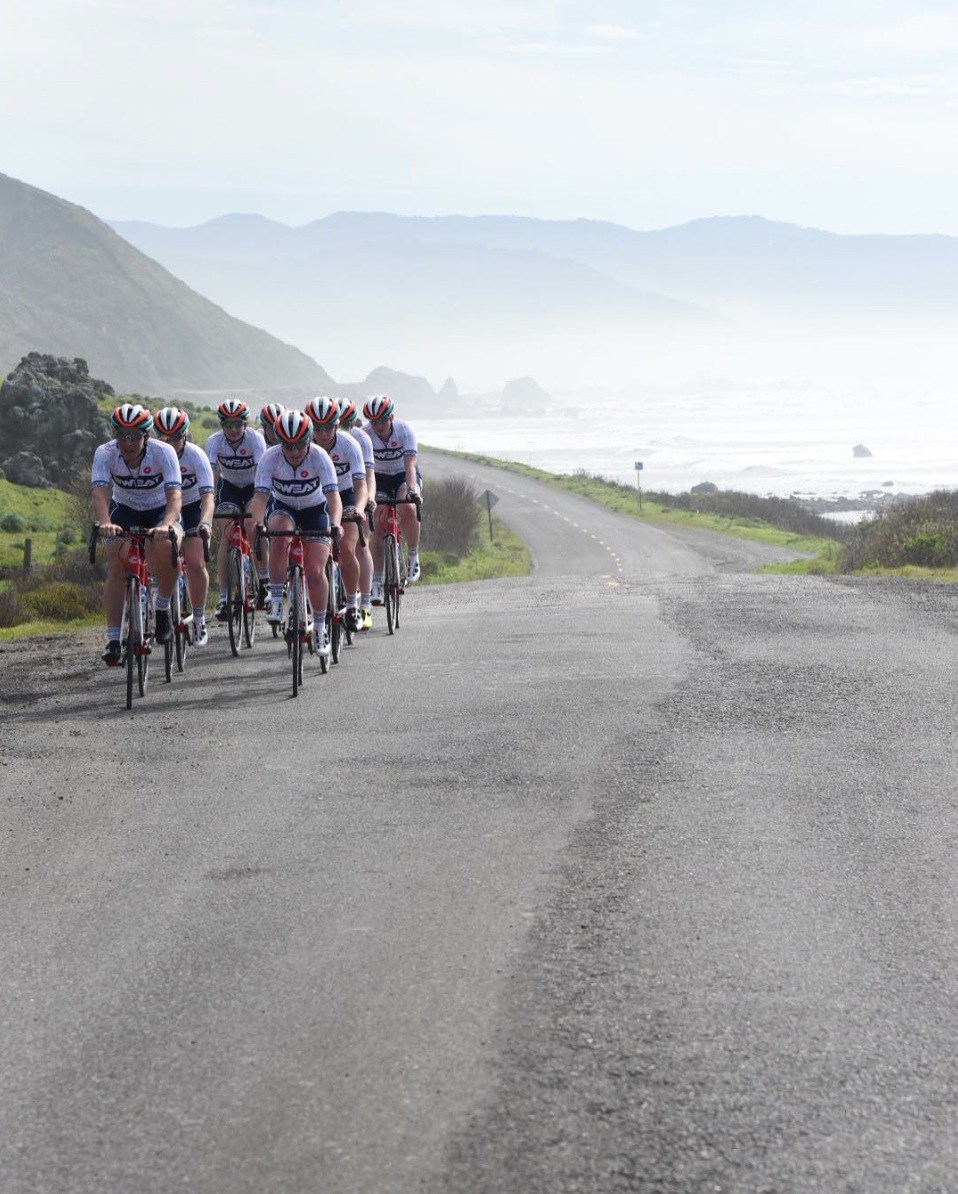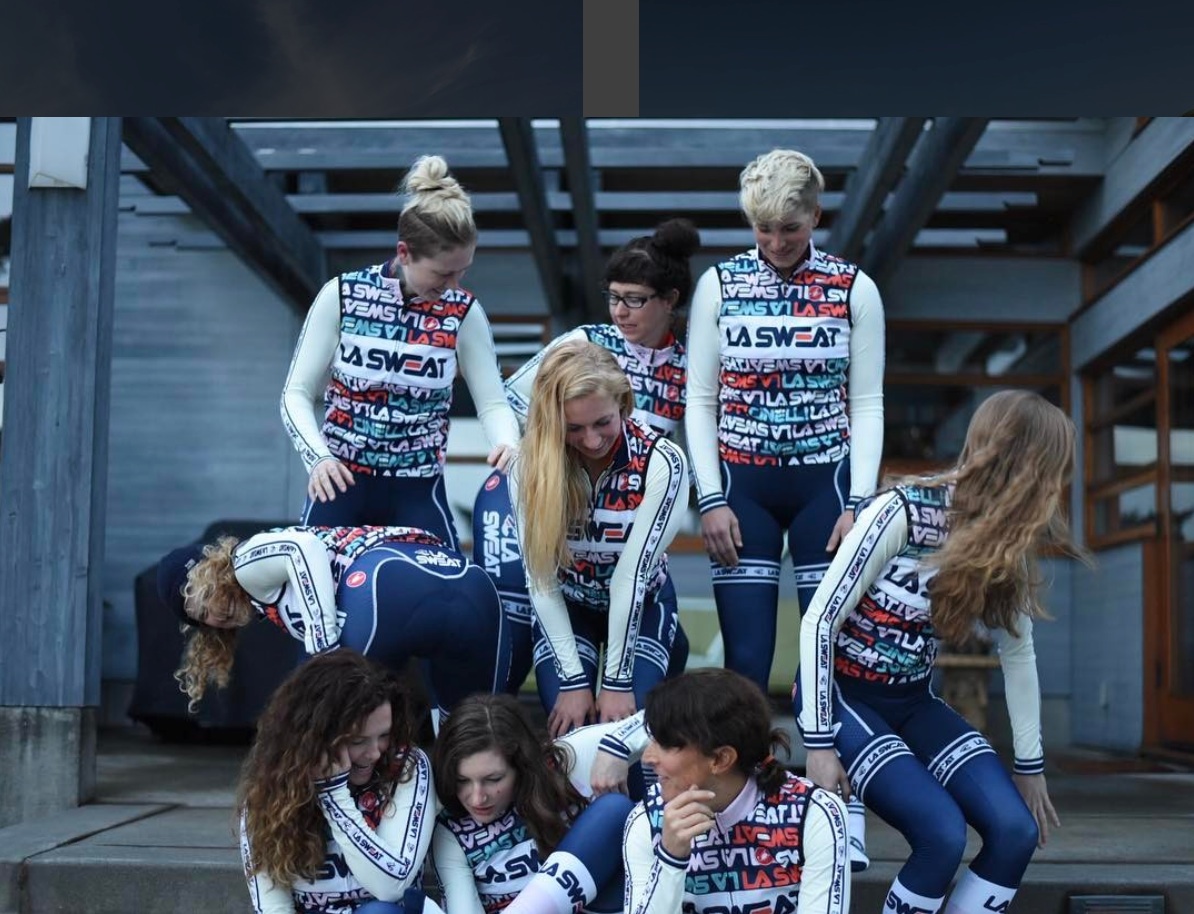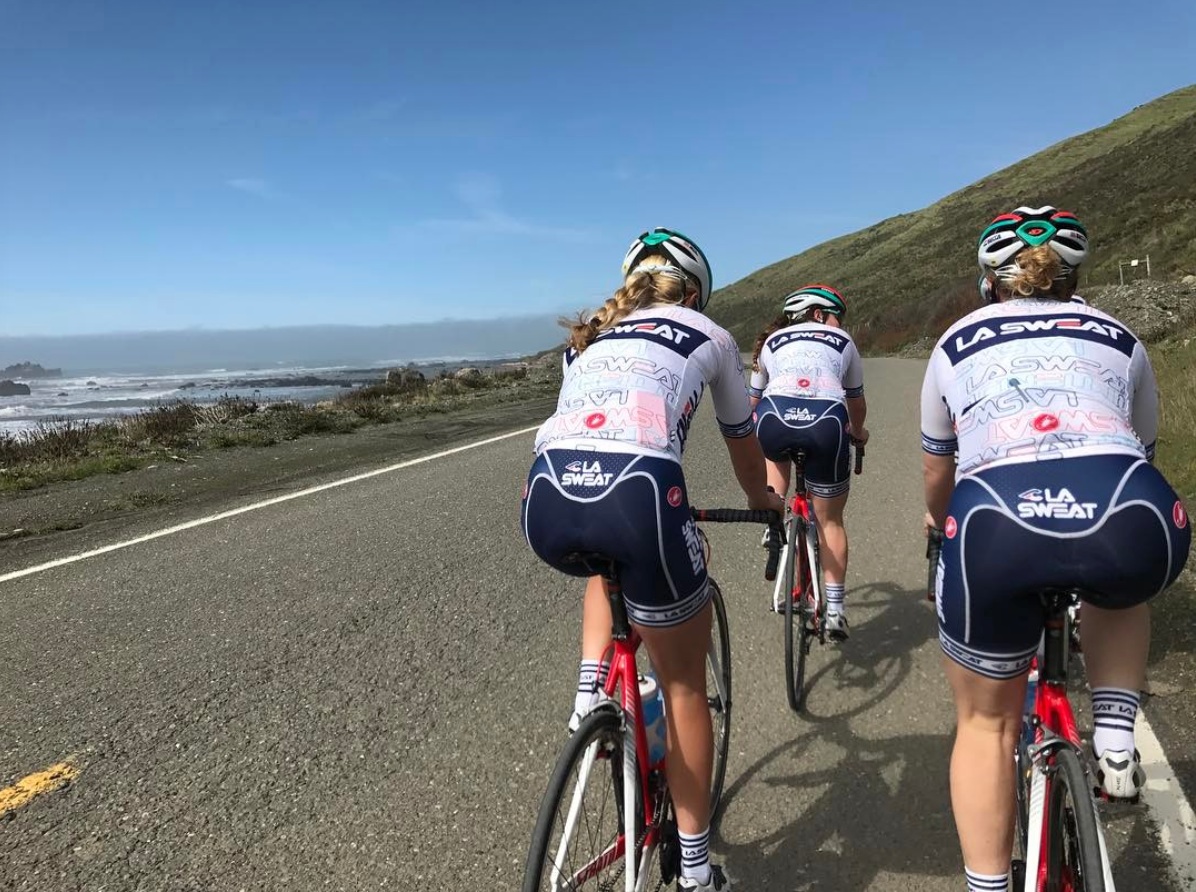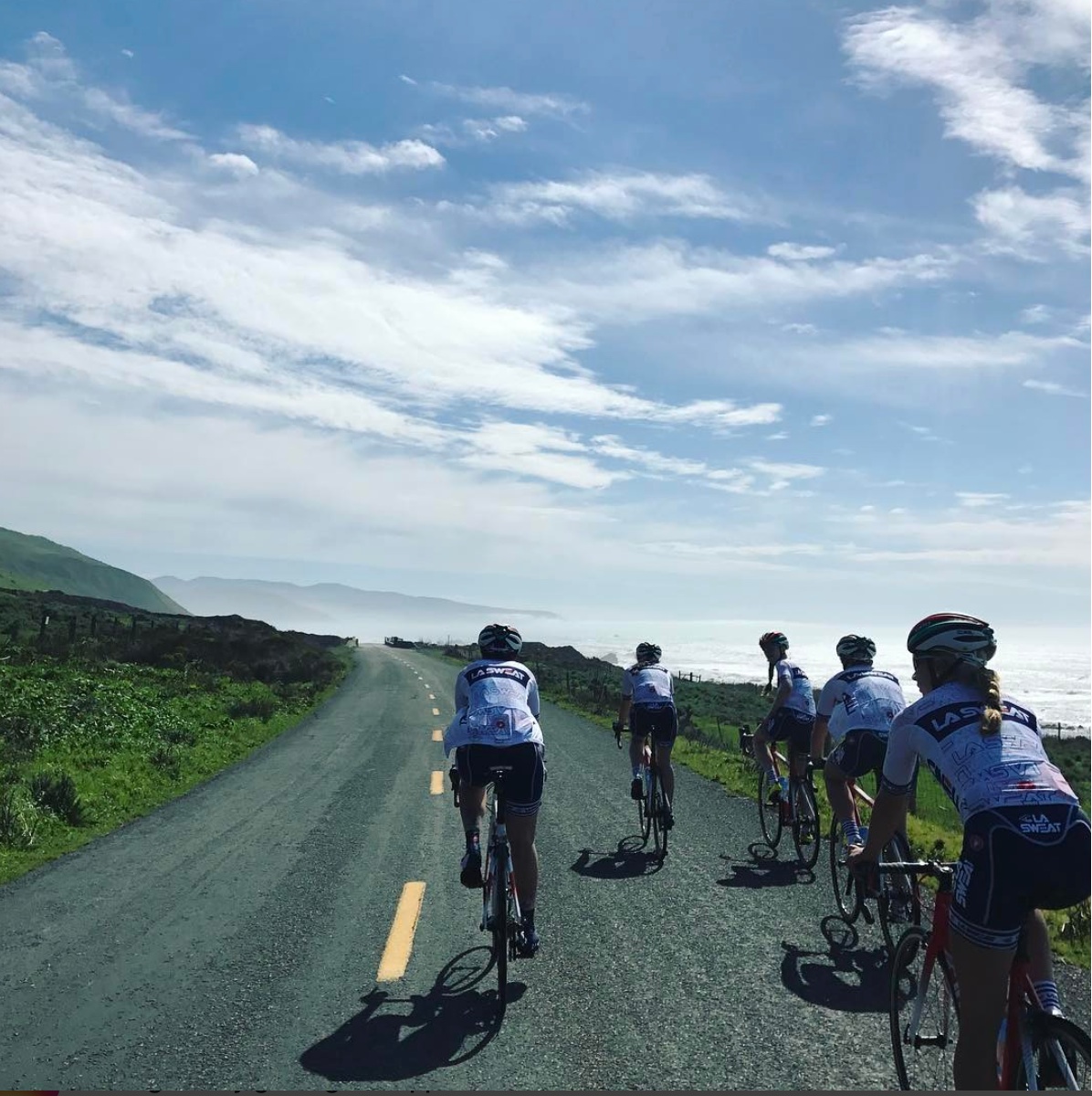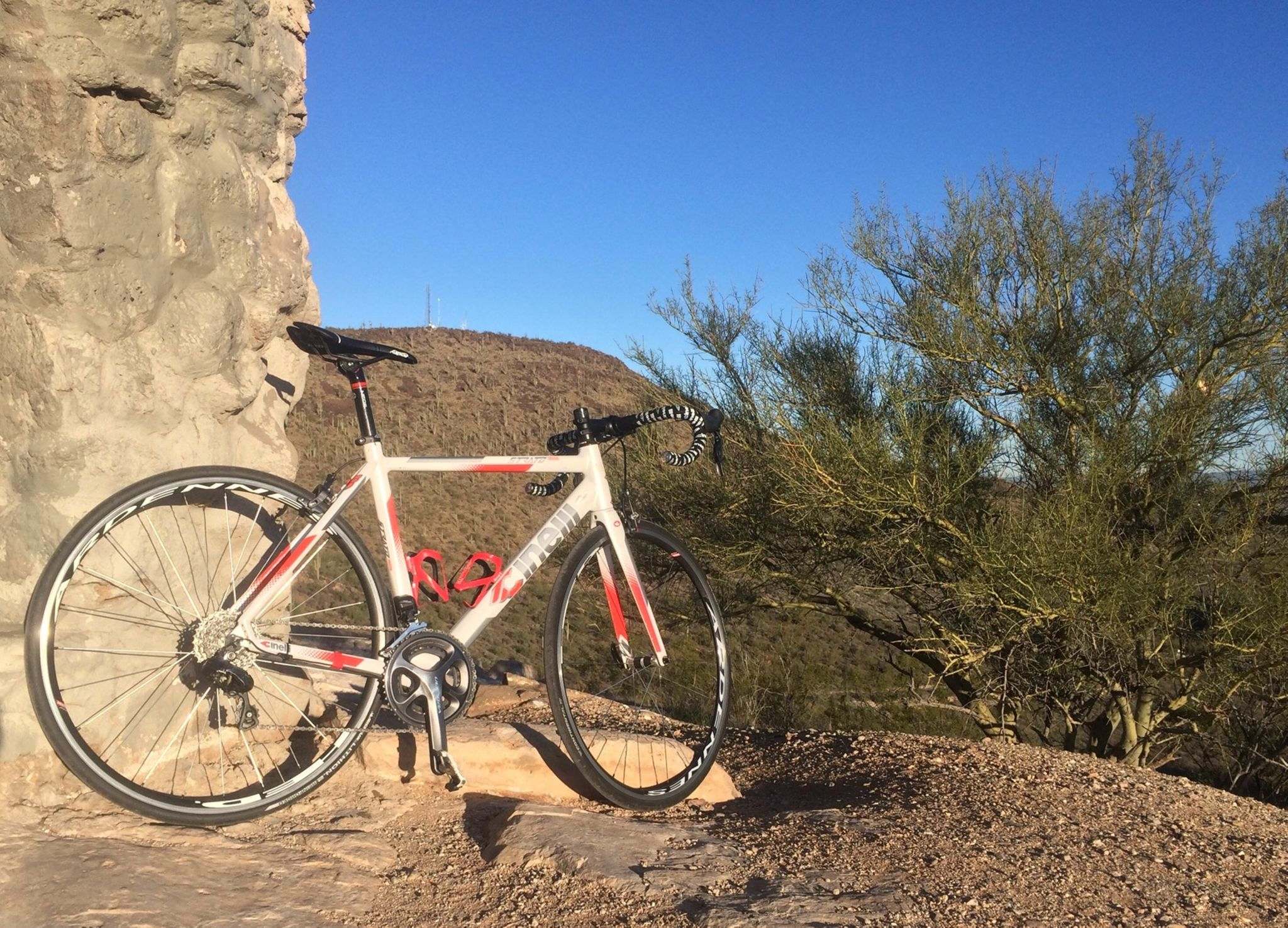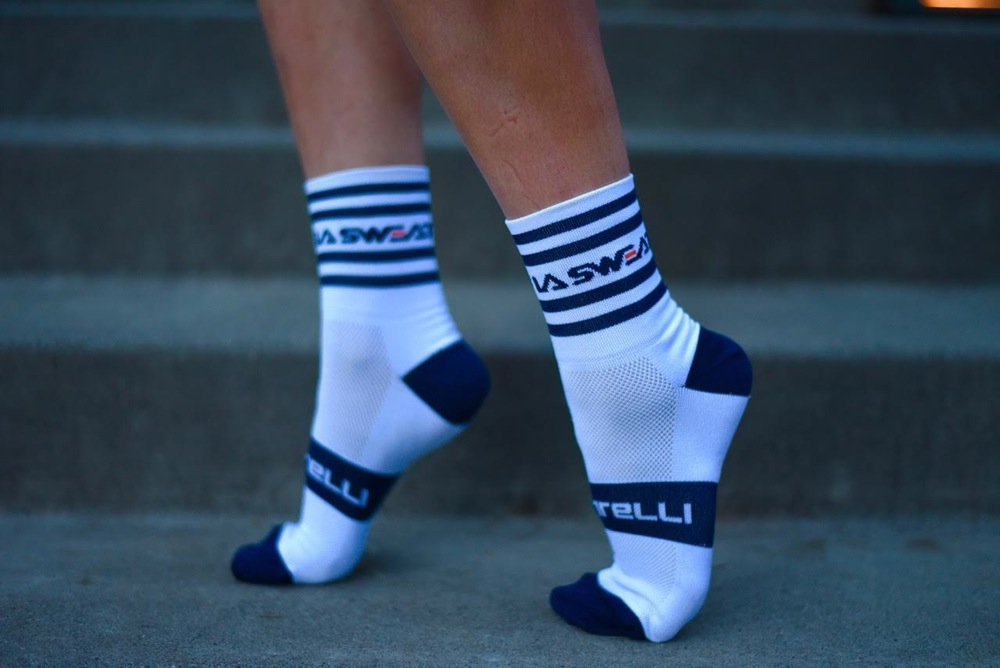 Barbie modeling Castelli team socks for the LA-Sweat gear advertisement.
Sun Devil Criterium, Phoenix, AZ, Feb. 5, 2017
LA-Sweat
Sun Devil Criterium: 2nd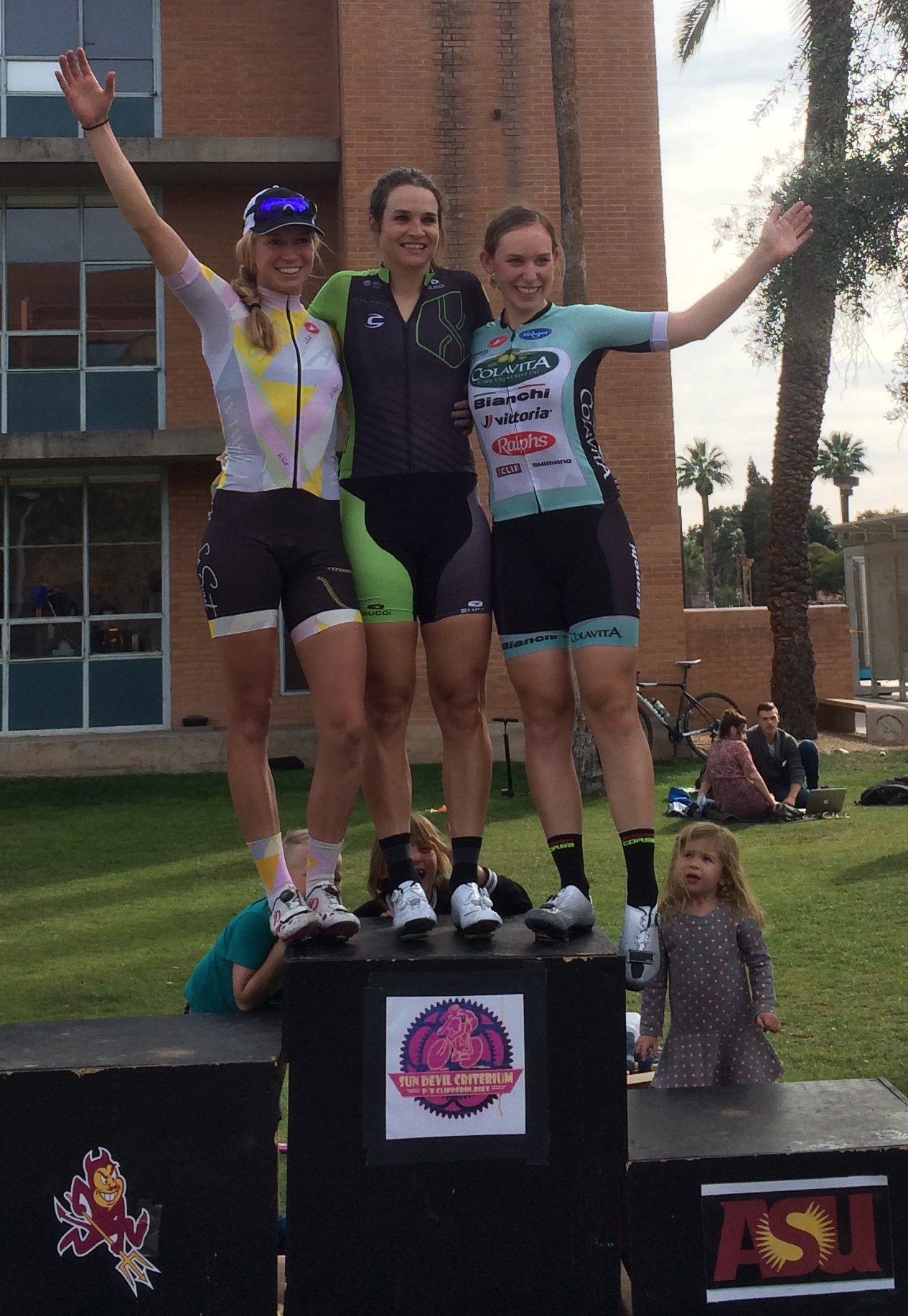 Pro-1-2 Podium: Joëlle Numainville 1st, Mel Beale 2nd, Jessica Mundy 3rd
University of Arizona Santa Catalina Omnium, Oracle, AZ, Jan. 28-29, 2017
LA-Sweat
Criterium: 3rd
Road Race: 4th
Omnium: 2nd

Avondale Criterium, Phoenix, AZ, Jan. 22, 2017
LA-Sweat
A win in the first race of the year!
Avondale Criterium: 1st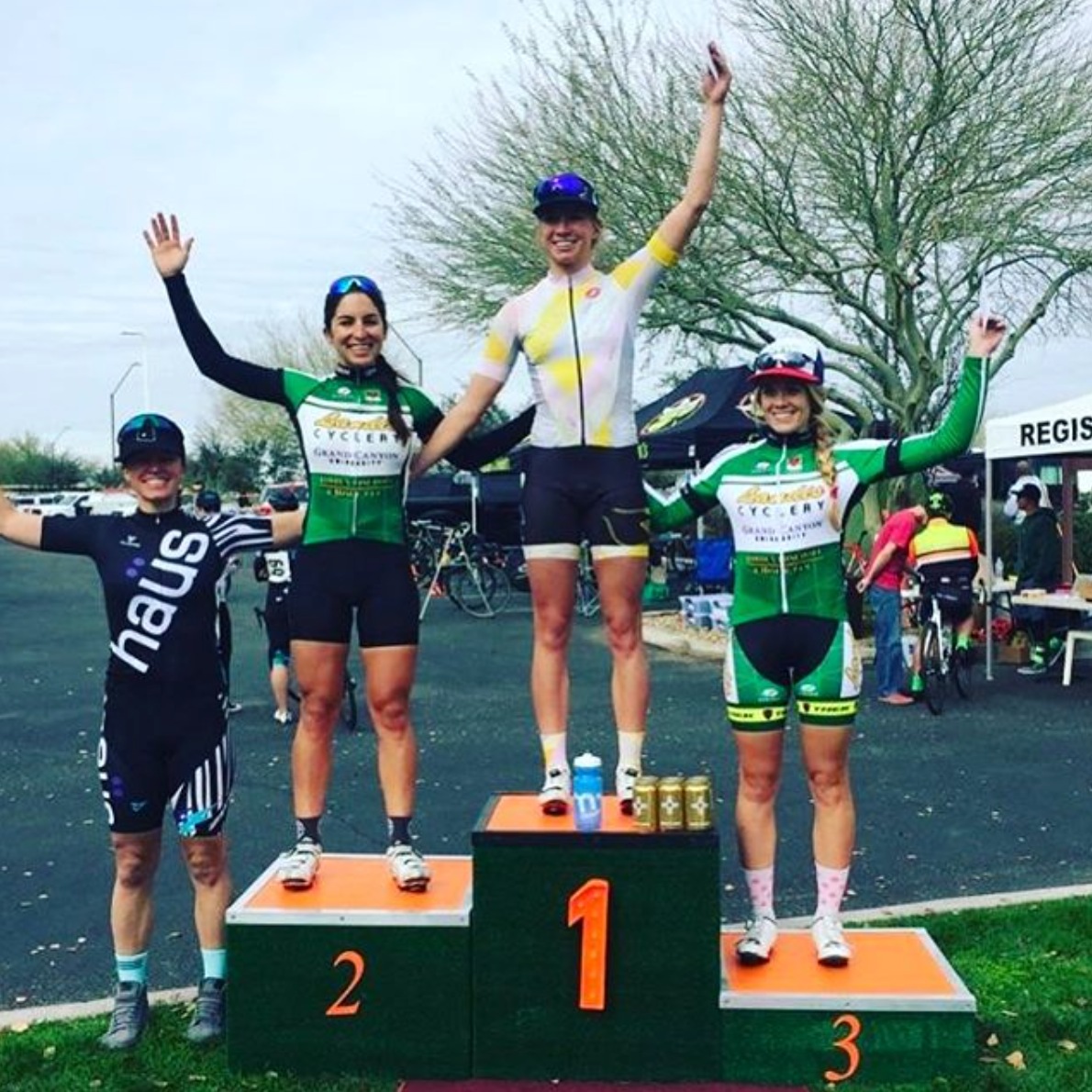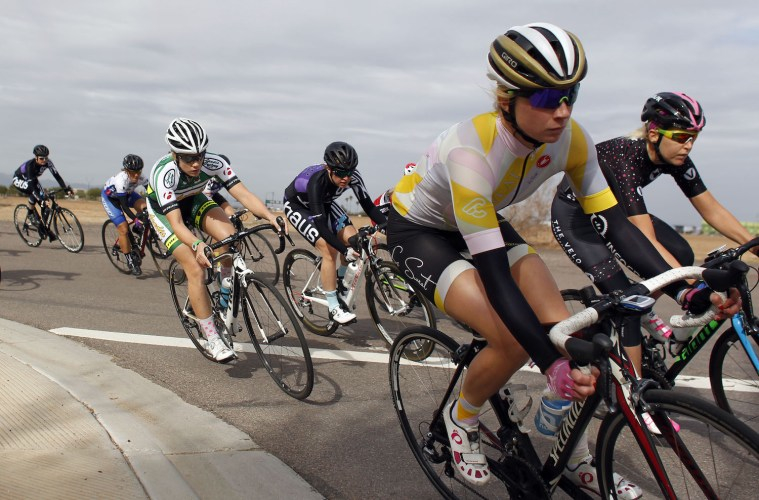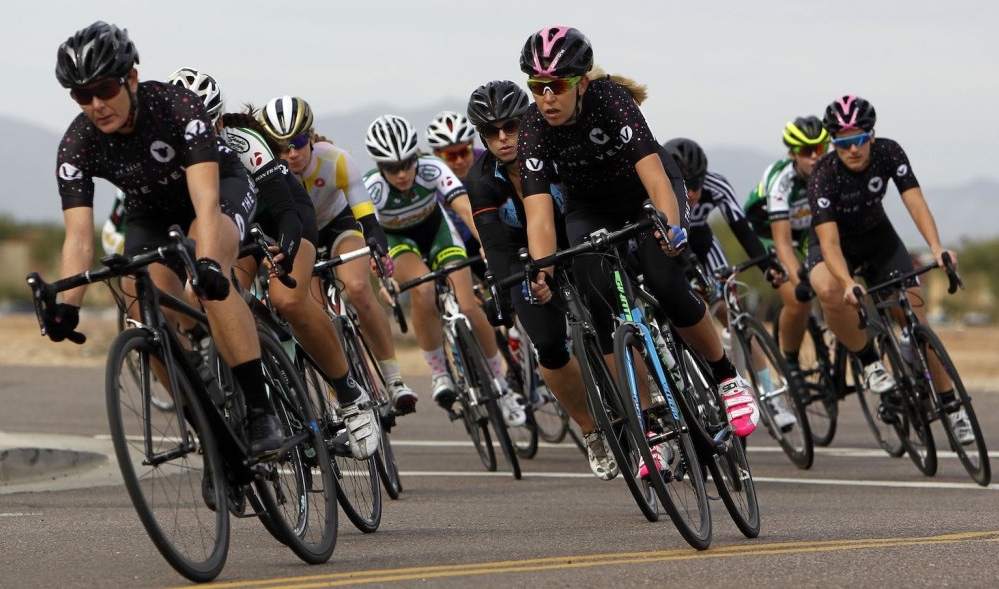 Congratulations to Mel for her upgrade to Cat 1,
and her invitation to join LA-Sweat!
Her teammates are Tracey Cameron, Anna Grace Christiansen, Erin Goodall, Christa Ghent, Tiffany Pezzulo, Kim Lucie, Brenna Wrye Simpson, Becca Schepps, and Kelli Samuelson.
CSU Cycling Promotion Video

The TSG Realty Gateway Cup, Pro Road Tour, St. Louis, MO, Sept. 2-5, 2016
LA-Sweat

Tour de Lafayette Criterium: PRT: 35th, 66 starters
Tour de Francis Park Criterium: PRT: 31st, 70 starters
Giro Della Montagna Criterium: PRT: 24th, 66 starters
Benton Park Classic Criterium: PRT: 21st, 57 starters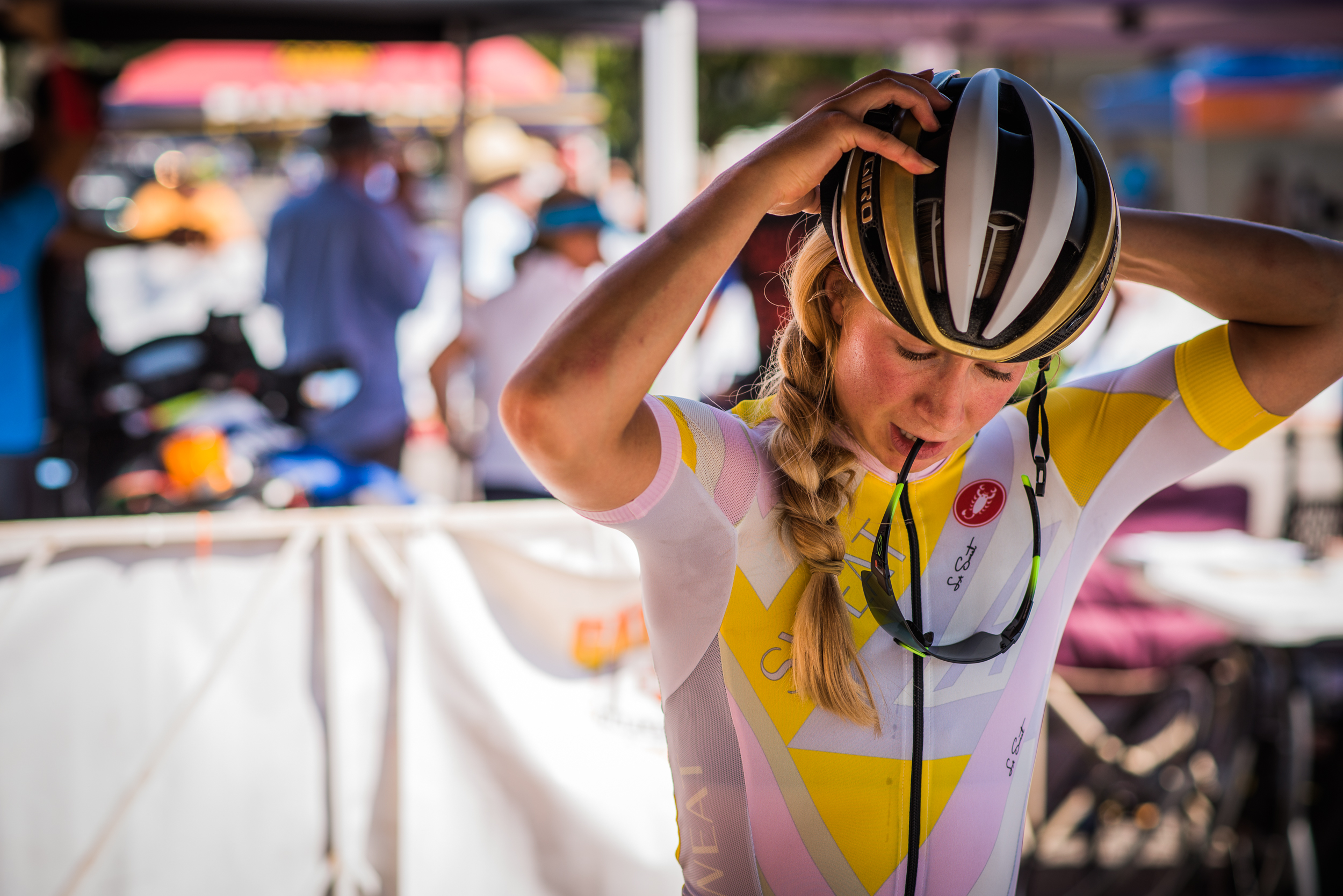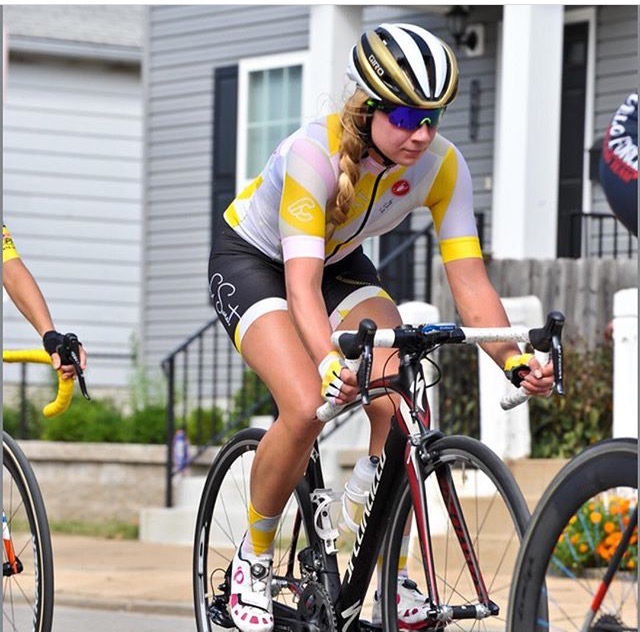 Did you every wonder how Mel got the nickname Spring Break?


Littleton Twilight Criterium, Pro Road Tour, Littleton, CO, August 6, 2016

Criterium: PRT: 20th, 42 starters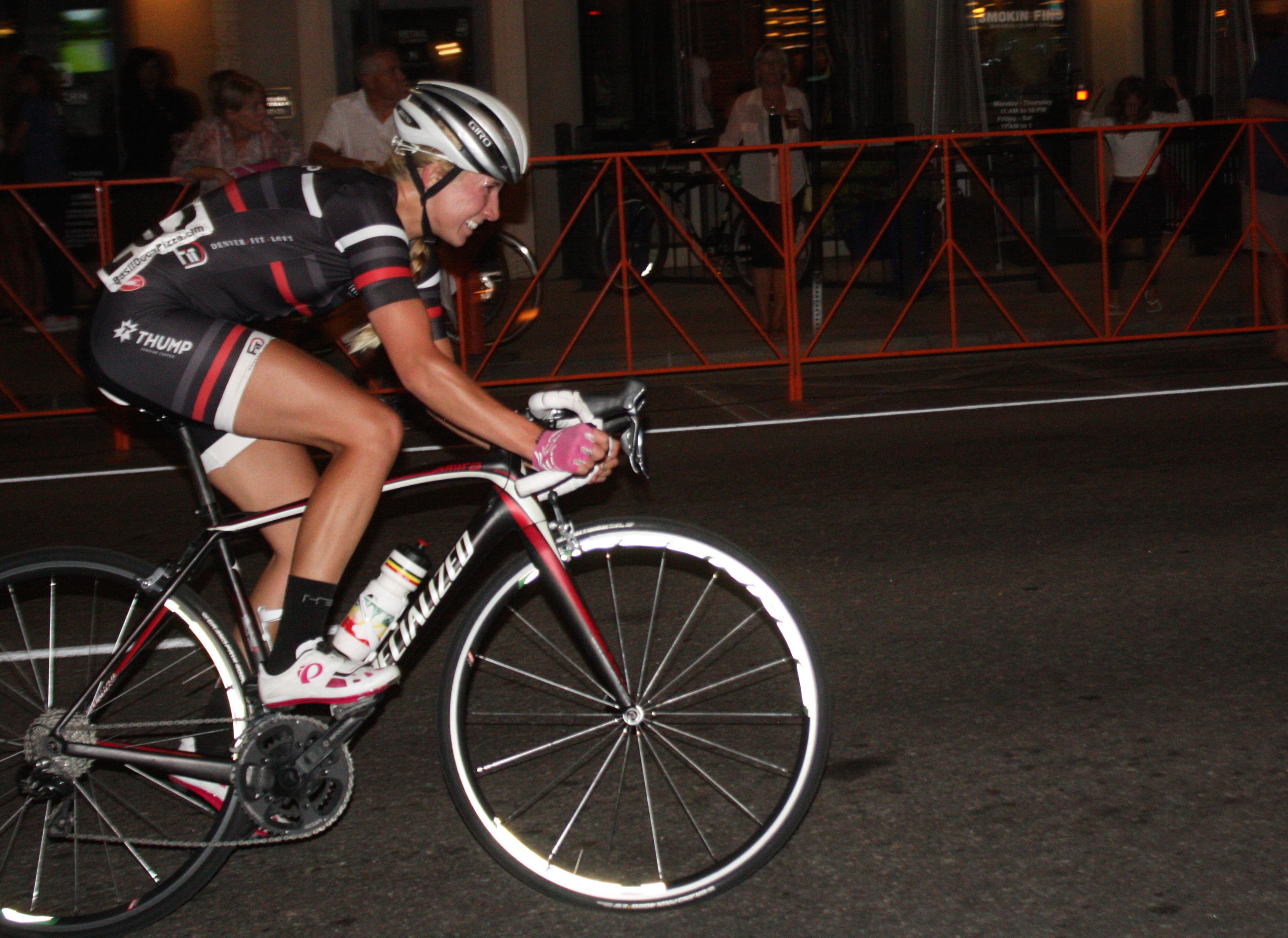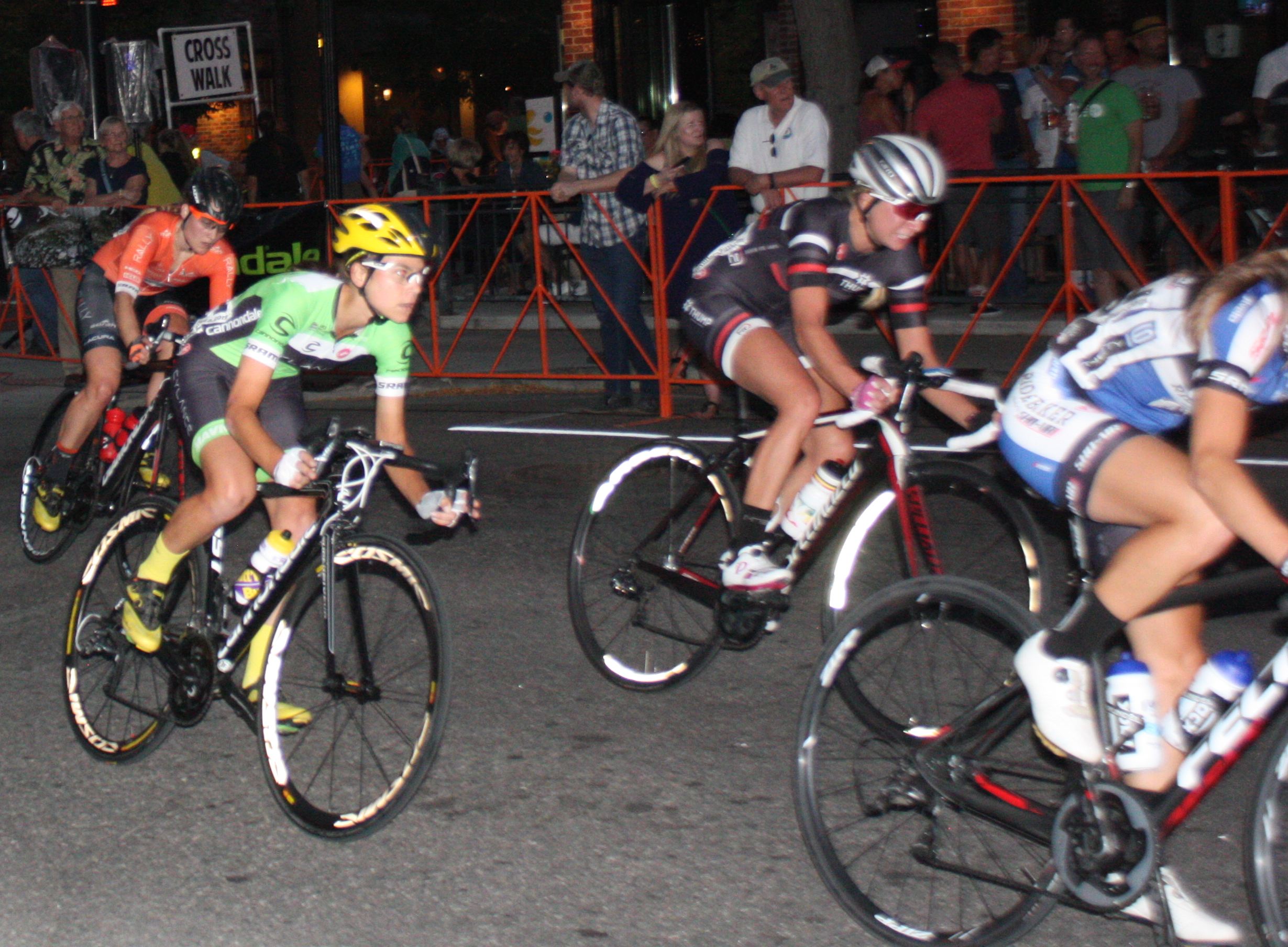 Bannock Street Criterium, Denver, CO, July 31, 2016

Criterium: 6th, 17 starters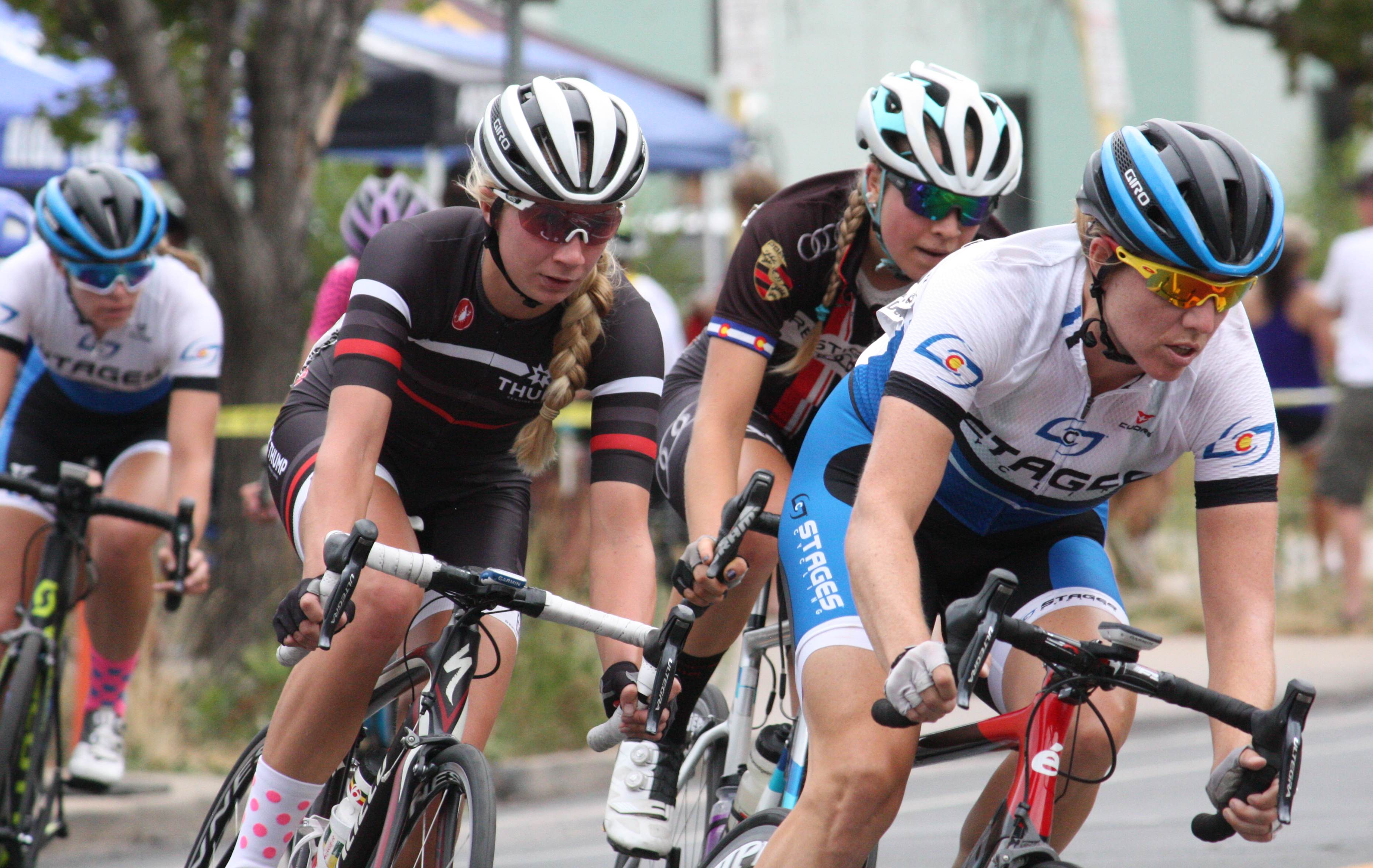 Prime sprint for what turns out to be a Tokyo Joe's Coupon!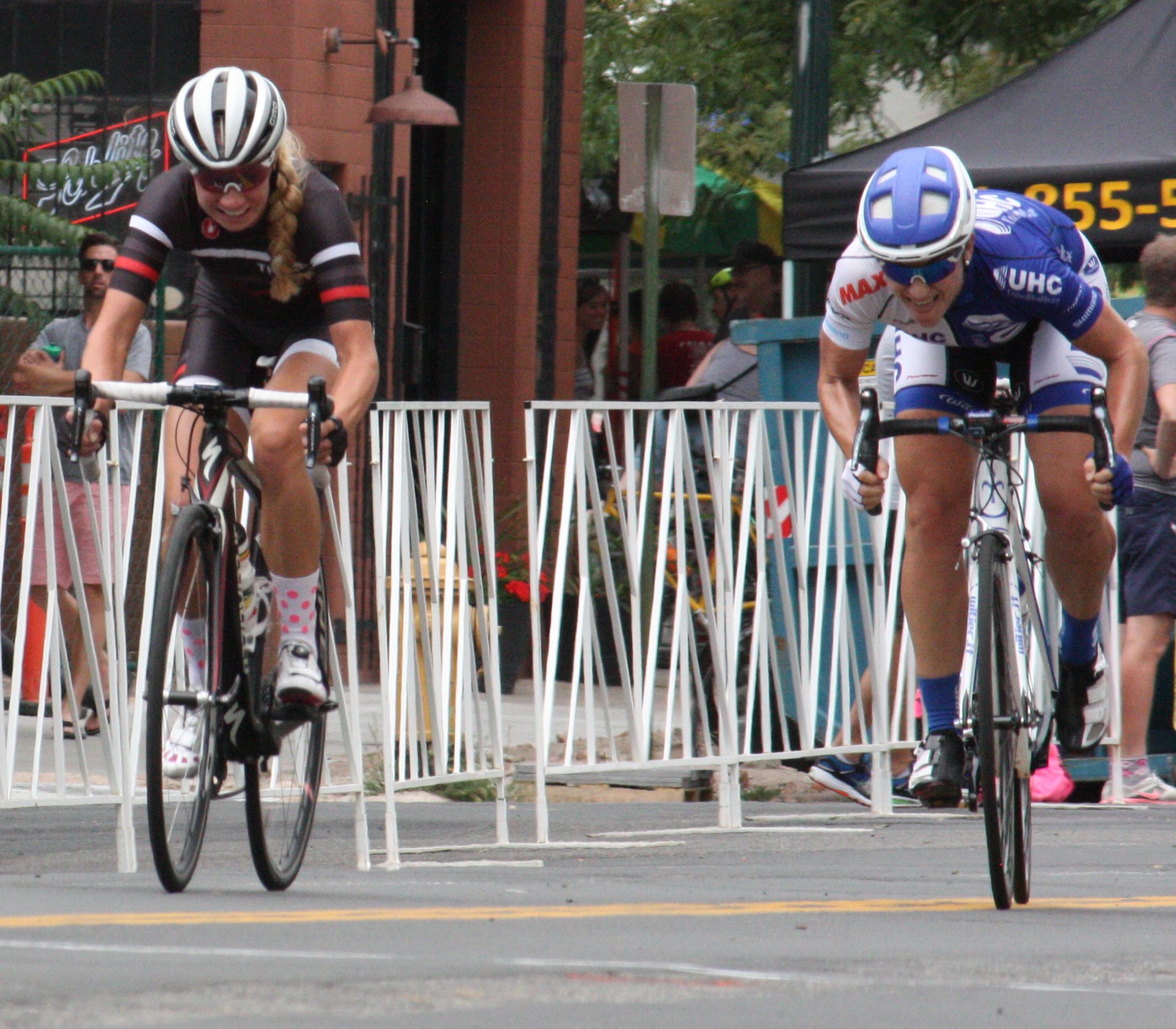 USA Cycling Cat 2 Rankings July 2016
Criterium: Colorado 1st, USA 11th
Time Trial: Colorado 1st, USA 3rd
Road Race: Colorado 2nd, USA 12th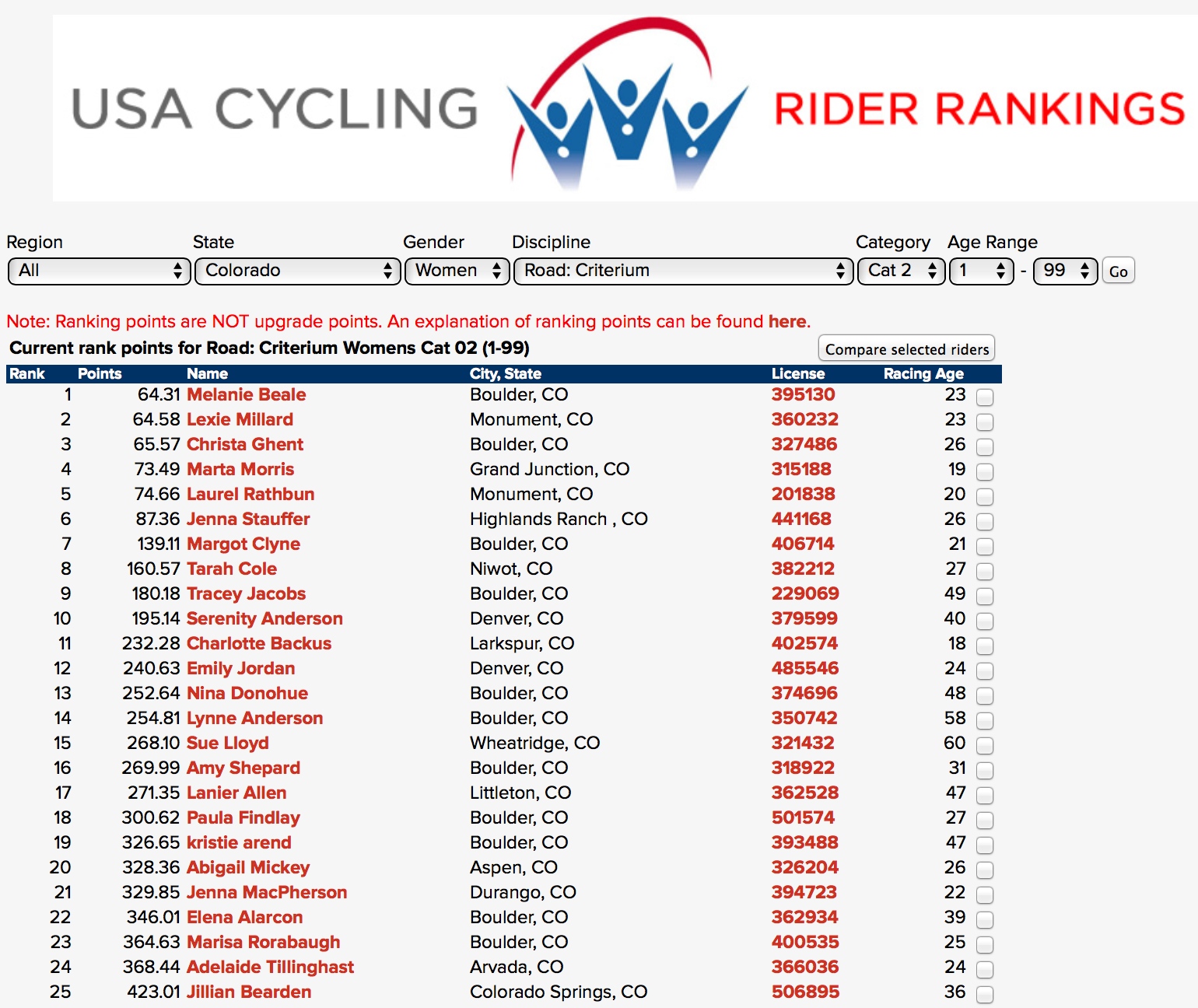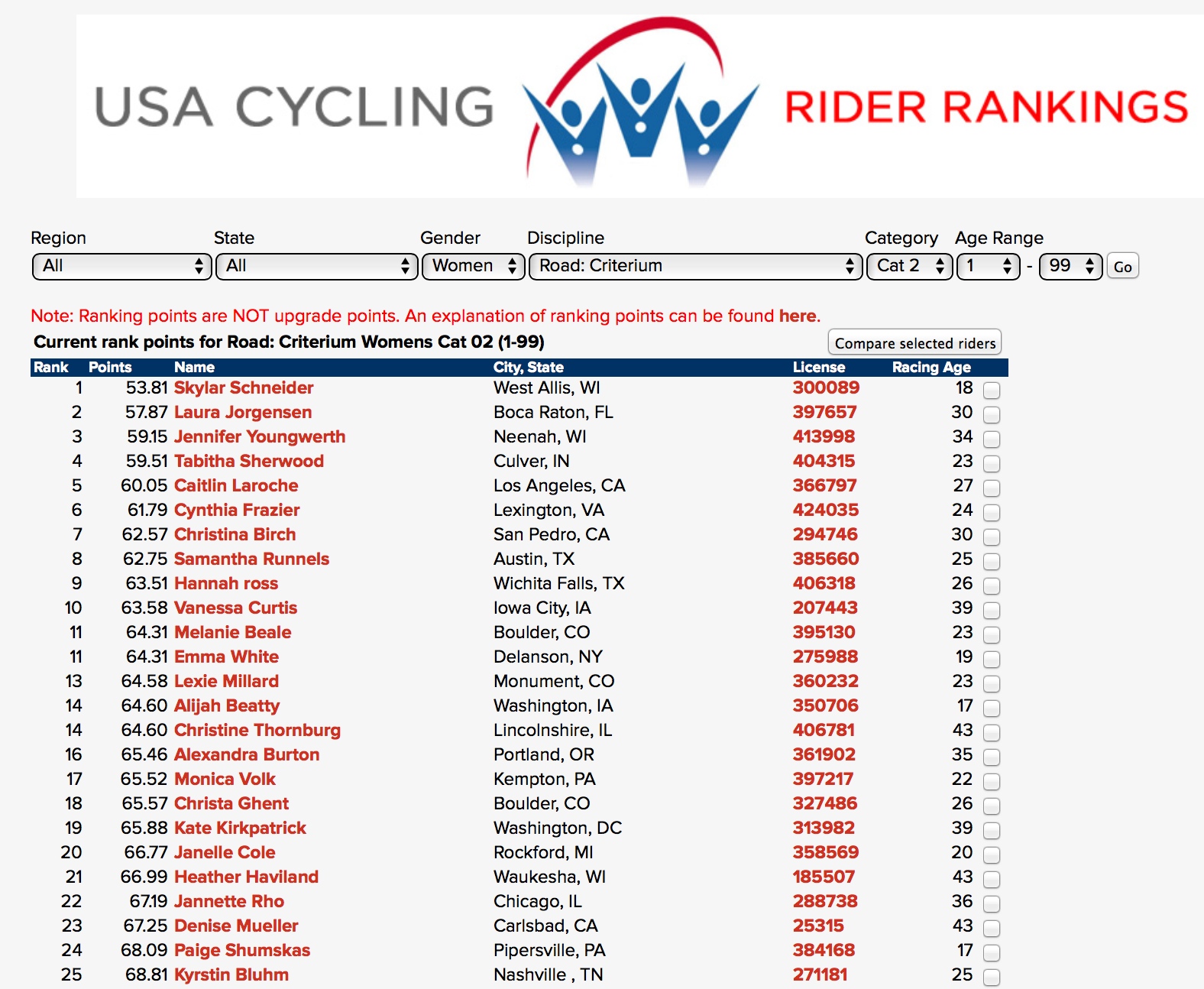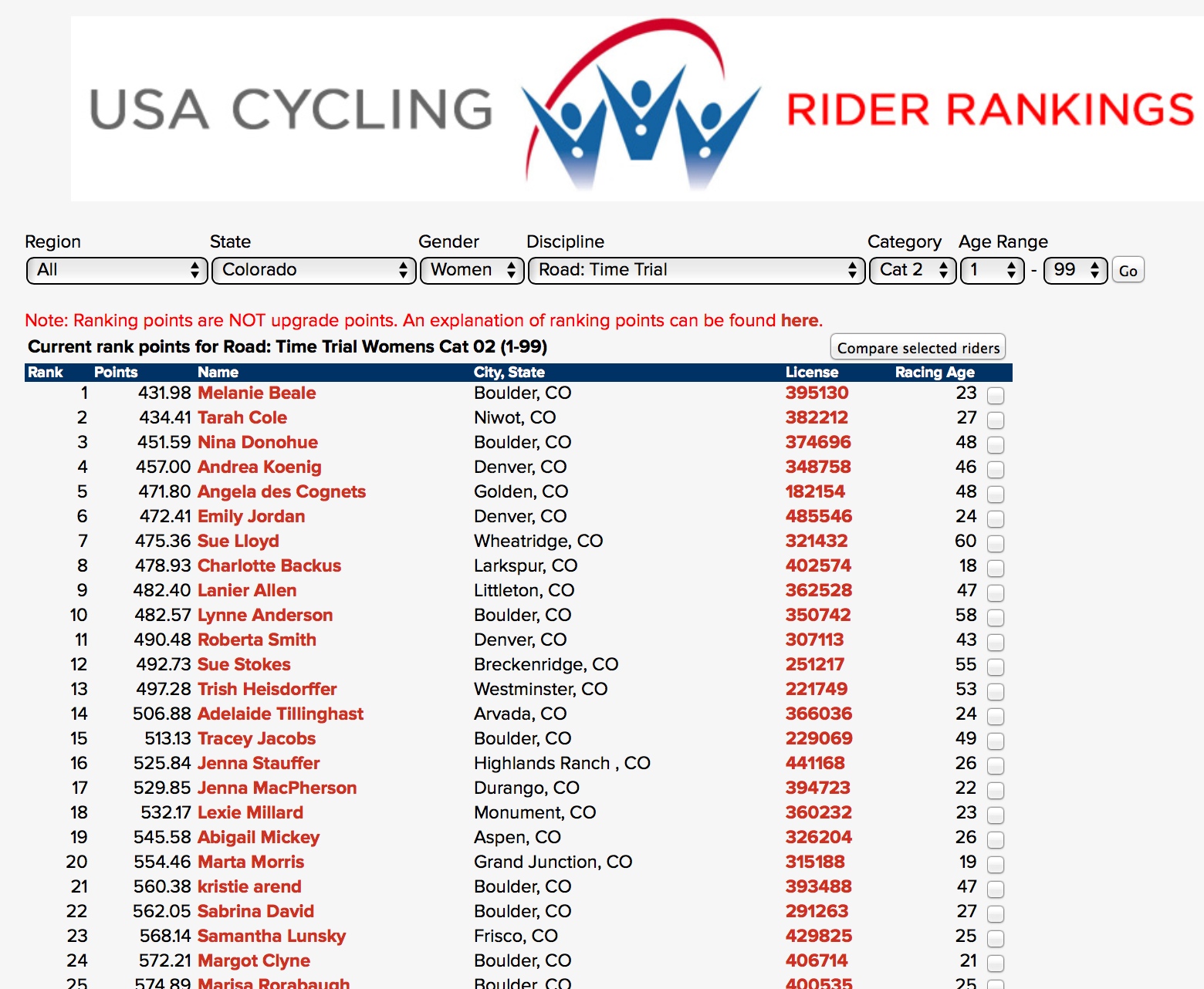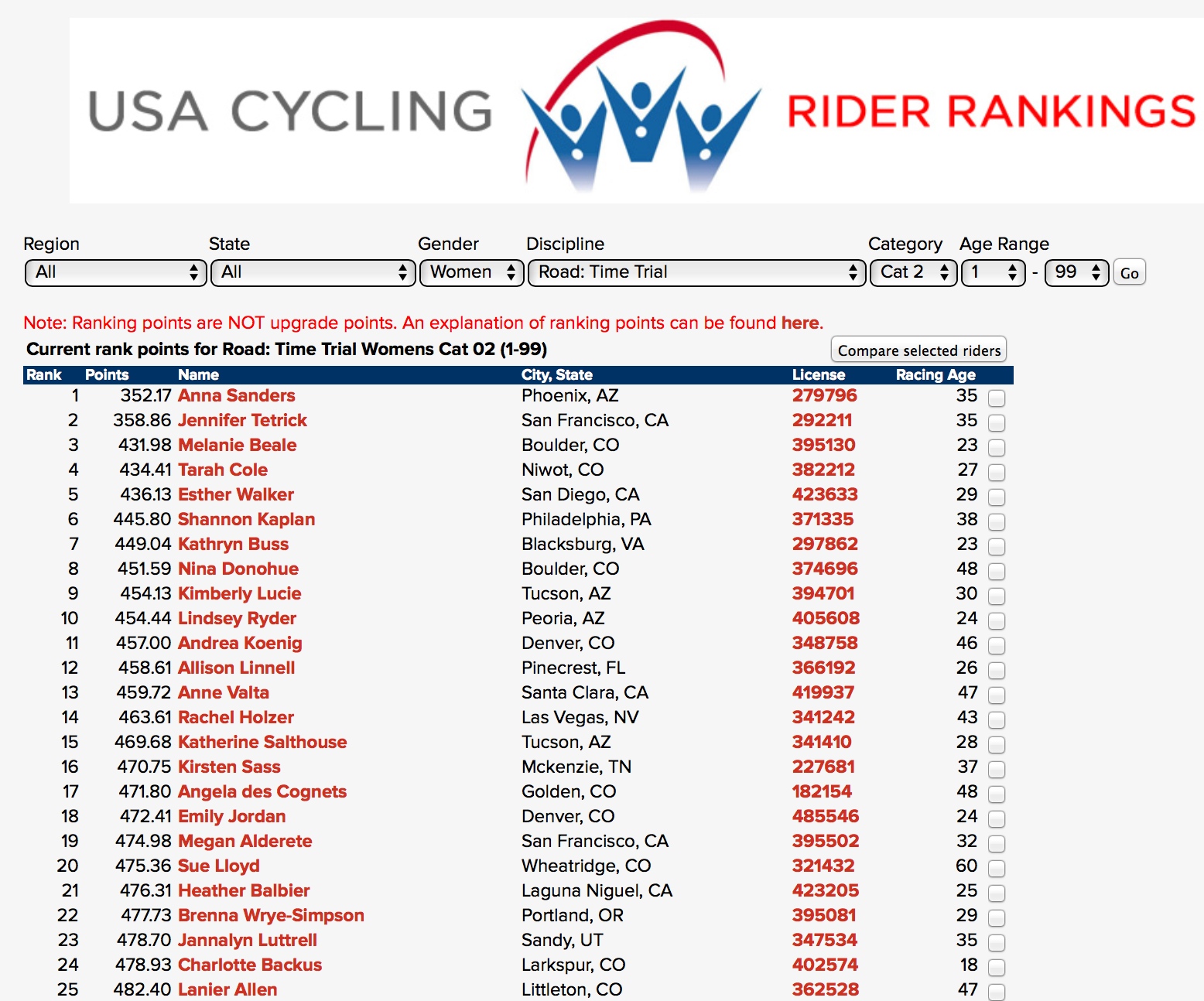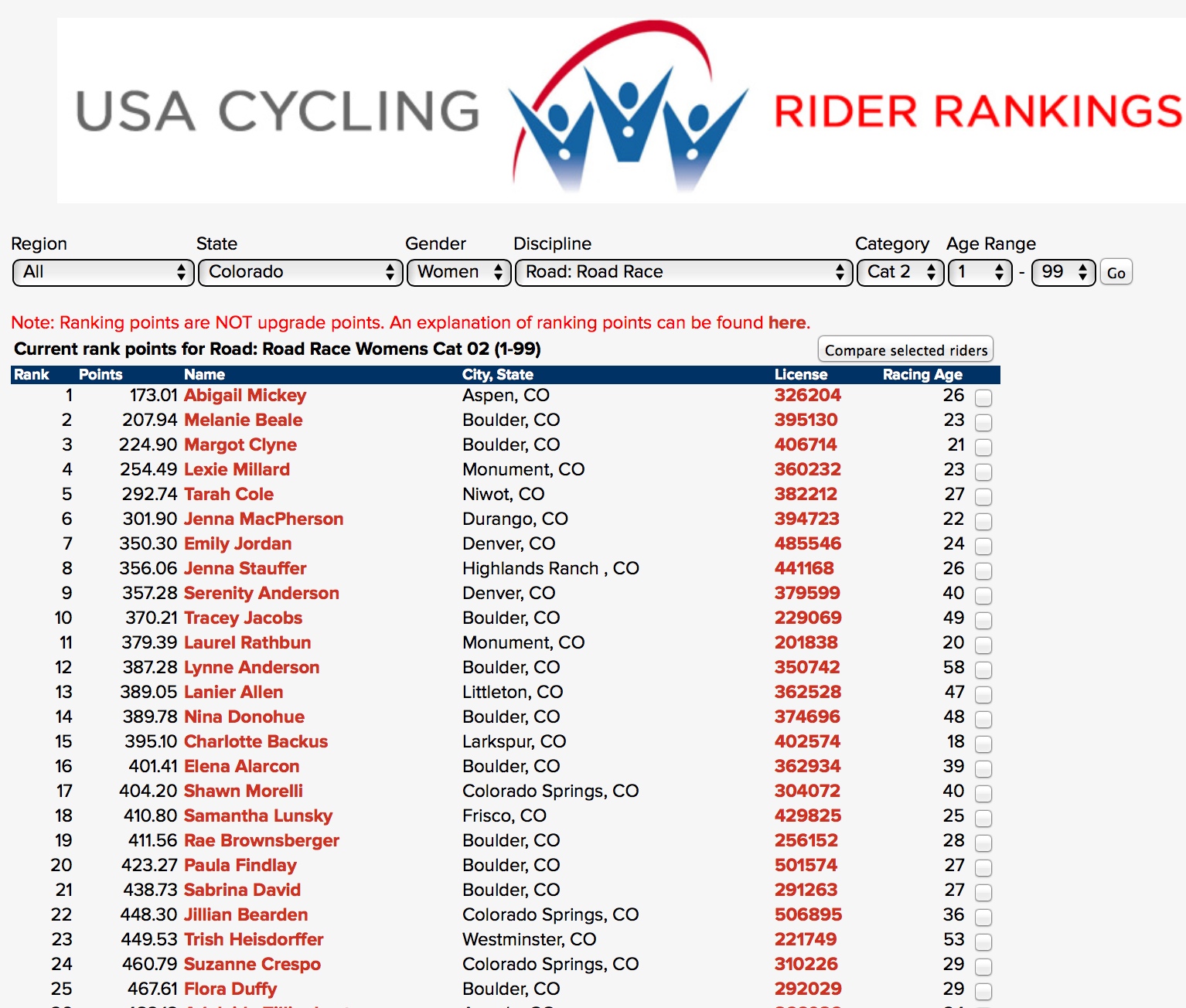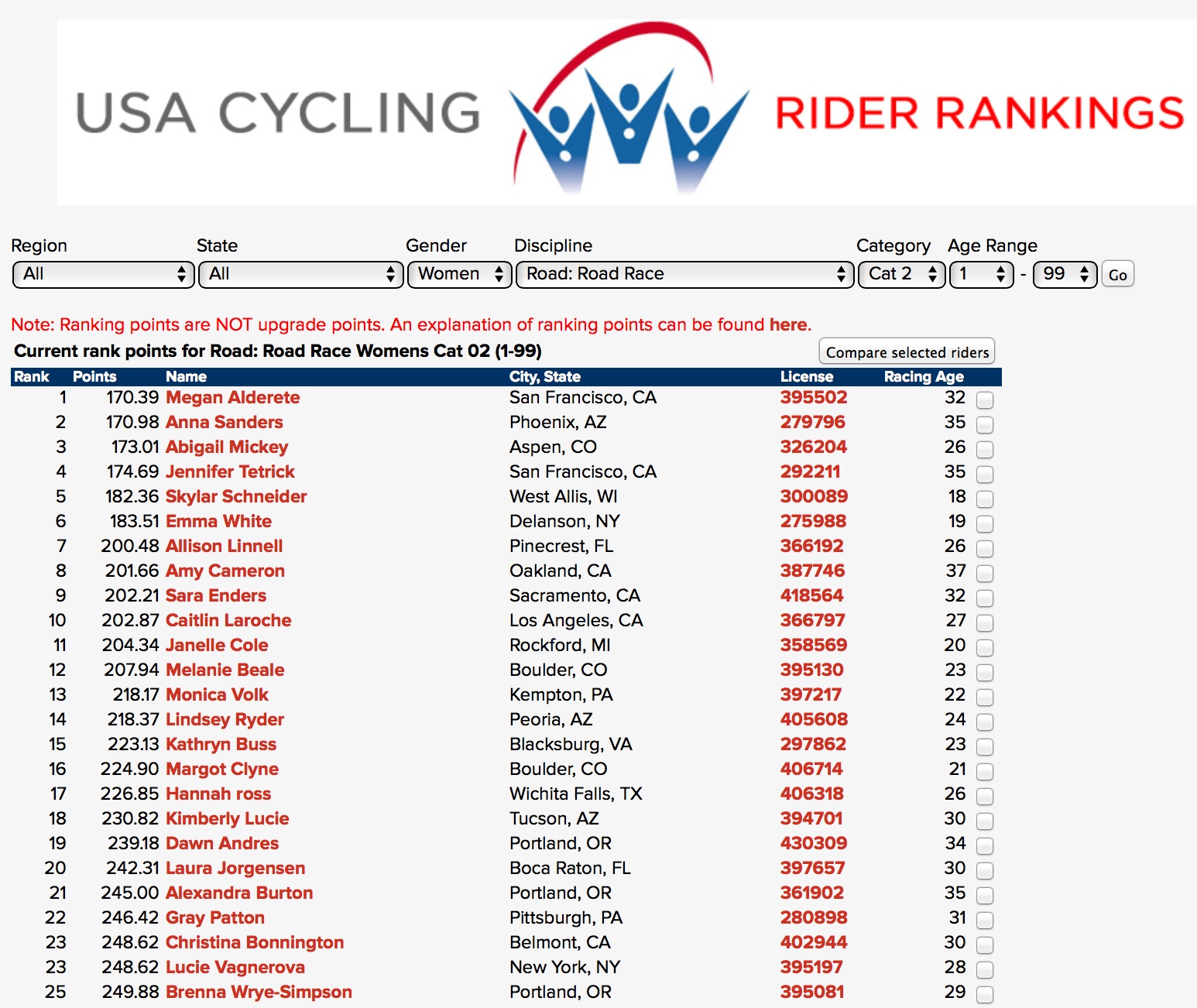 Intelligentsia Cup, Chicago, IL, July 20-24, 2016
LA-Sweat

West Dundee River Challenge Cat 2-3 Criterium: 1st (lapped the field!), 27 starters
West Dundee River Challenge Pro-1-2 Criterium: 16th, 5th Cat 2, 34 starters
South Chicago Kermesse Road Race: 31st, 8th Cat 2, 42 starters
Superior Ambulance Elmhurst Cycling Classic Criterium: 12th, 2nd Cat 2, 41 starters
Northwestern Medicine Lake Bluff Criterium: Race neutralized due to lightning
Goose Island Grand Prix Criterium: Pro Road Tour: 23rd, 6th Cat 2, 54 starters
Omnium: 28th, out of 48 with top 20 results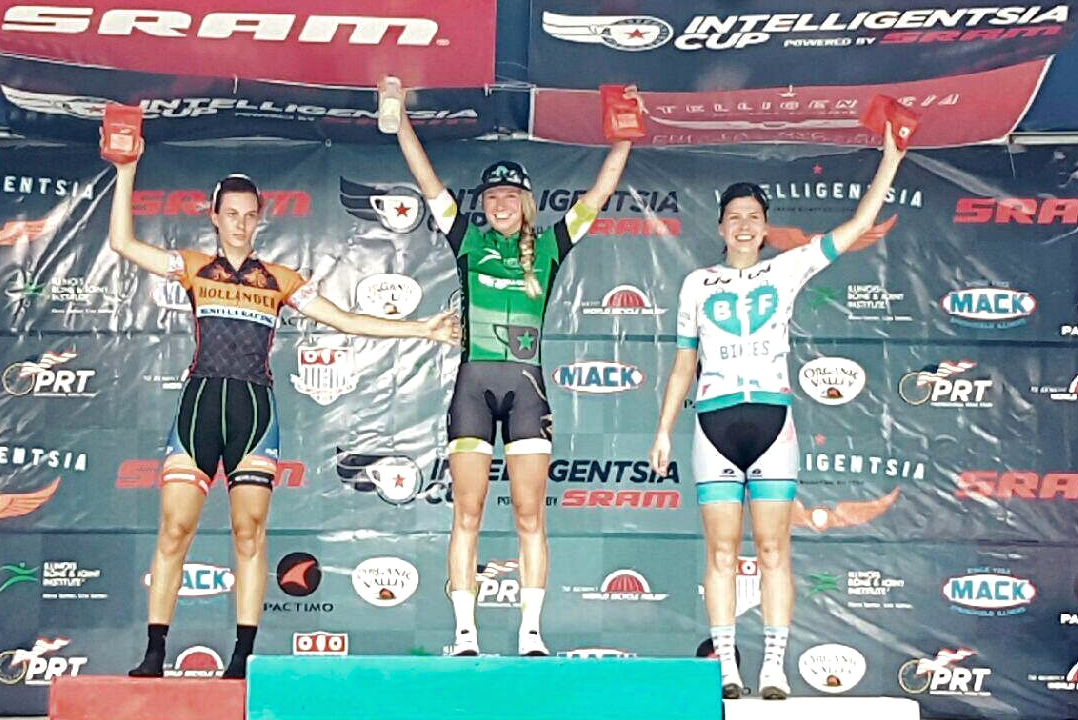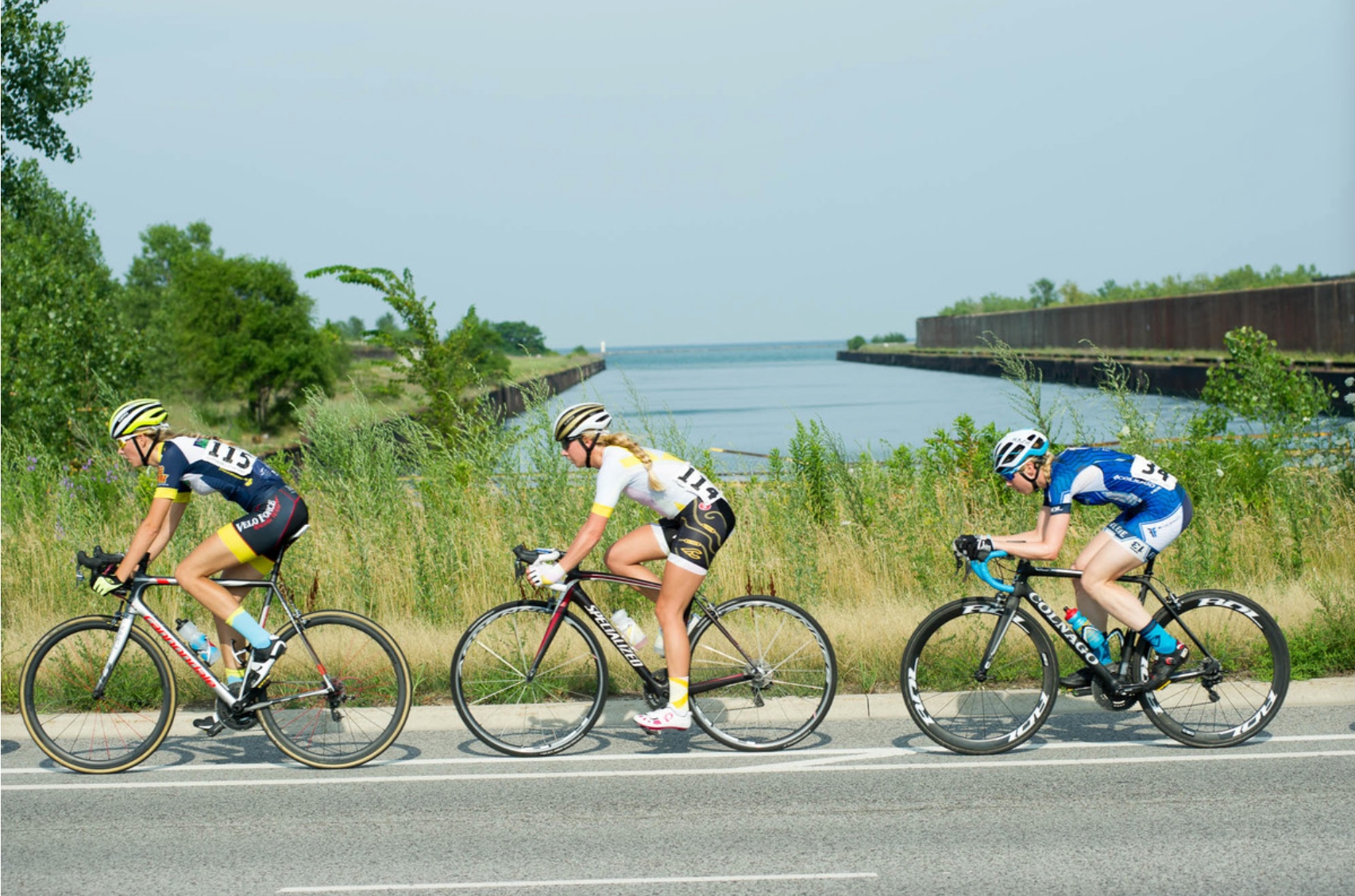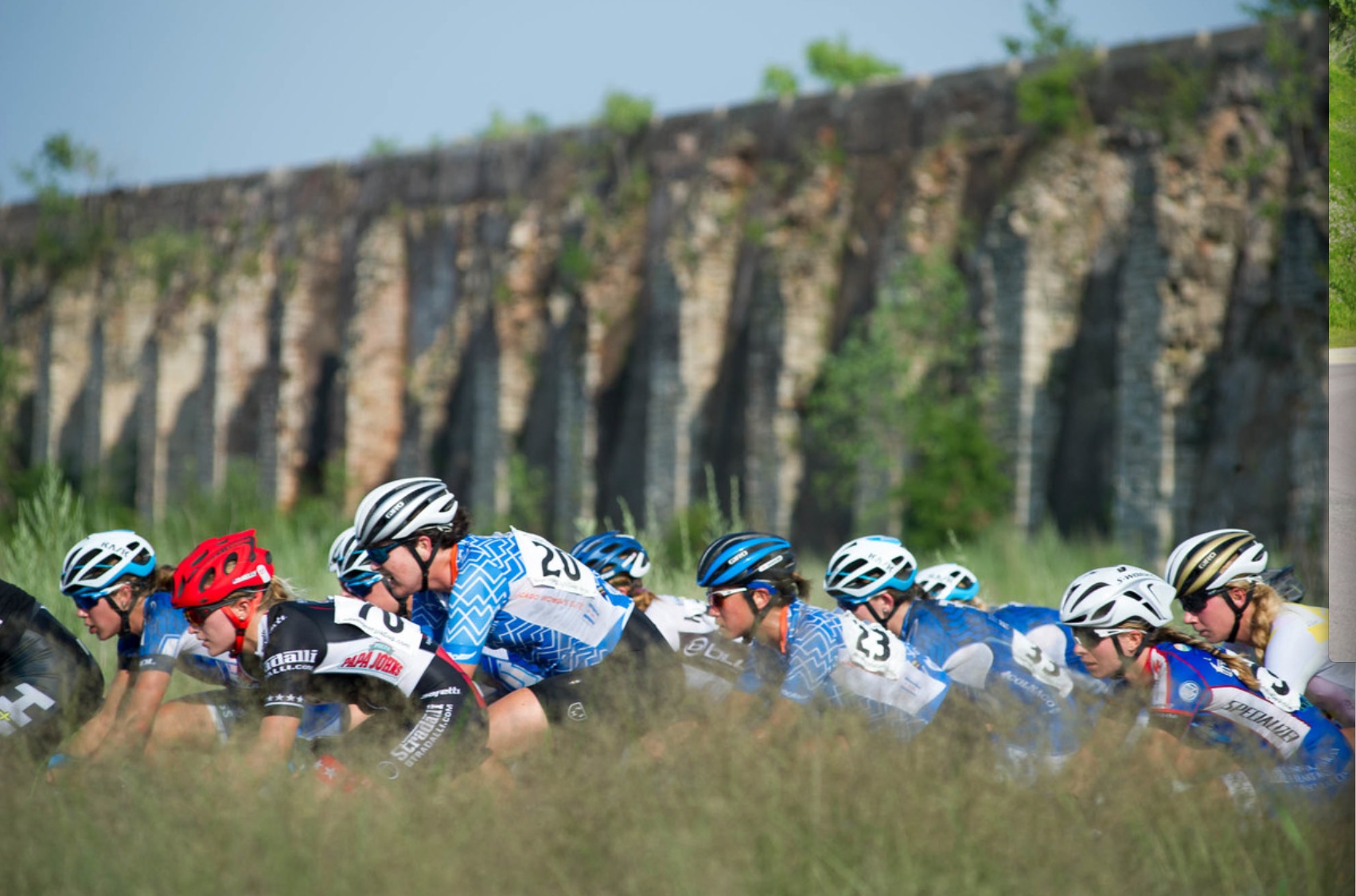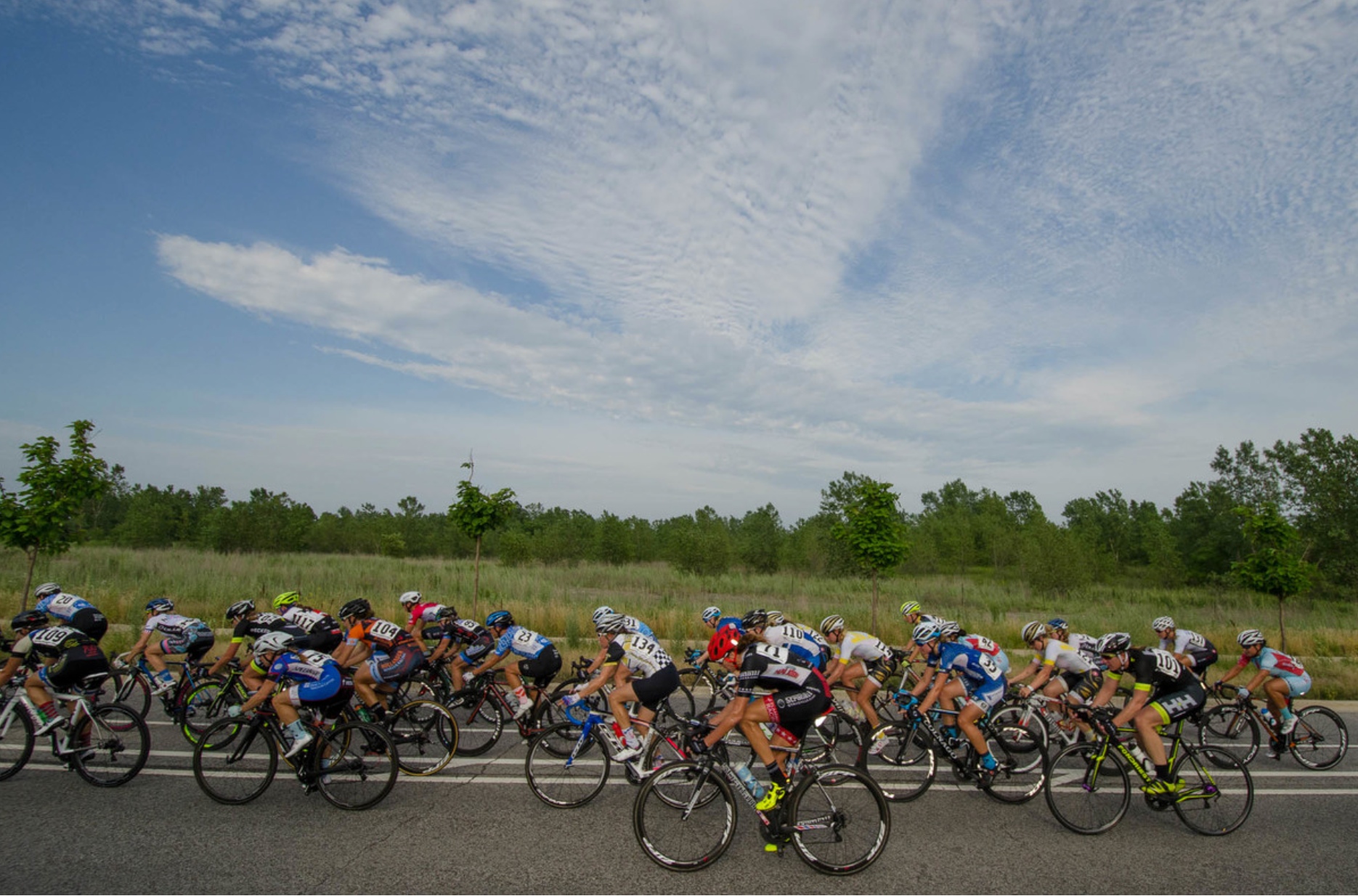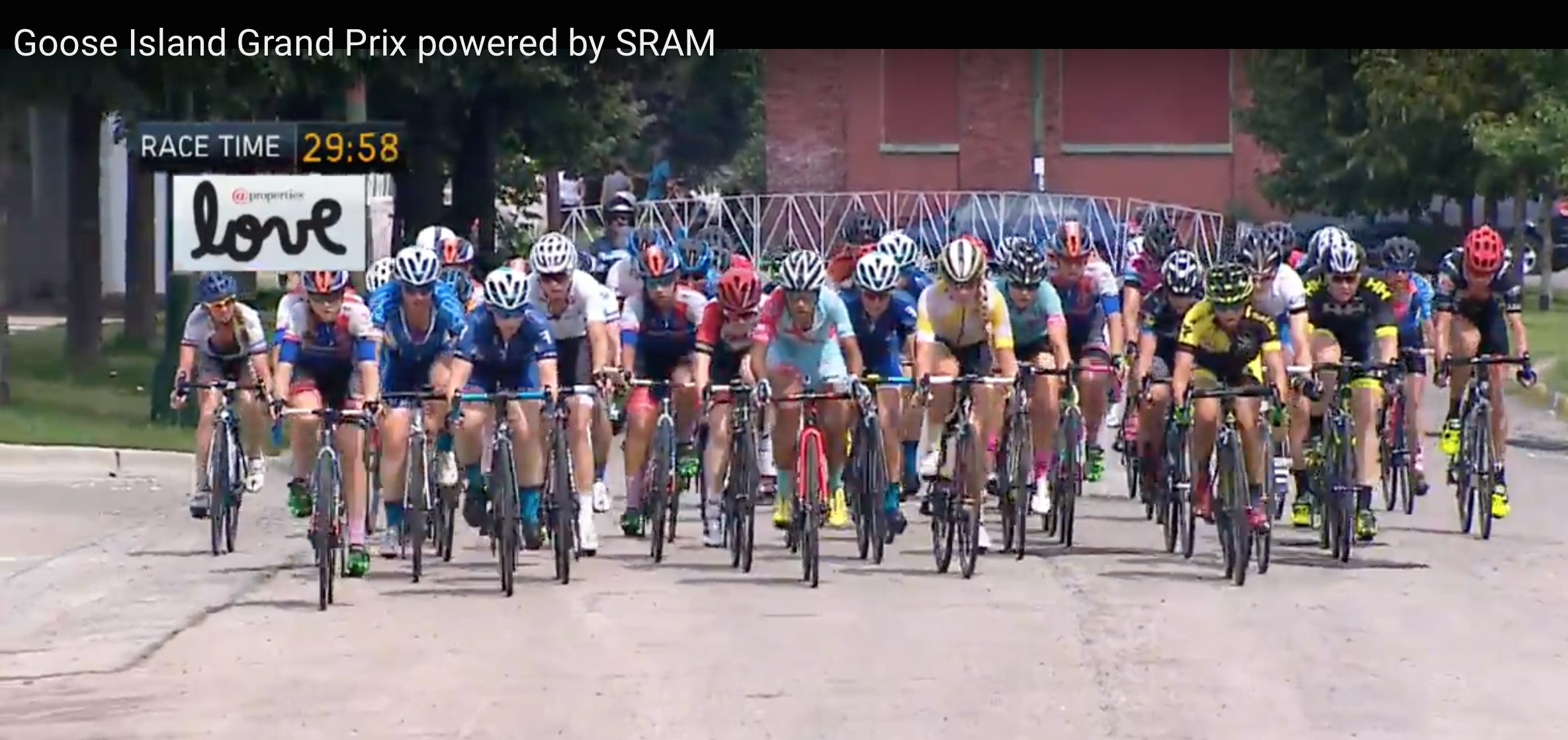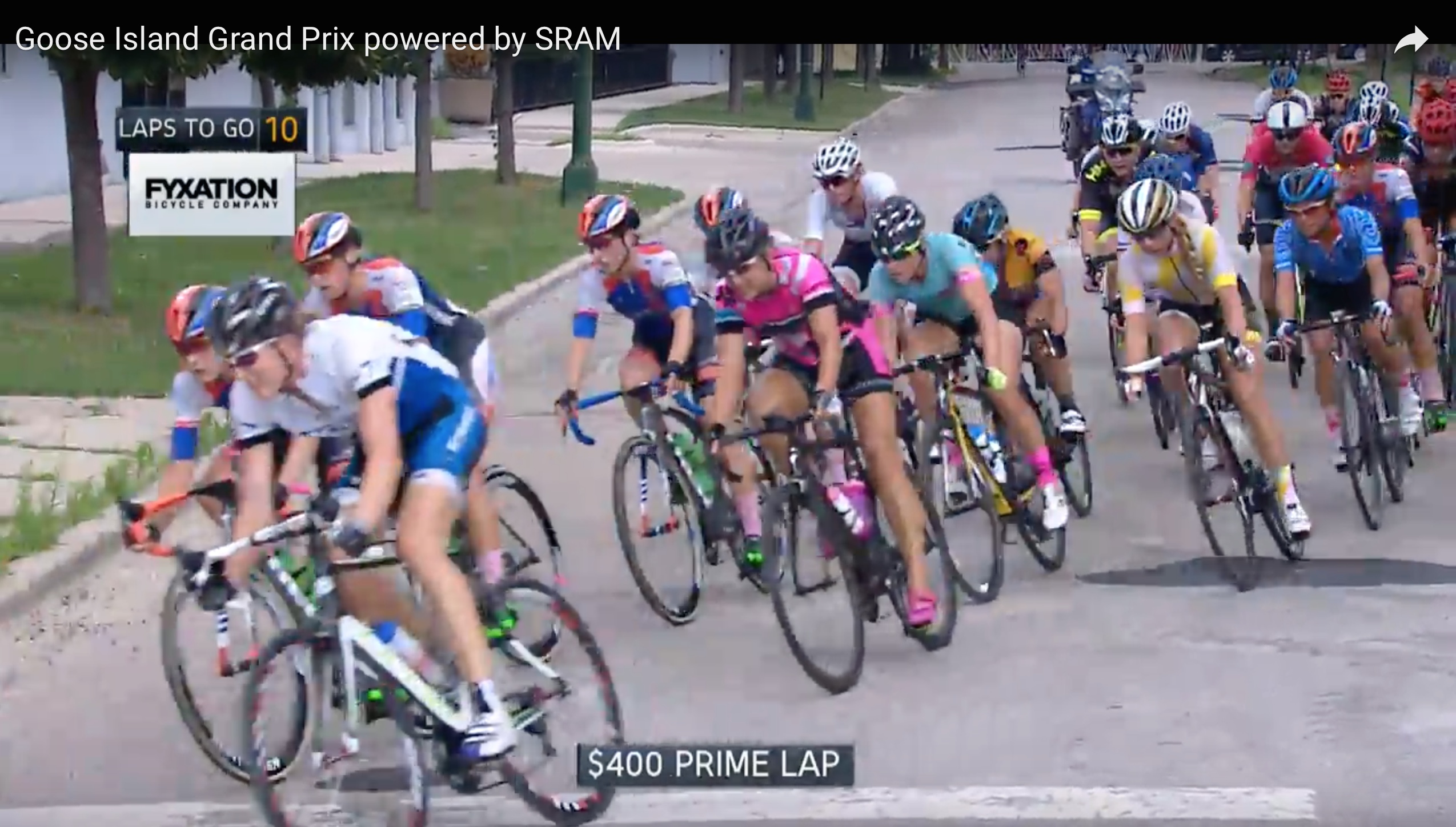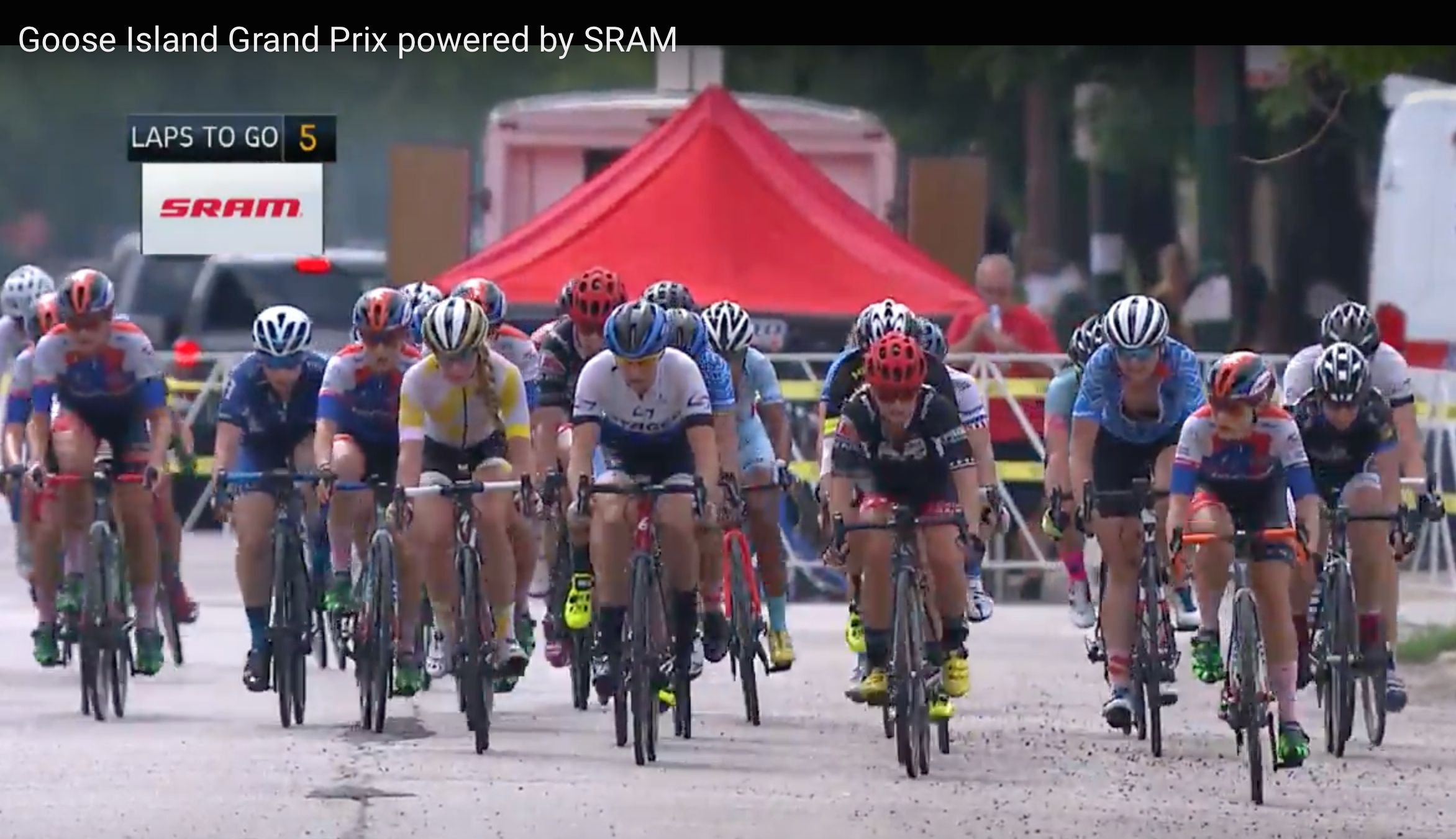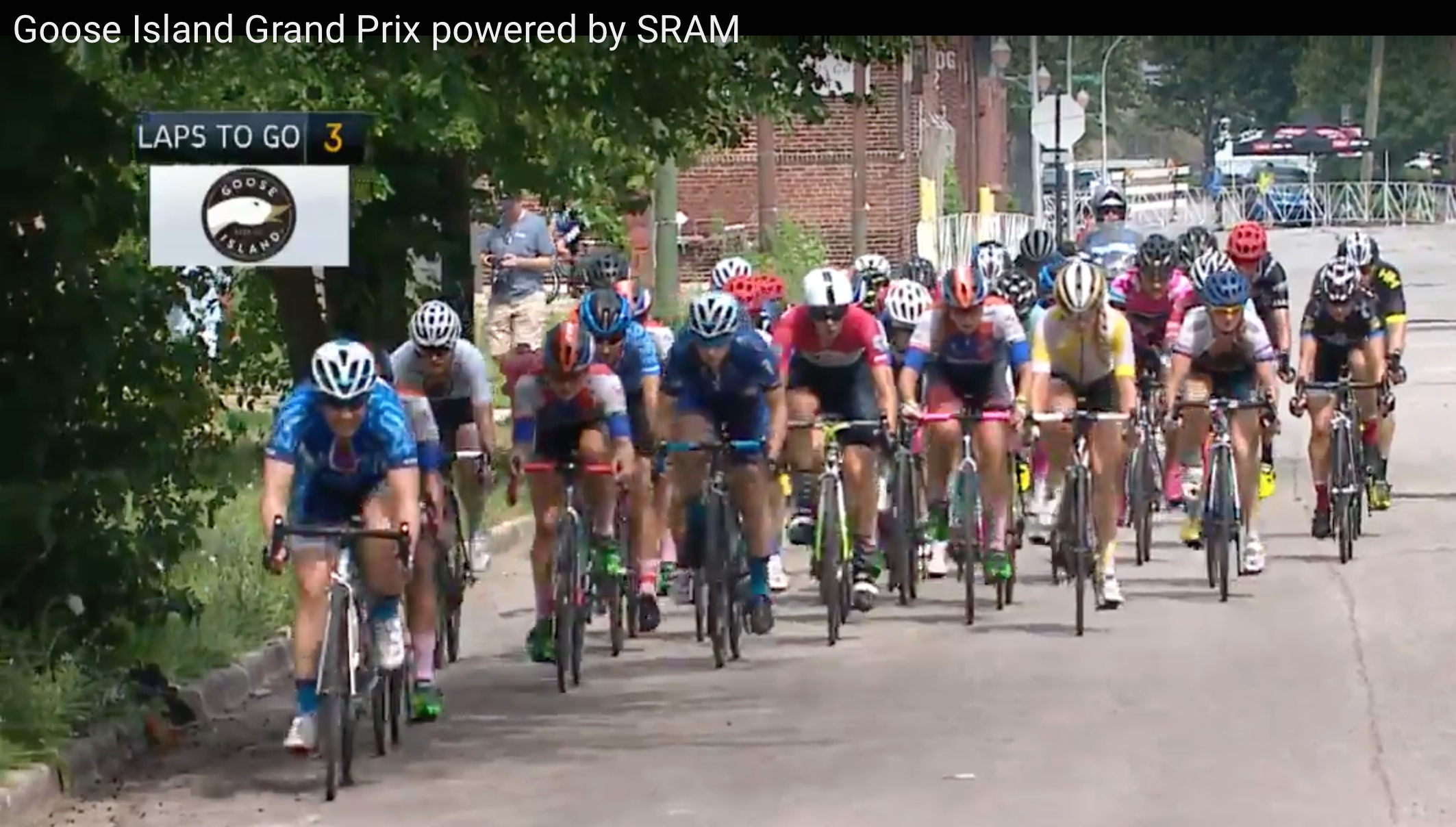 Tour of America's Dairylands, Wisconsin, June 17-26, 2016
Thump Cycling

Race the Harbor Criterium: 14th, 2nd Cat 2
Shorewood Criterium Cycling Classic: 29th, 6th Cat 2
Cafe Centraal Bay View Classic: 16th, 3rd Cat 2
ISCorp Downer Classic: Pro Road Tour: 44th, 14th Cat 2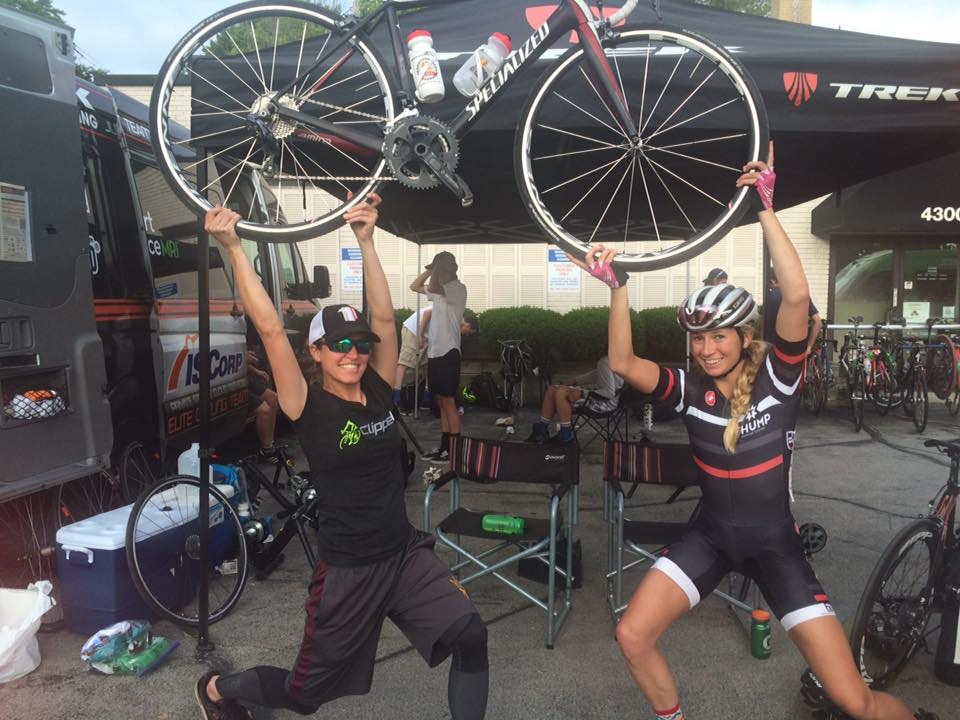 North Star Grand Prix, Pro Road Tour, Minnesota, June 15-20, 2016
North Memorial Health Care

St. Paul Time Trial: PRT: 66th, 15th Cat 2
St. Paul Criterium: race stopped due to crashes
Cannon Falls Road Race: PRT: 46th, 8th Cat 2
Uptown Minneapolis Criterium: PRT: 46th, 10th Cat 2
North Mankato Road Race: PRT: 57th, 14th Cat 2
Stillwater Criterium: PRT: 39th, 9th Cat 2
General Classification: PRT: 45th, 9th Cat 2


St. Paul Time Trial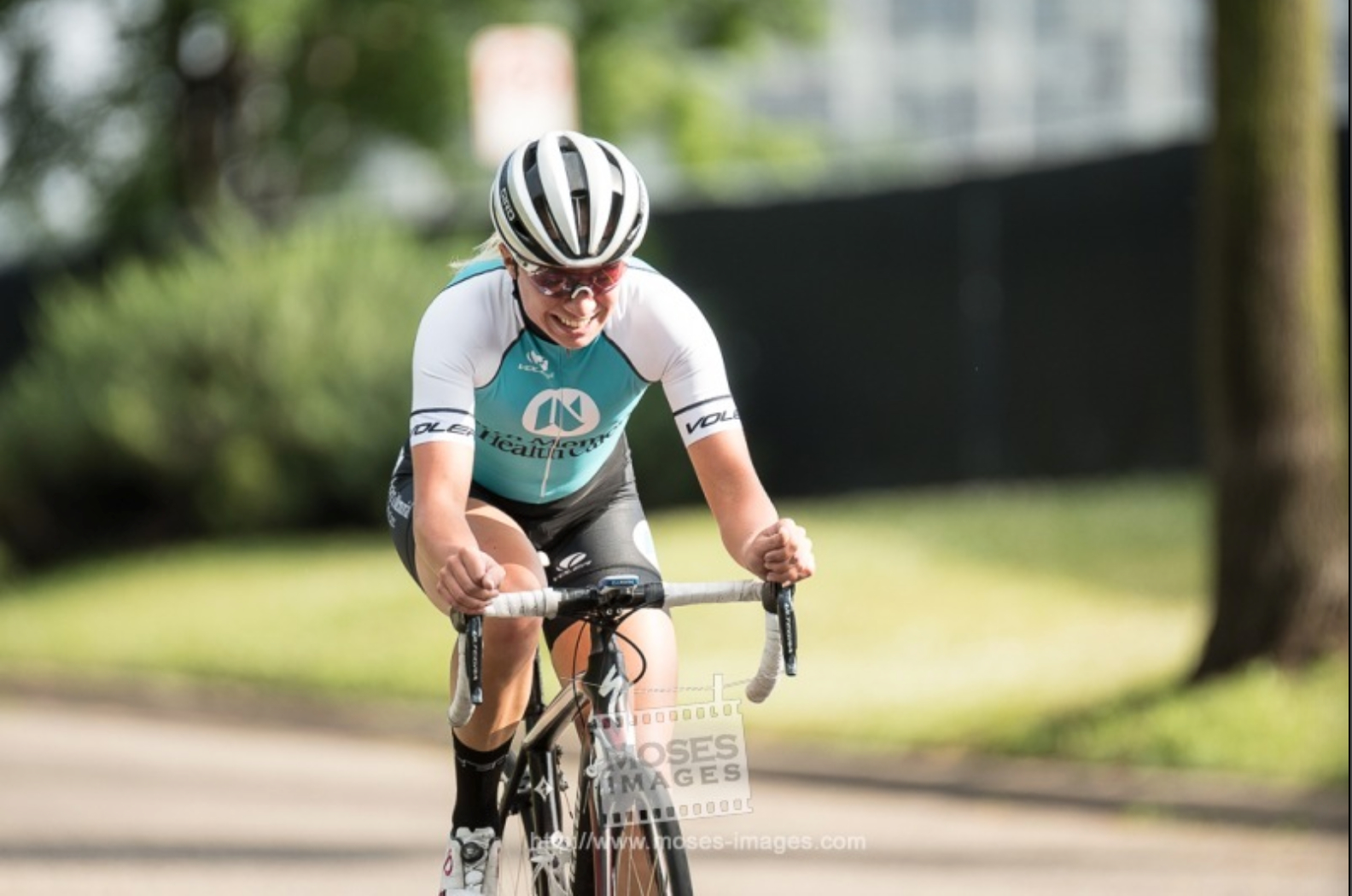 Cannon Falls Road Race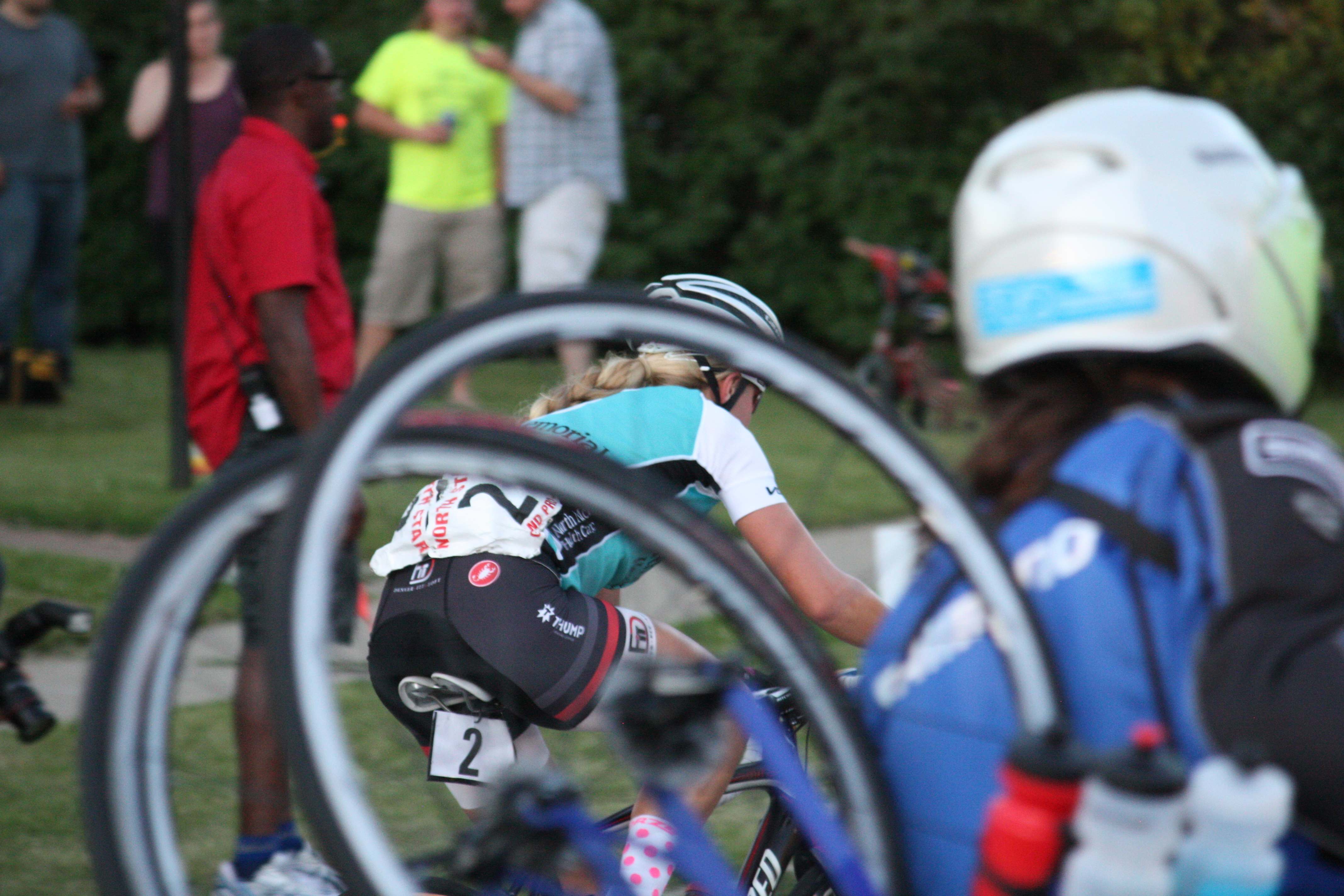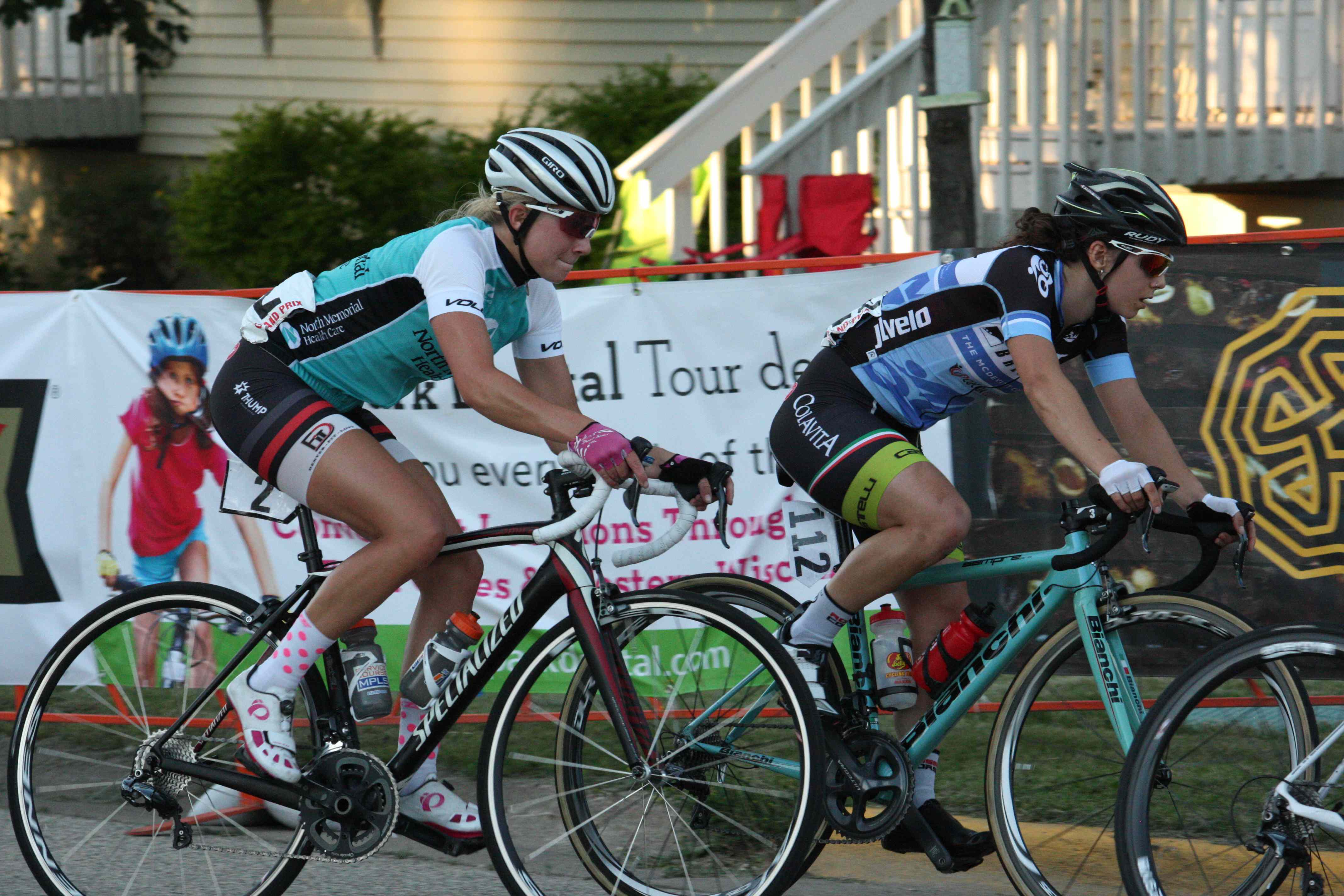 Uptown Minneapolis Criterium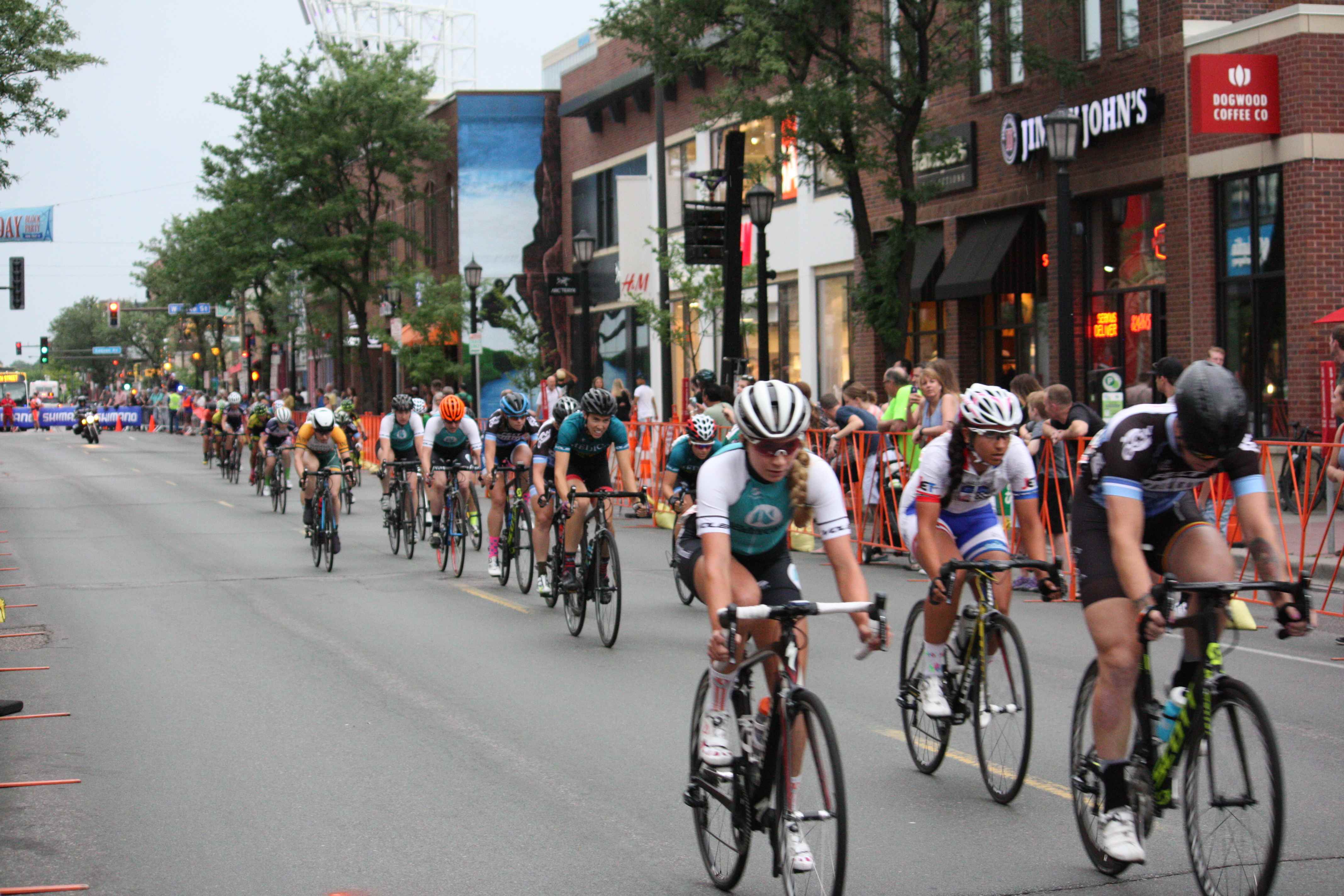 Mankato Road Race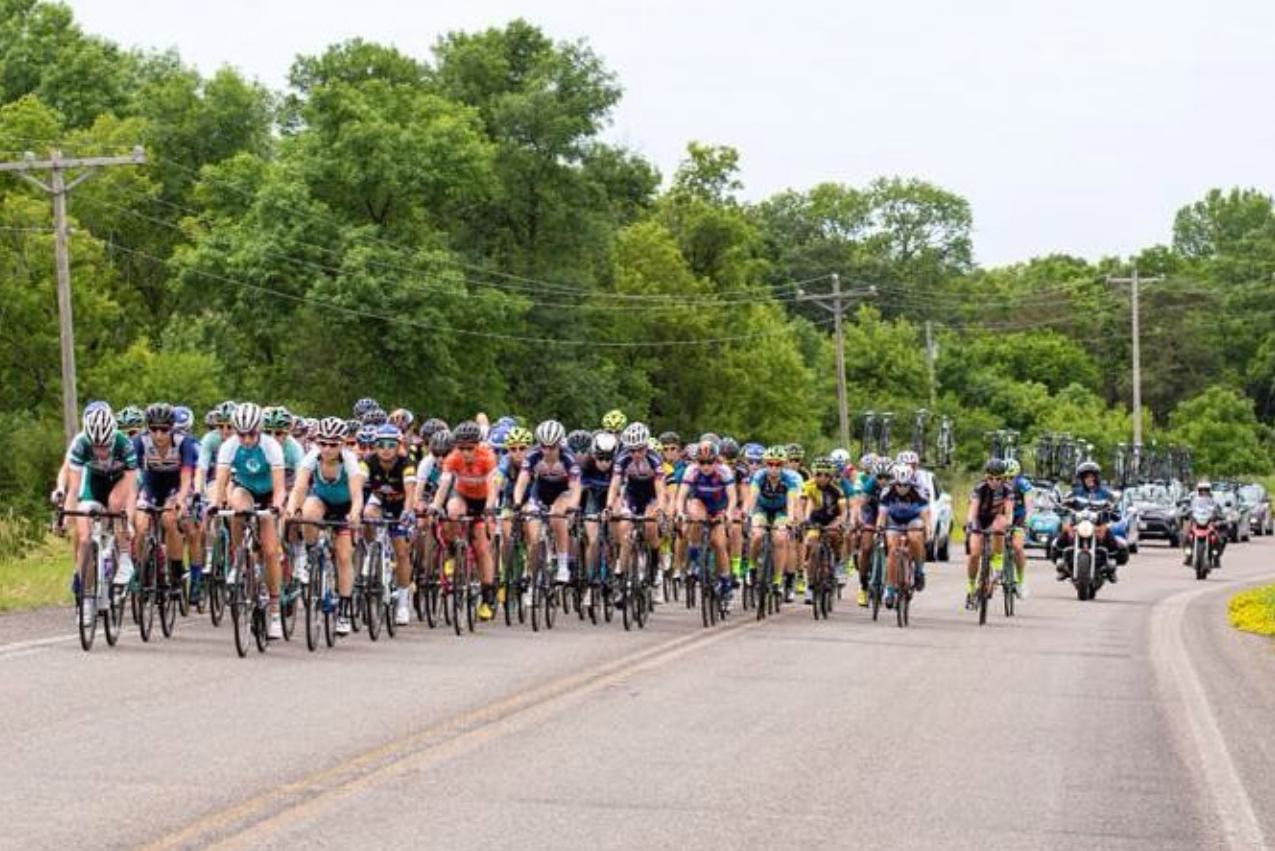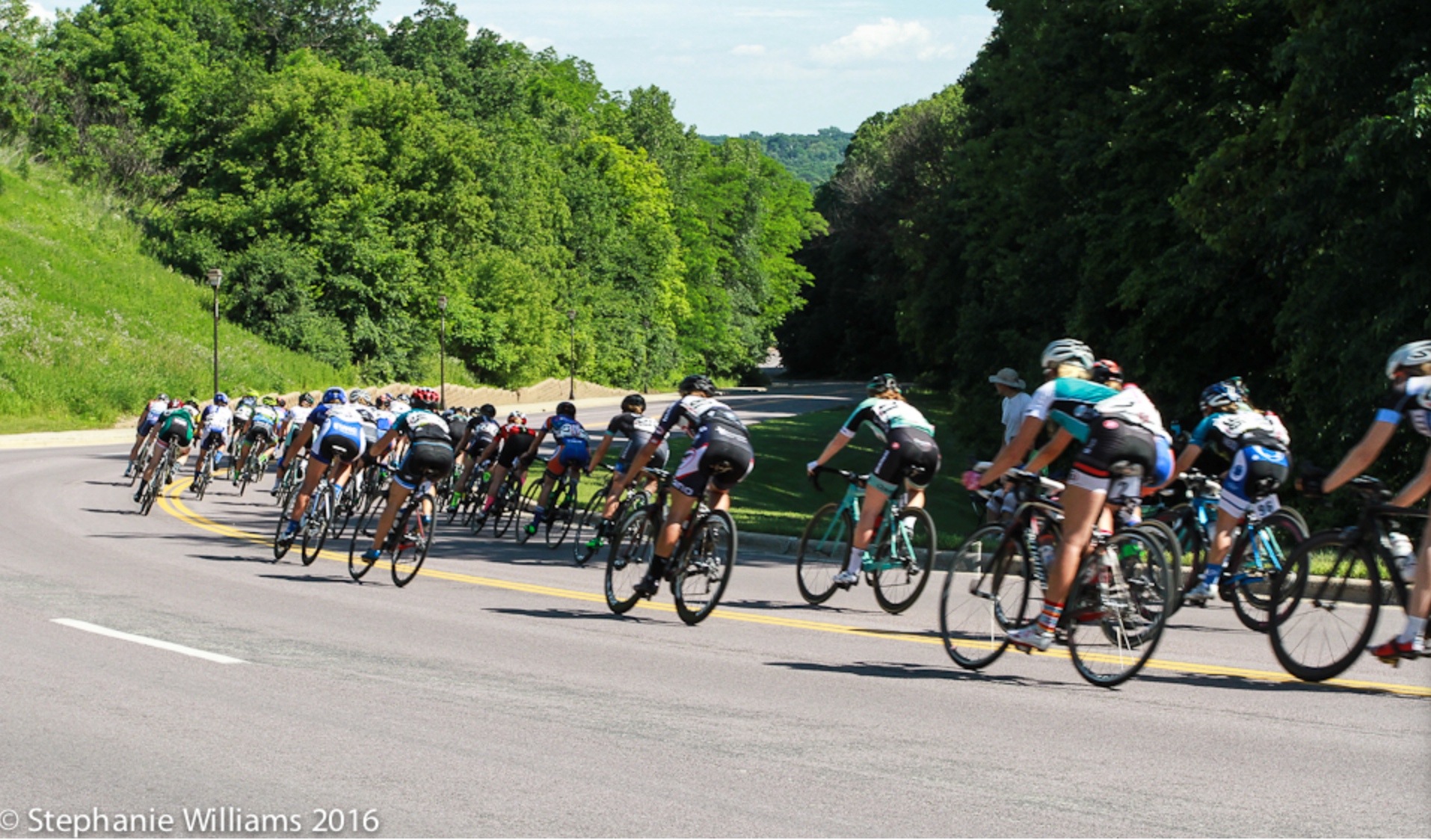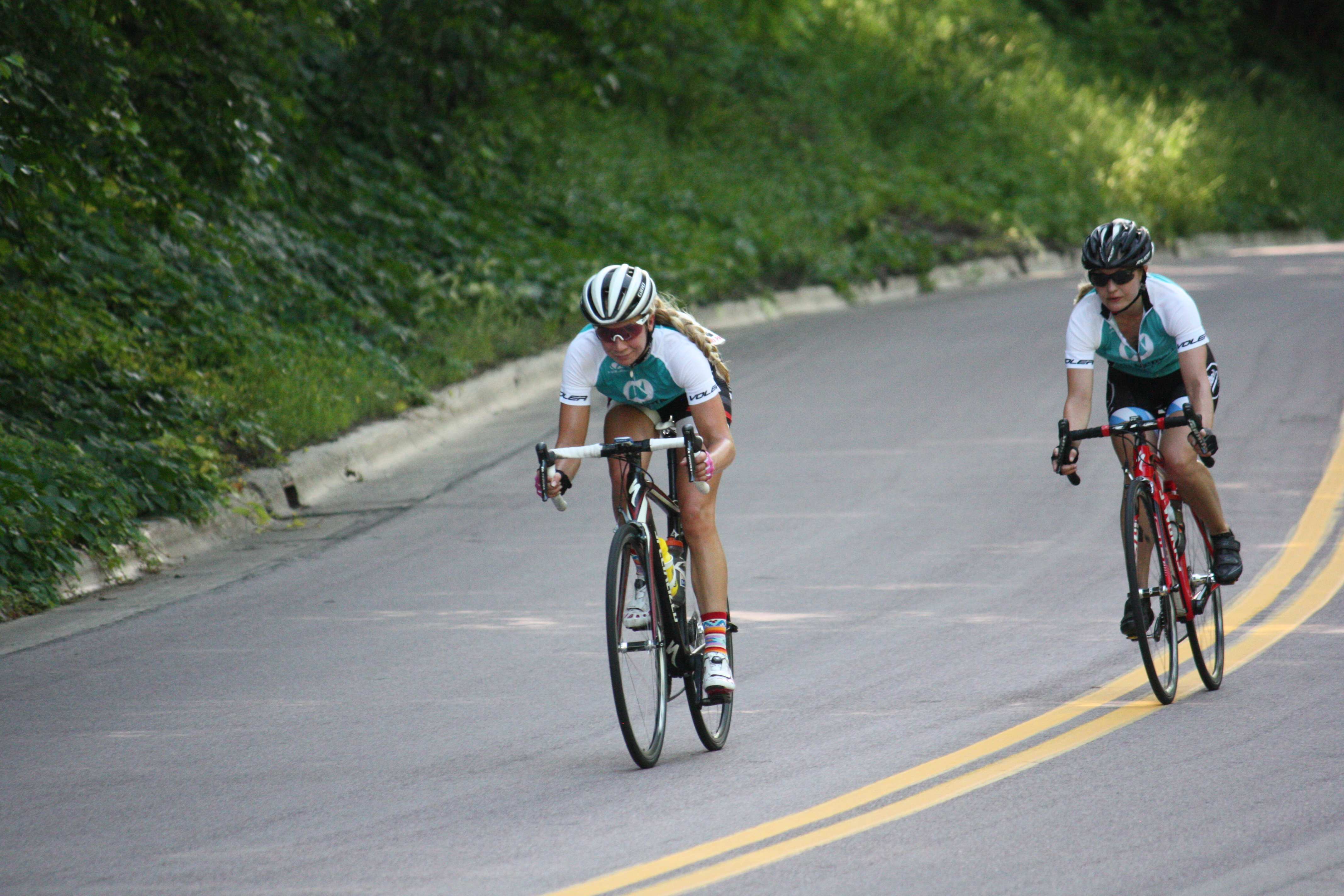 Stillwater Criterium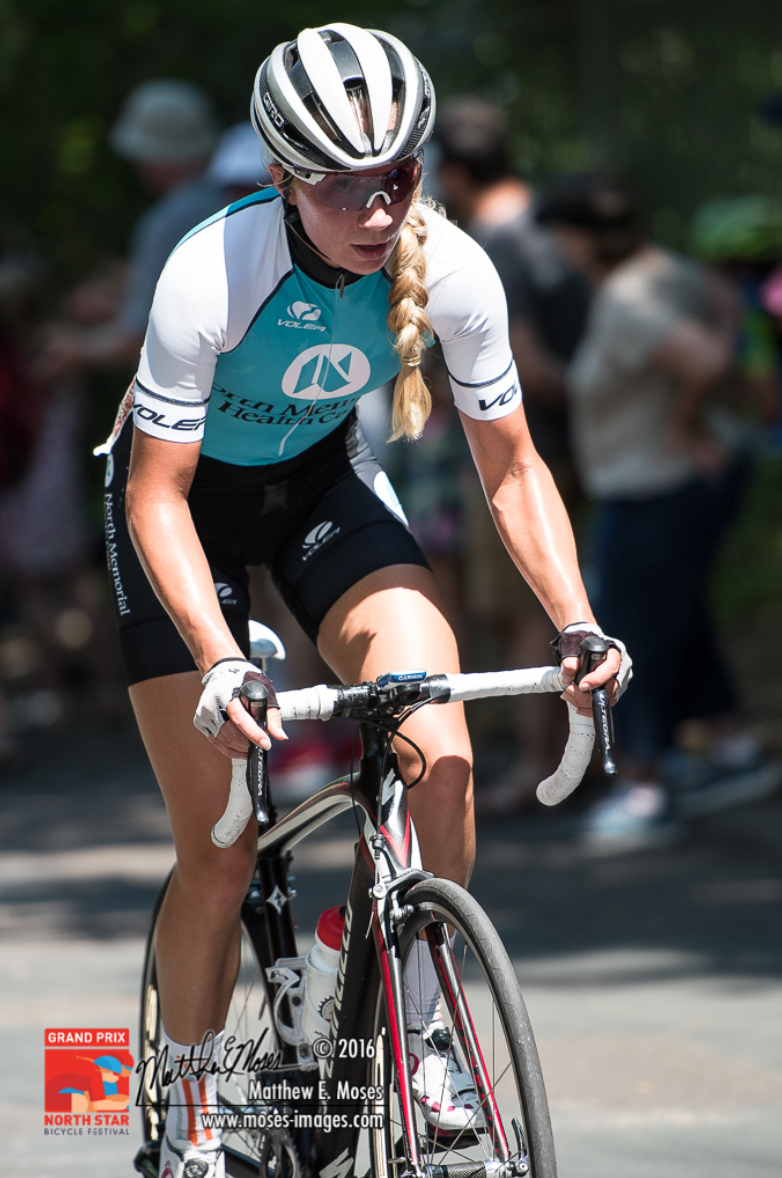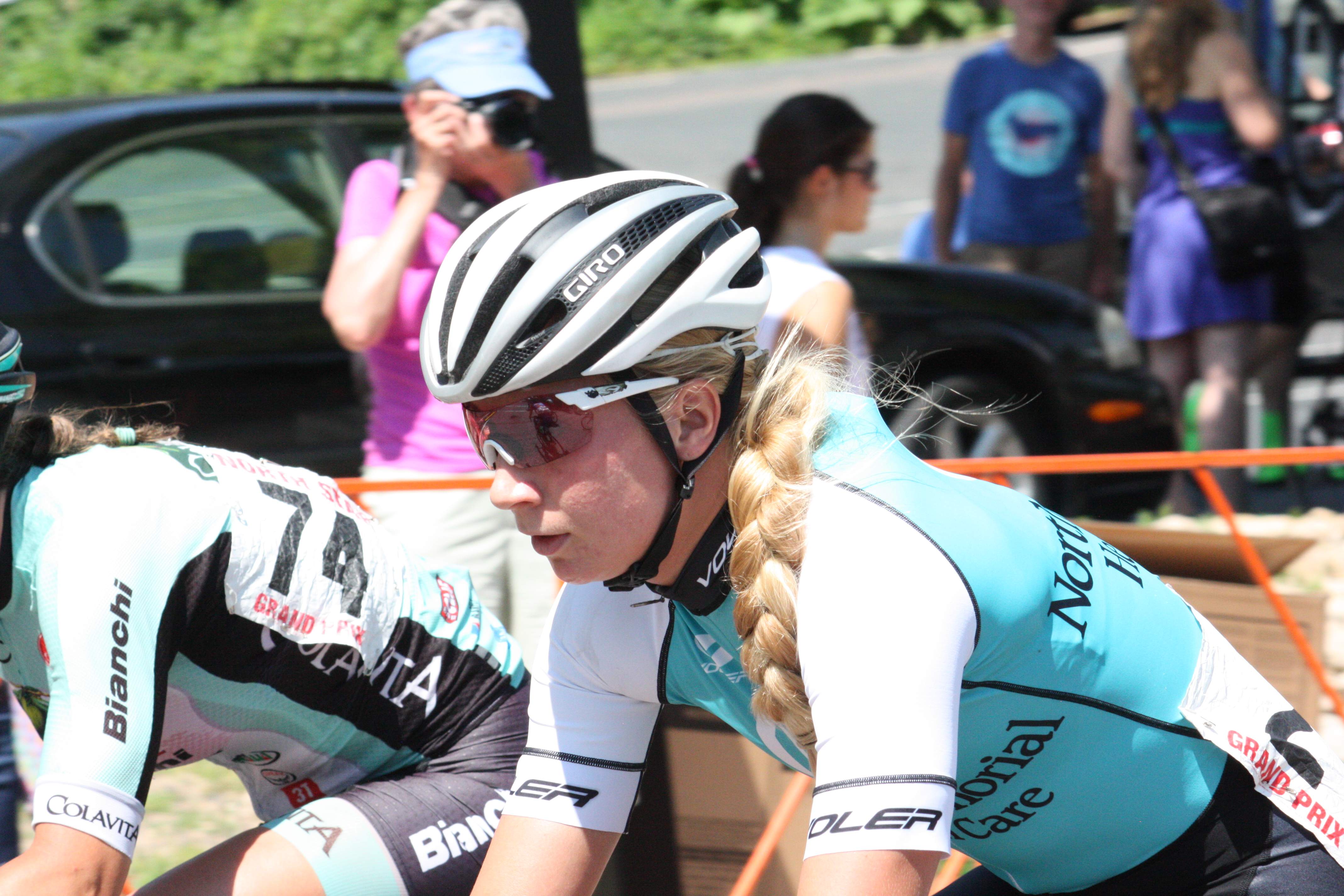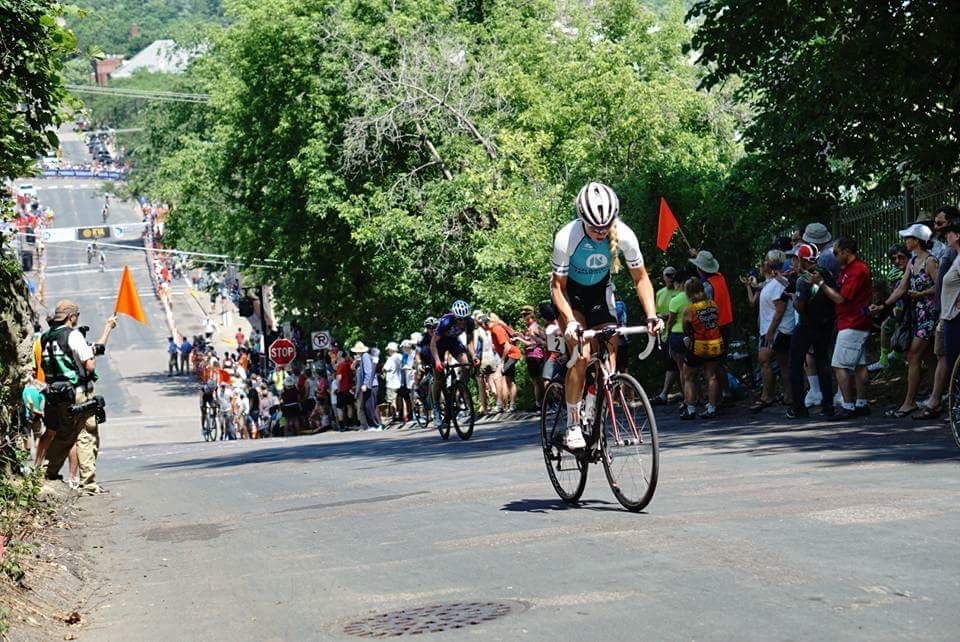 Fathers Day in Stillwater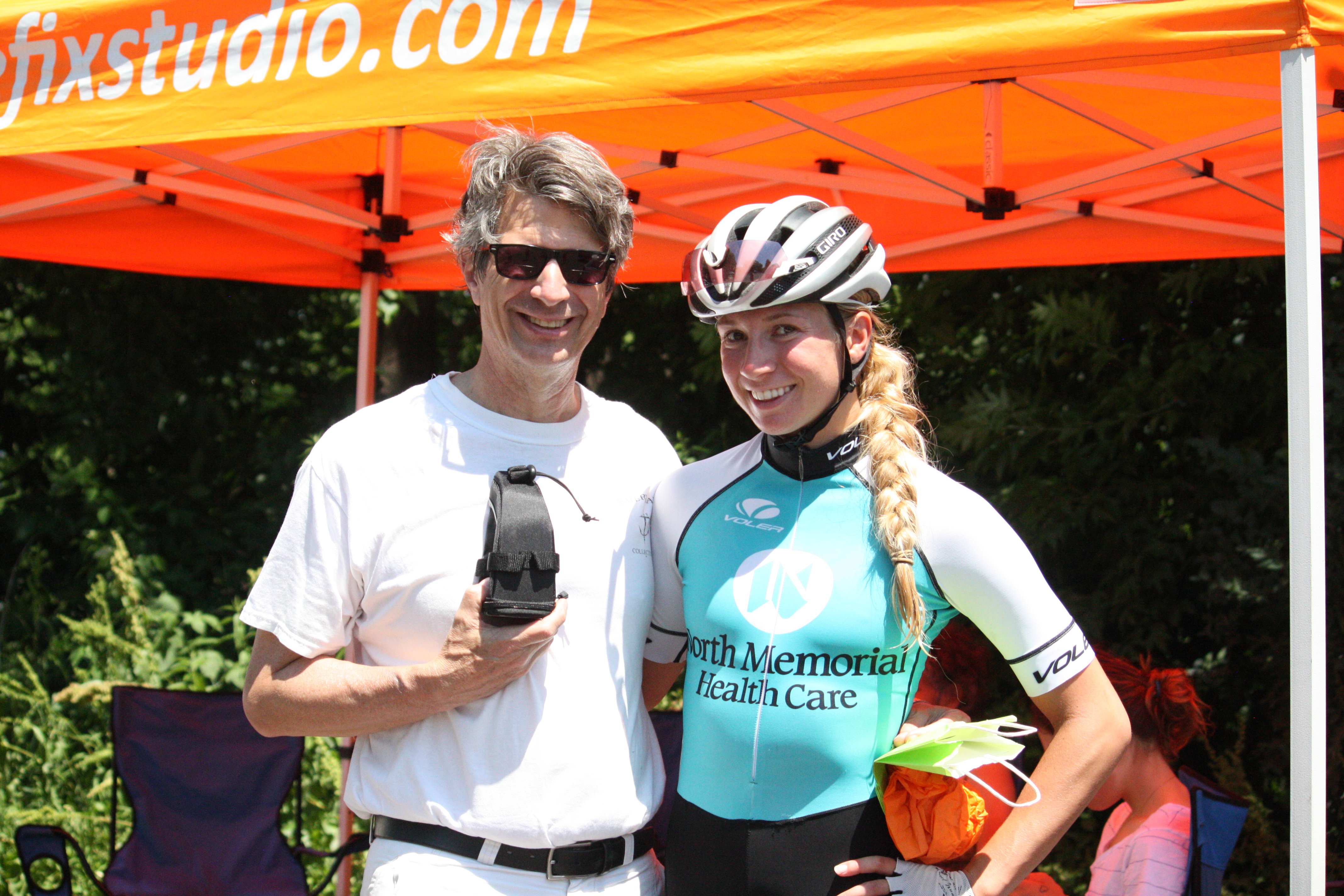 Saint Francis Tulsa Tough, Pro Road Tour, Tulsa, OK, June 10-12, 2016
Canyon Elite

Criterium: PRT: 34th, 12th Cat 2
Criterium: PRT: 25th, 7th Cat 2
Criterium: PRT: 21st, 7th Cat 2
Omnium: 30th, 9th Cat 2

Mel Trolling the Bolder Boulder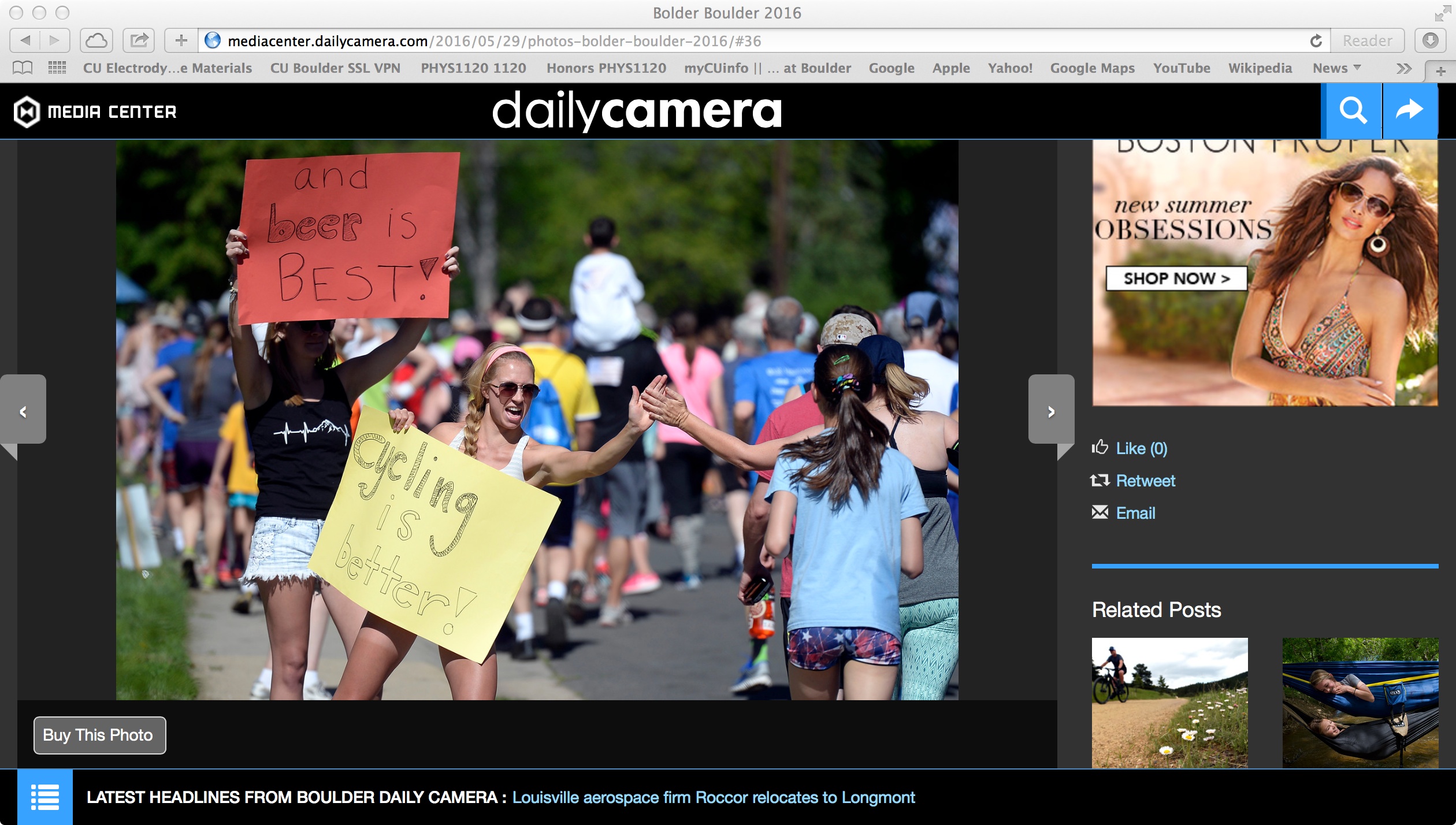 City Park Crit, Denver, CO, June 4, 2016
Criterium: 6th
Tour of the Gila, Pro Road Tour, Silver City, NM, May 4-8, 2016
Groove Subaru / Excel Sports Team

Road Race: PRT: 47th, 6th Cat 2
Road Race: PRT: 52th, 6th Cat 2
Time Trial: PRT: 71st: 7th Cat 2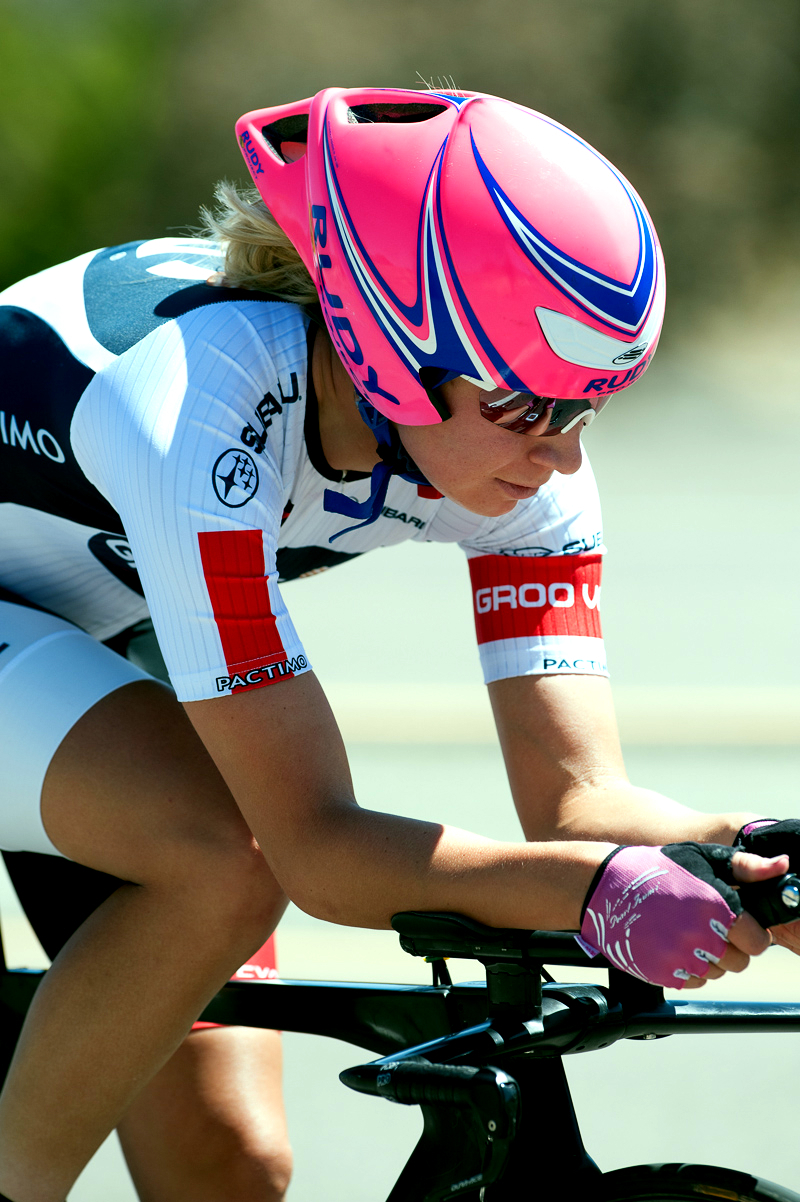 Joe Martin Stage Race, Pro Road Tour, Fayetteville, AK, April 21-24, 2016
Canyon Elite
Time Trial: PRT: 51st, 8th Cat 2
Road Race: PRT: 48th, 6th Cat 2
Road race: PRT: 41st, 5th Cat 2
Criterium: PRT: 59th, 9th Cat 2
General Classification: 48th, 7th Cat 2

Redlands Bicycle Classic, Pro Road Tour, Redlands, CA, April 6-10, 2016
Groove Subaru / Excel Sports Team

Circuit Race: PRT: 74th, 16th Cat 2, 118 starters
Road Race: PRT: 73rd, 14th Cat 2, 98 starters
Time Trial: PRT: 68th, 14th Cat 2, 88 starters
Criterium: PRT: 50th, 8th Cat 2, 100 starters
Sunset Loop Circuit Race: PRT: 37th, 5th Cat 2 100 starters
GC: PRT: 49th, 9th Cat 2, 118 starters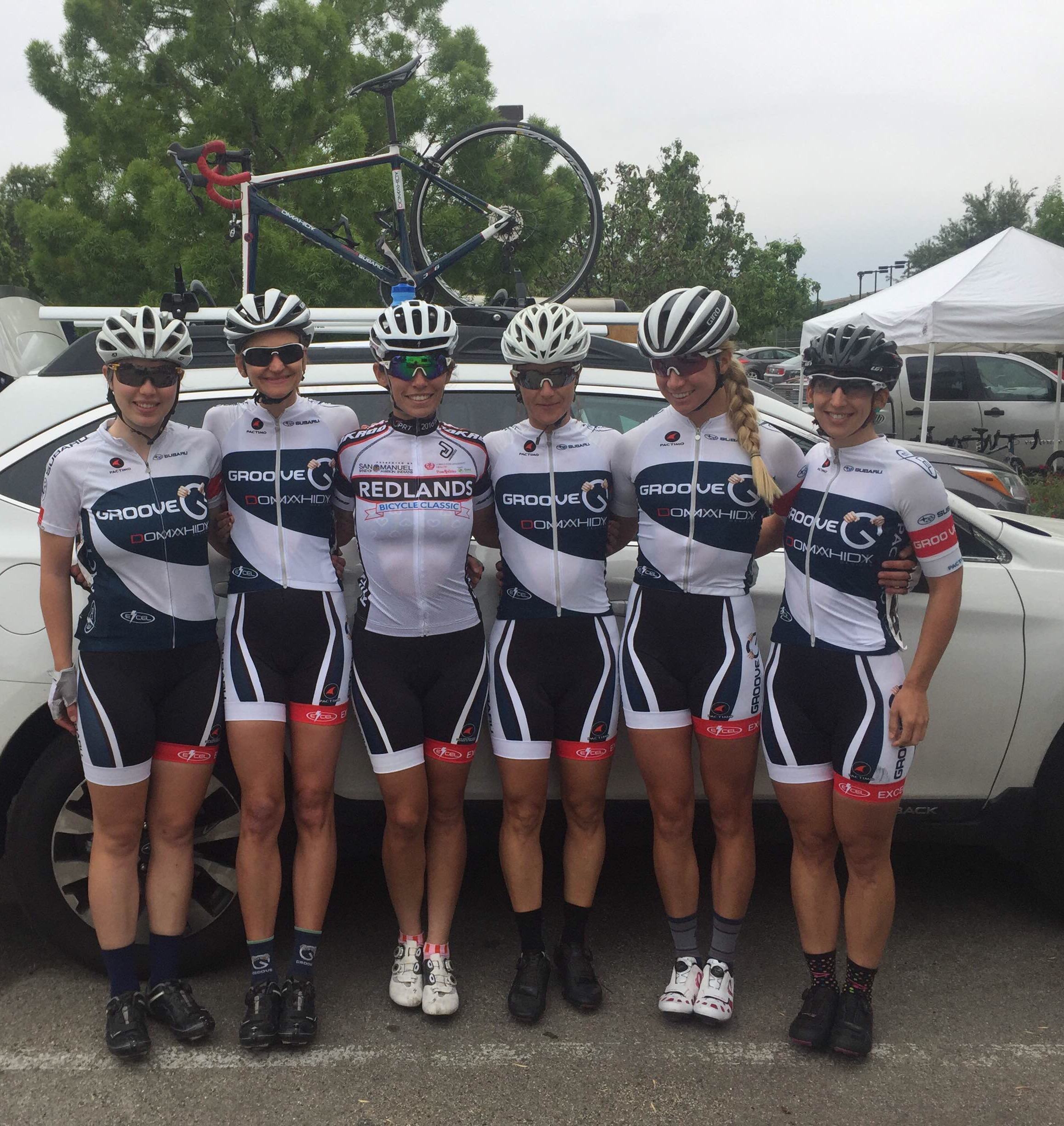 Stage 5 Sunset Loop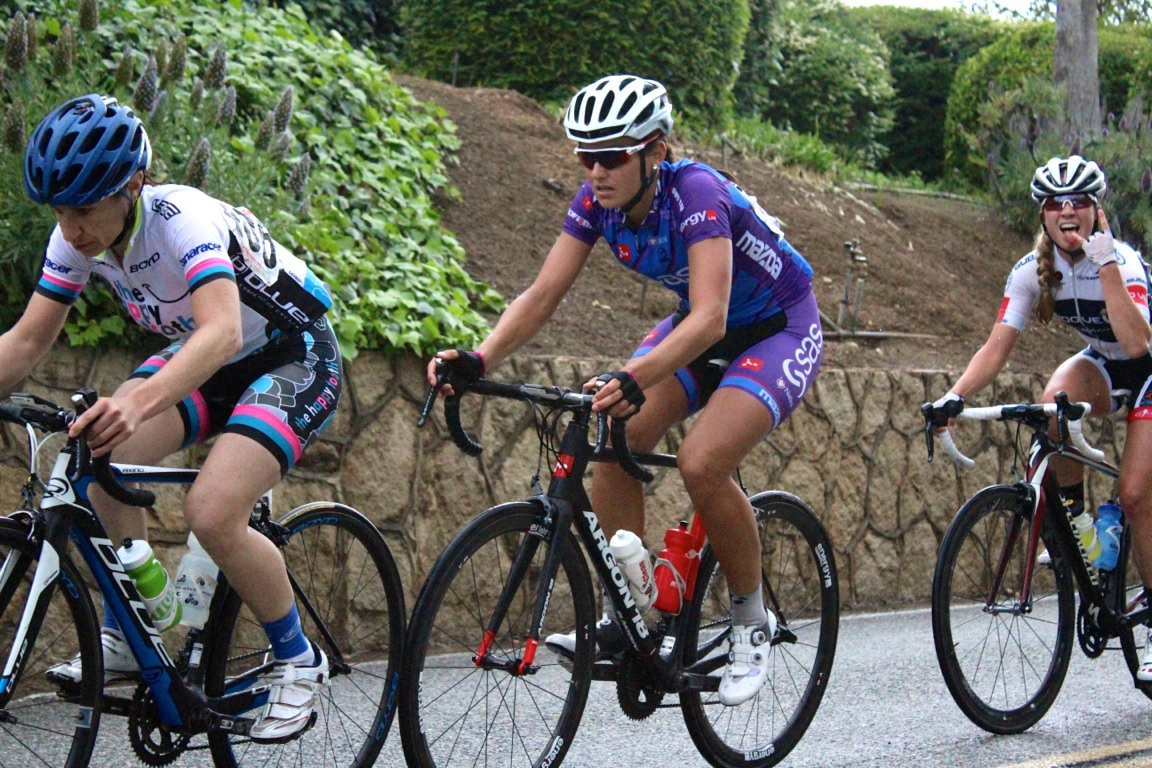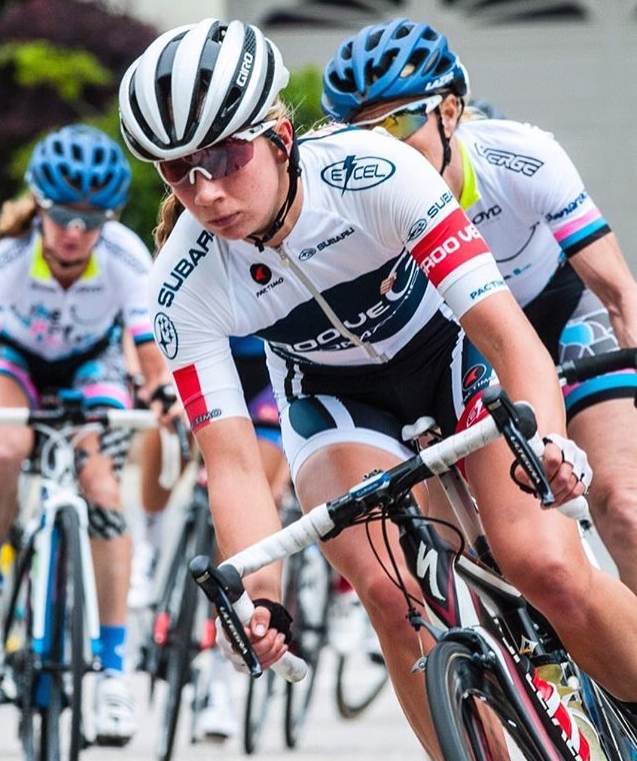 Stage 4 Three Laps To Go (463)


Stage 5 Start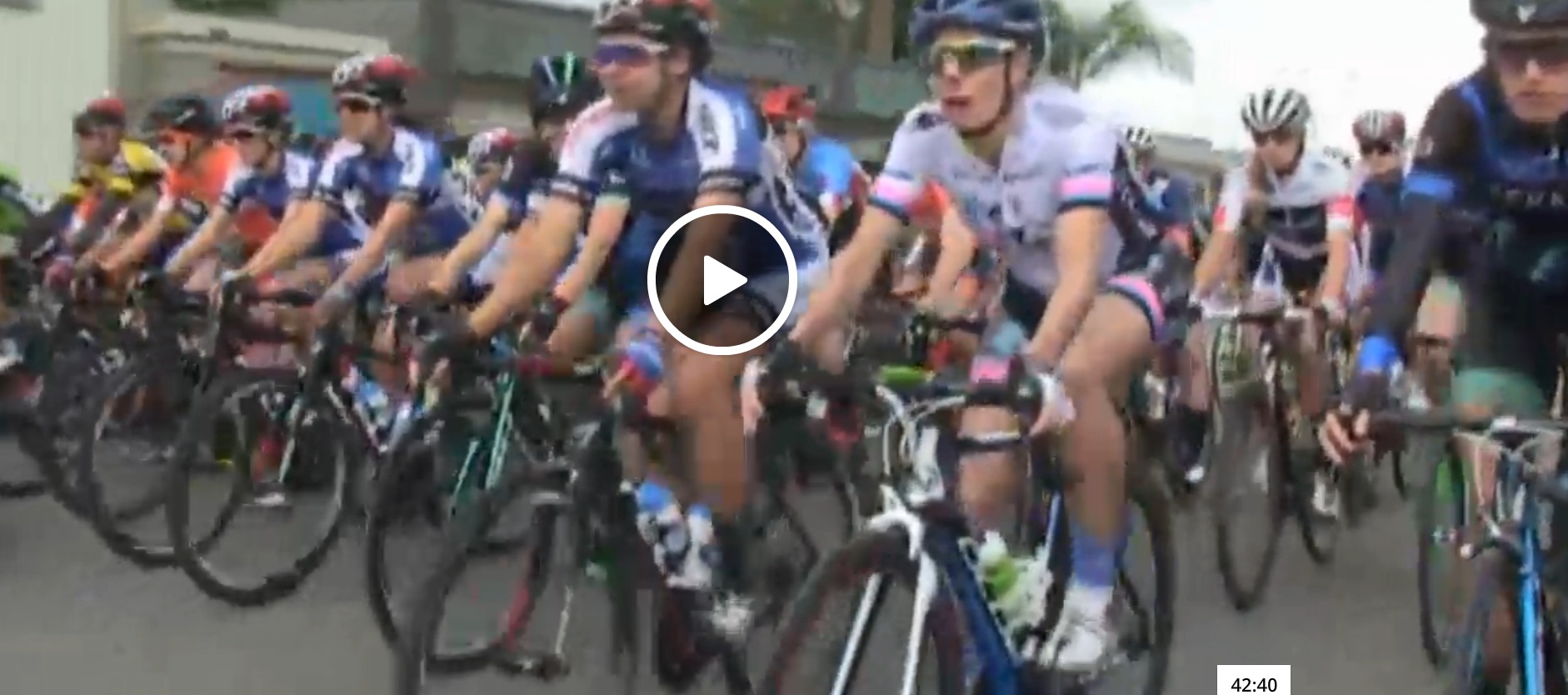 Tucson Bicycle Classic, Tucson, AZ, March 18-20, 2016
Time Trial: 9th
Road Race: 9th
Circuit Race: 15th
GC: 9th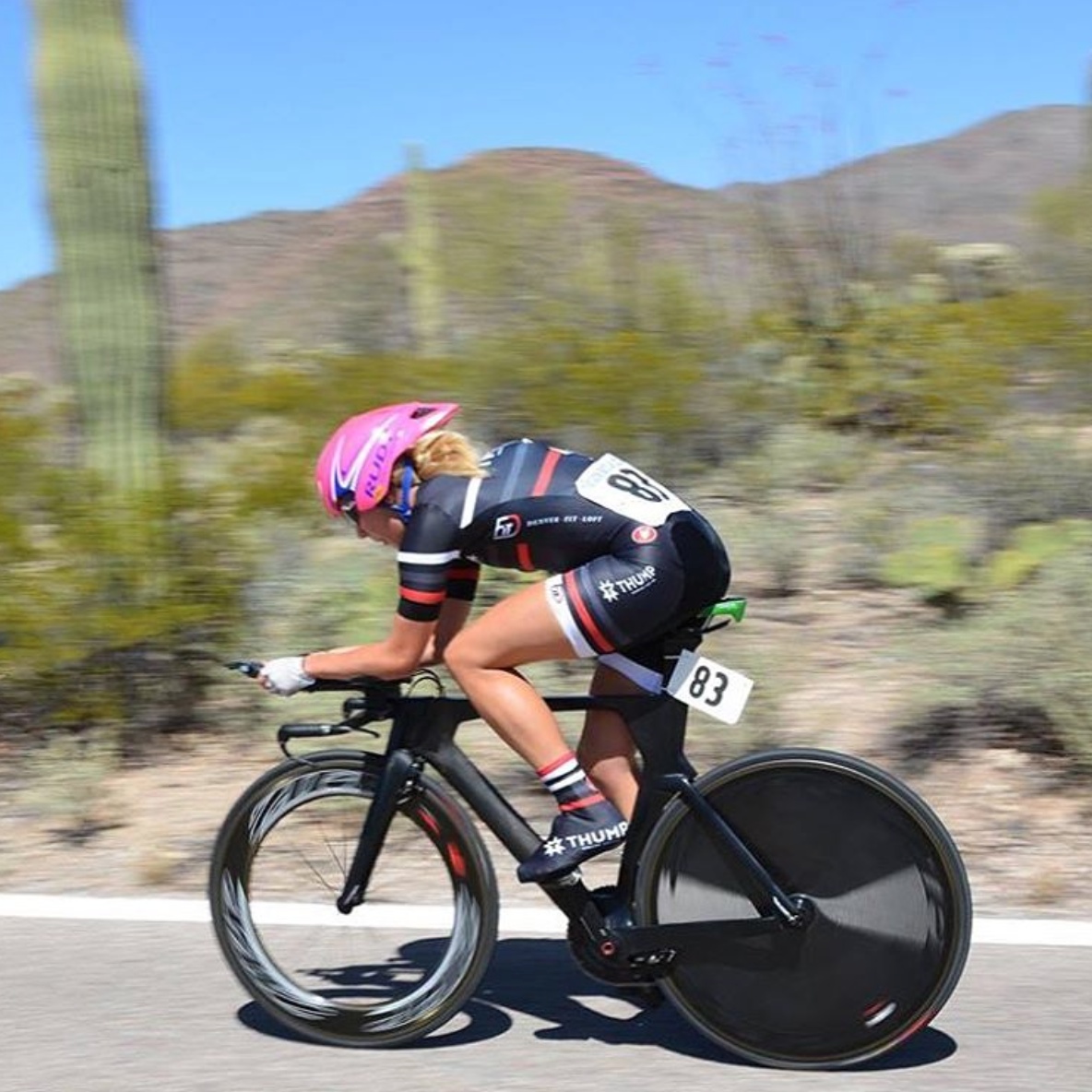 Tour of Murrieta, Murrieta, CA, March 12-13, 2016
Time Trial: 10th
Criterium: 11th
Road Race: 14th
Omnium: 5th, 1st Cat 2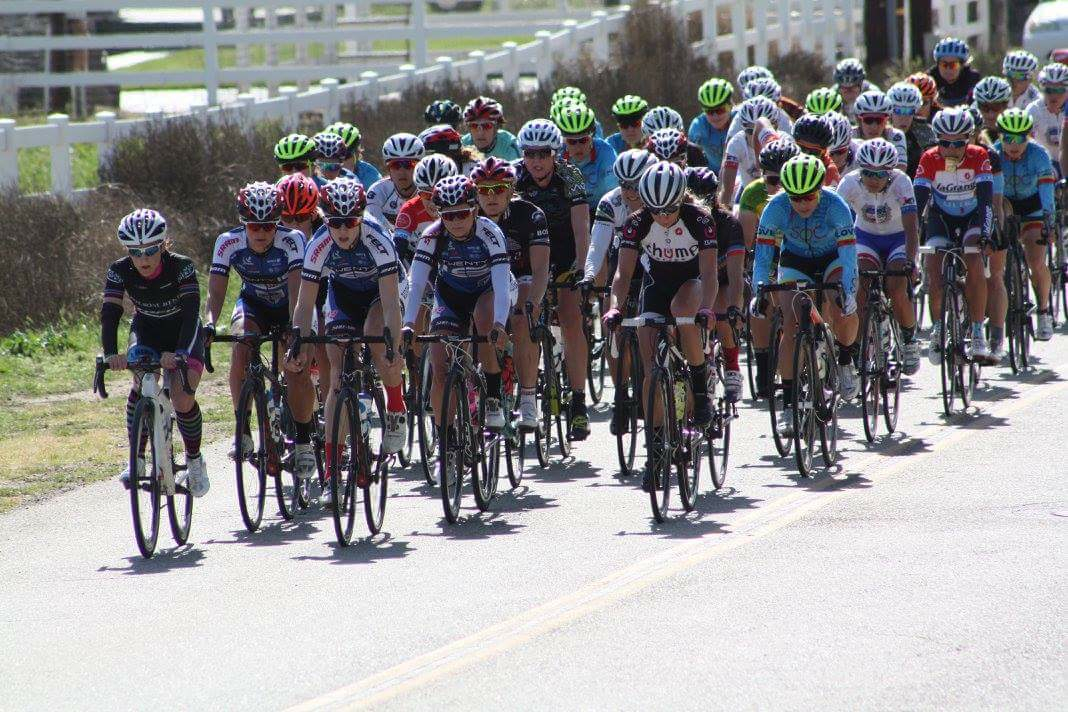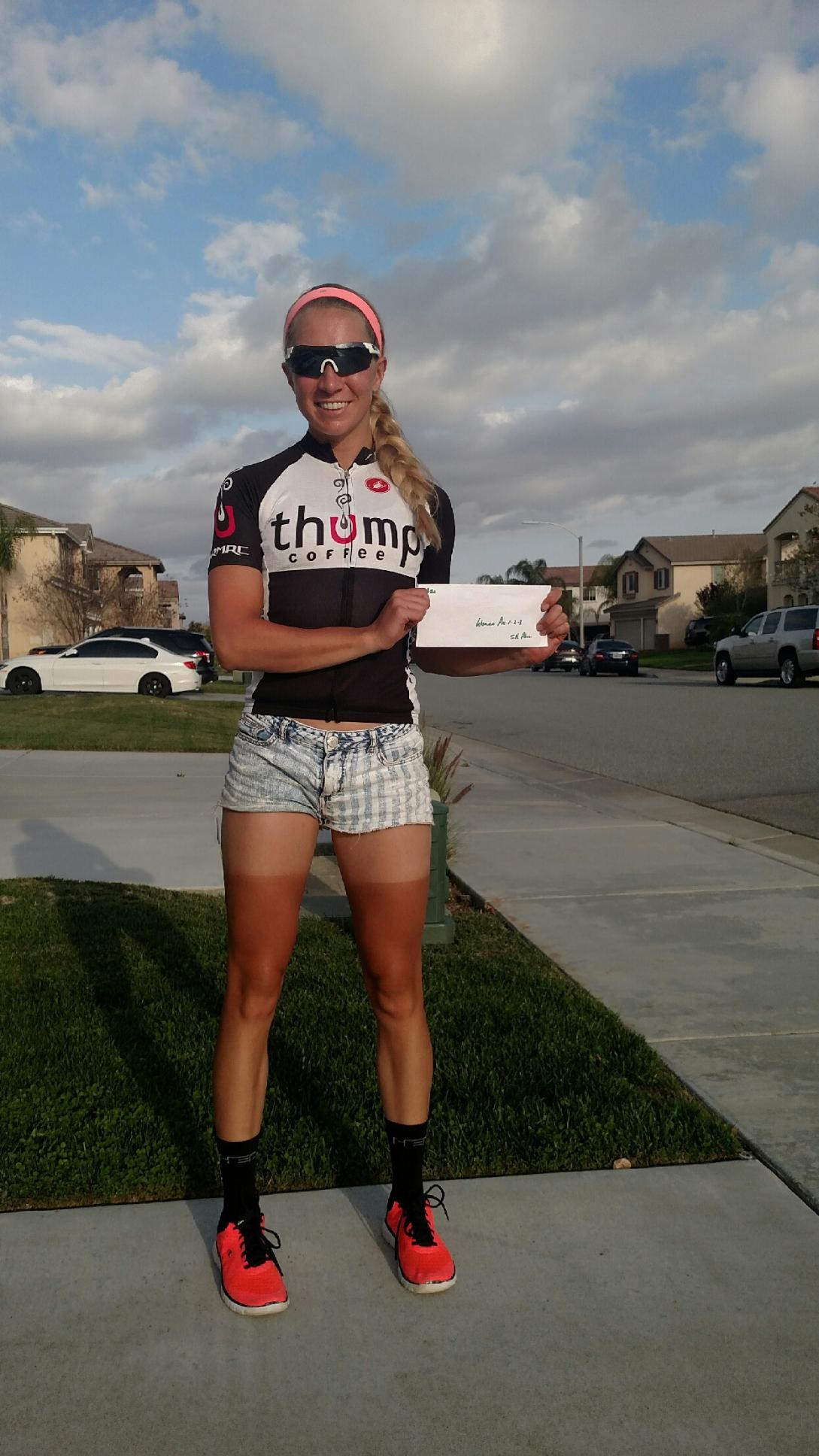 Omnium Prize
Arizona State University Polytechnic Innovation Criterium,
Mesa, AZ, April 16, 2016
Pro-1-2-3 Criterium: 1st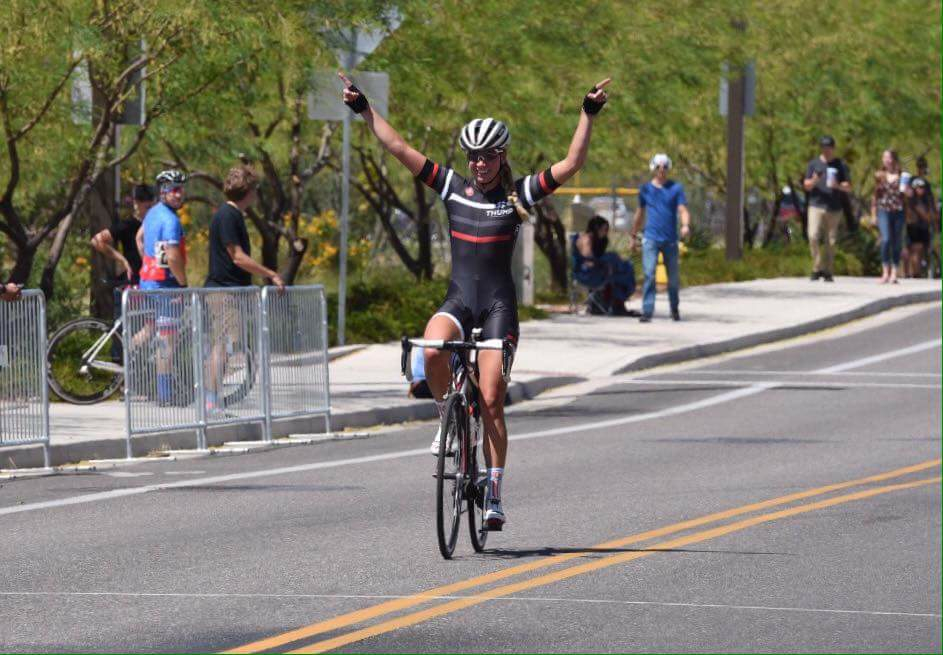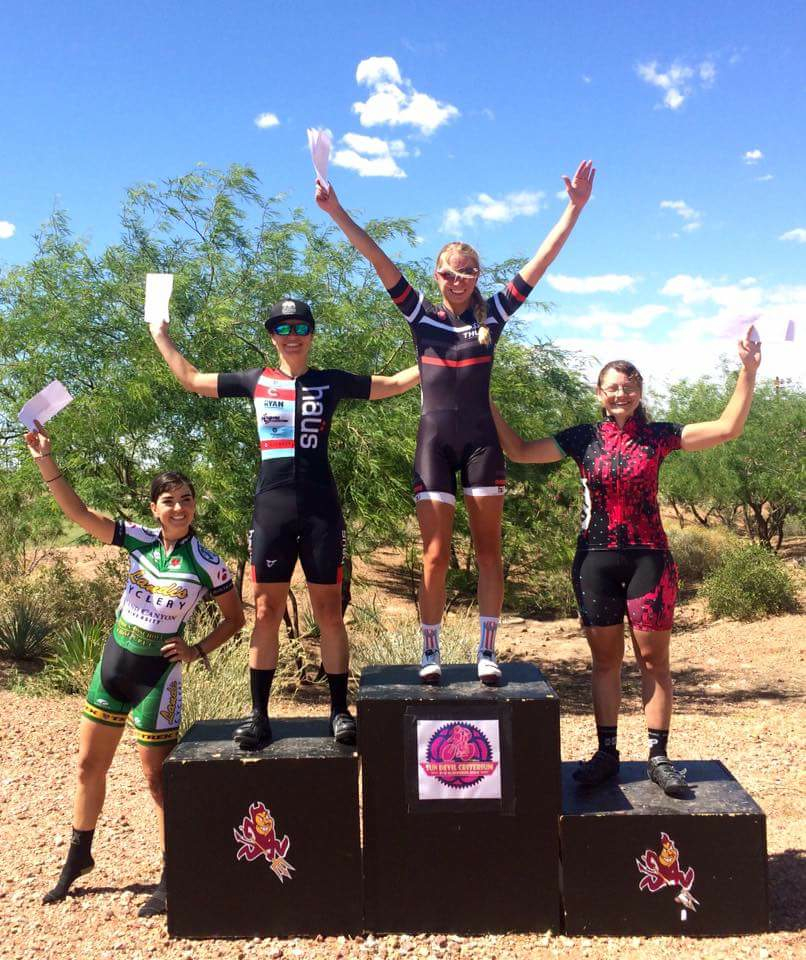 ZiaVelo Trifecta Pro-1-2, Las Cruces, NM, March 5-6, 2016
Las Cruces Time Trial: 1st
Las Cruces Criterium: 1st
Hillsboro Classic Road Race: 1st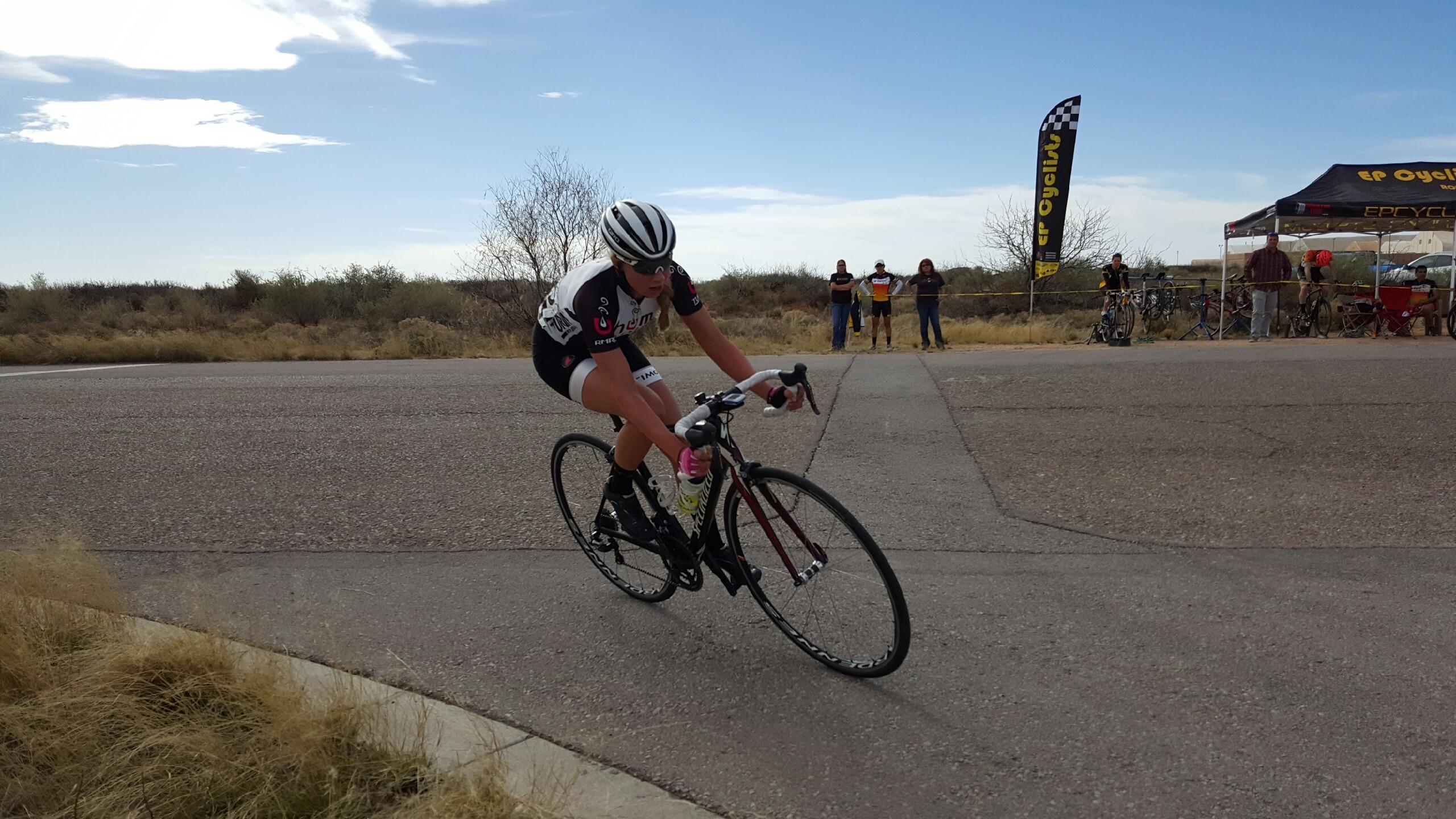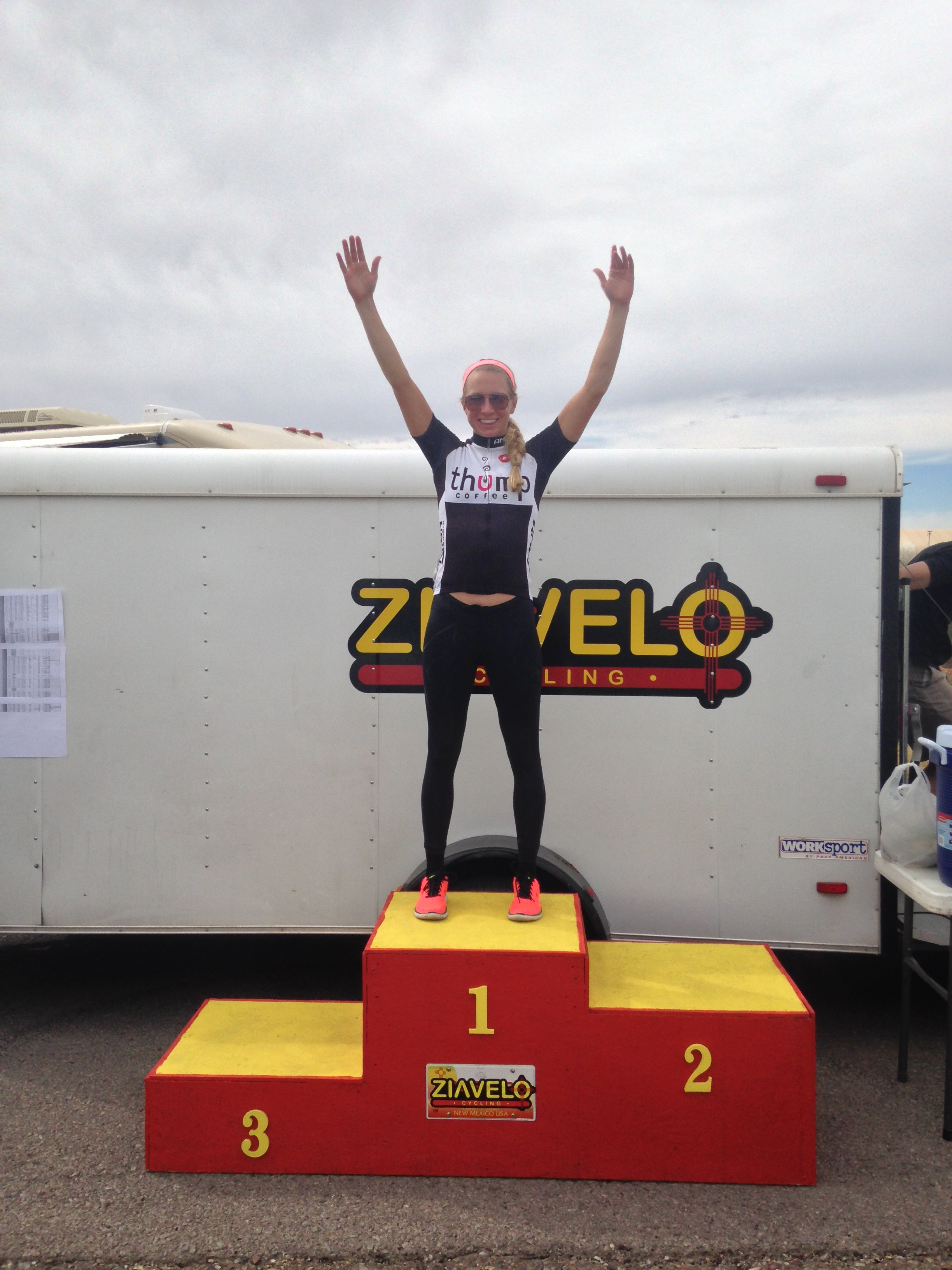 Fort Collins Pro Cycling Challenge Ad

2015 Pro-1-2 Races
Steamboat Springs Stage Race
General Classification: 4th
Time Trial: 5th
Road Race: 5th
Criterium: 5th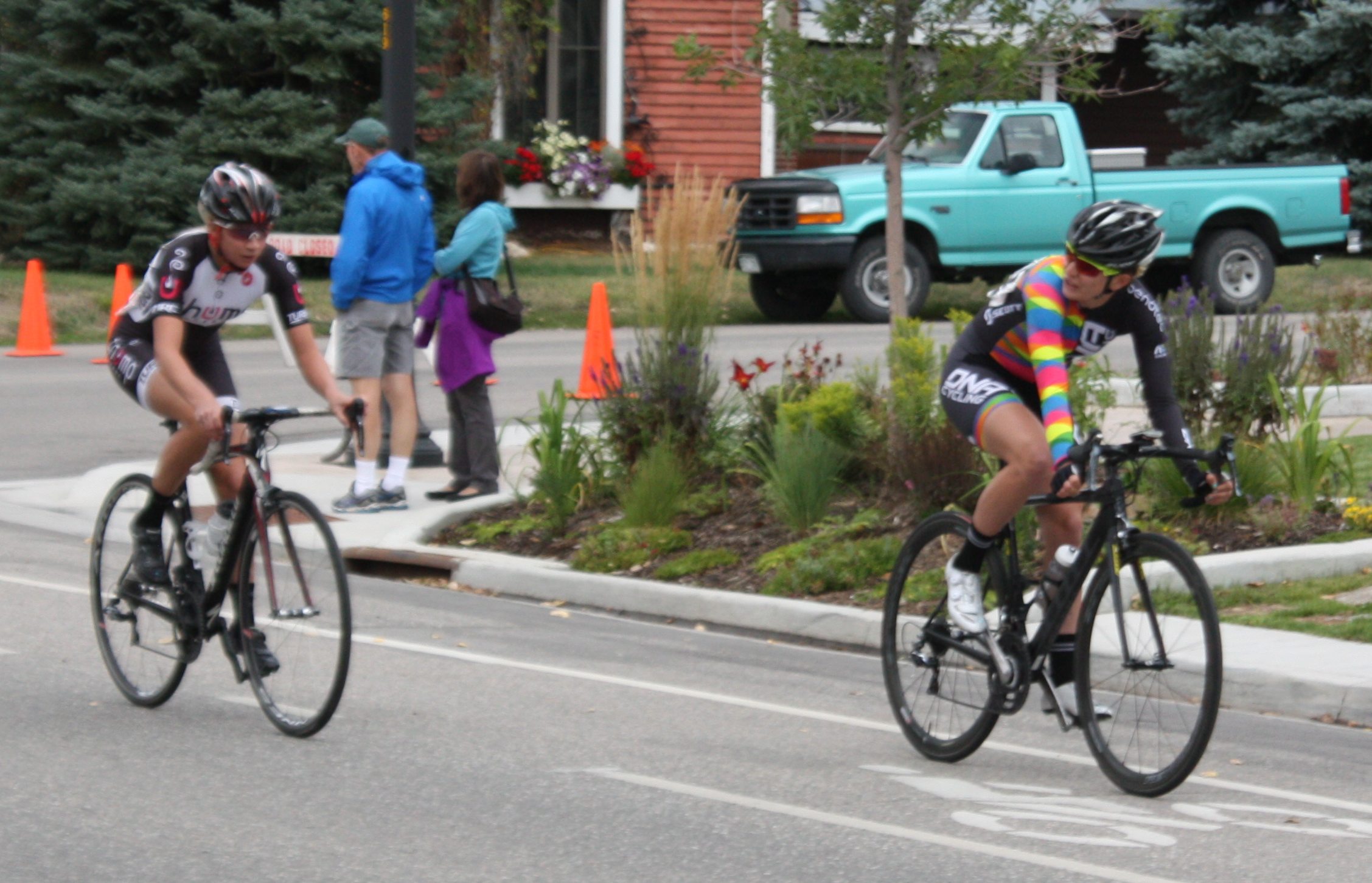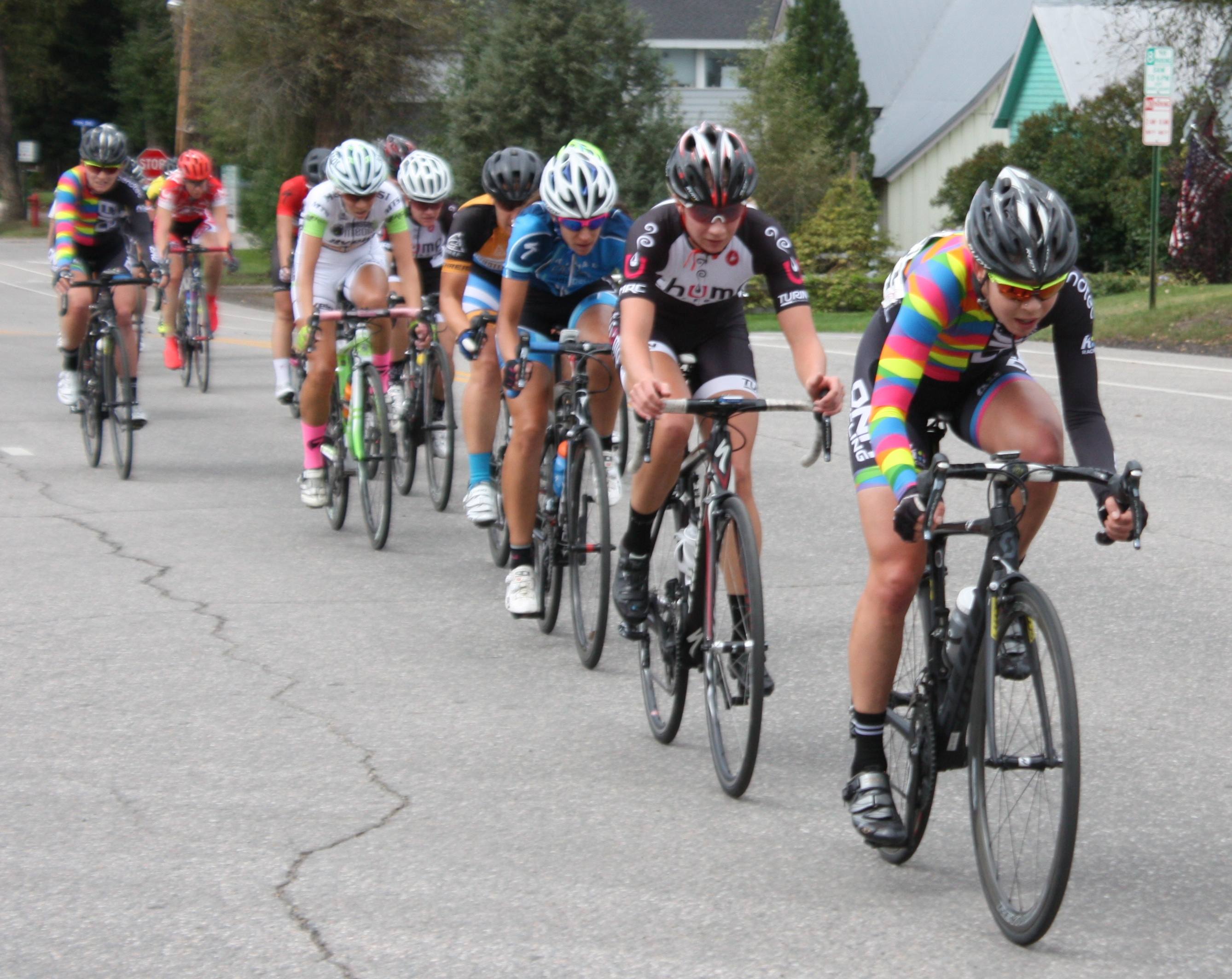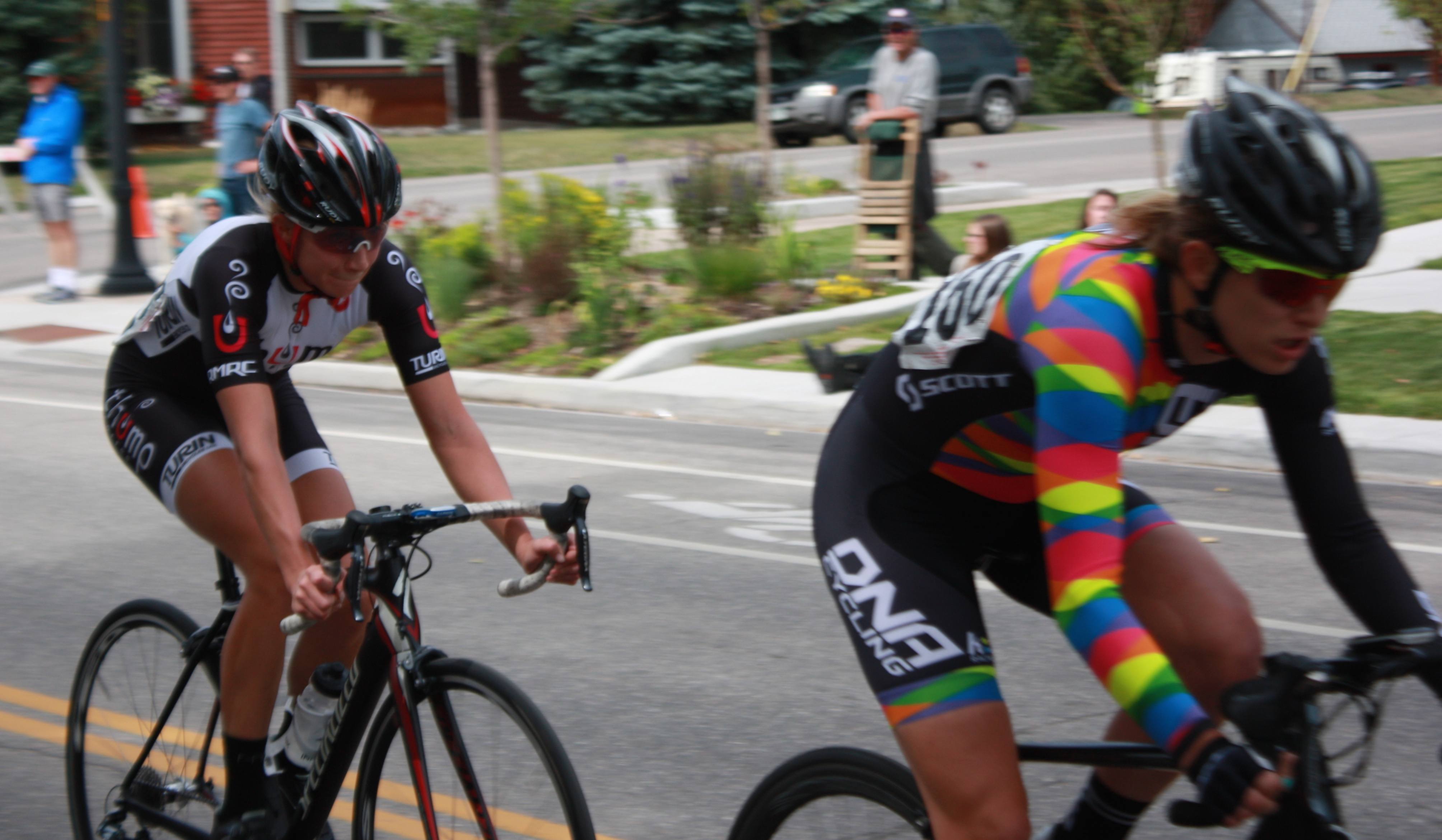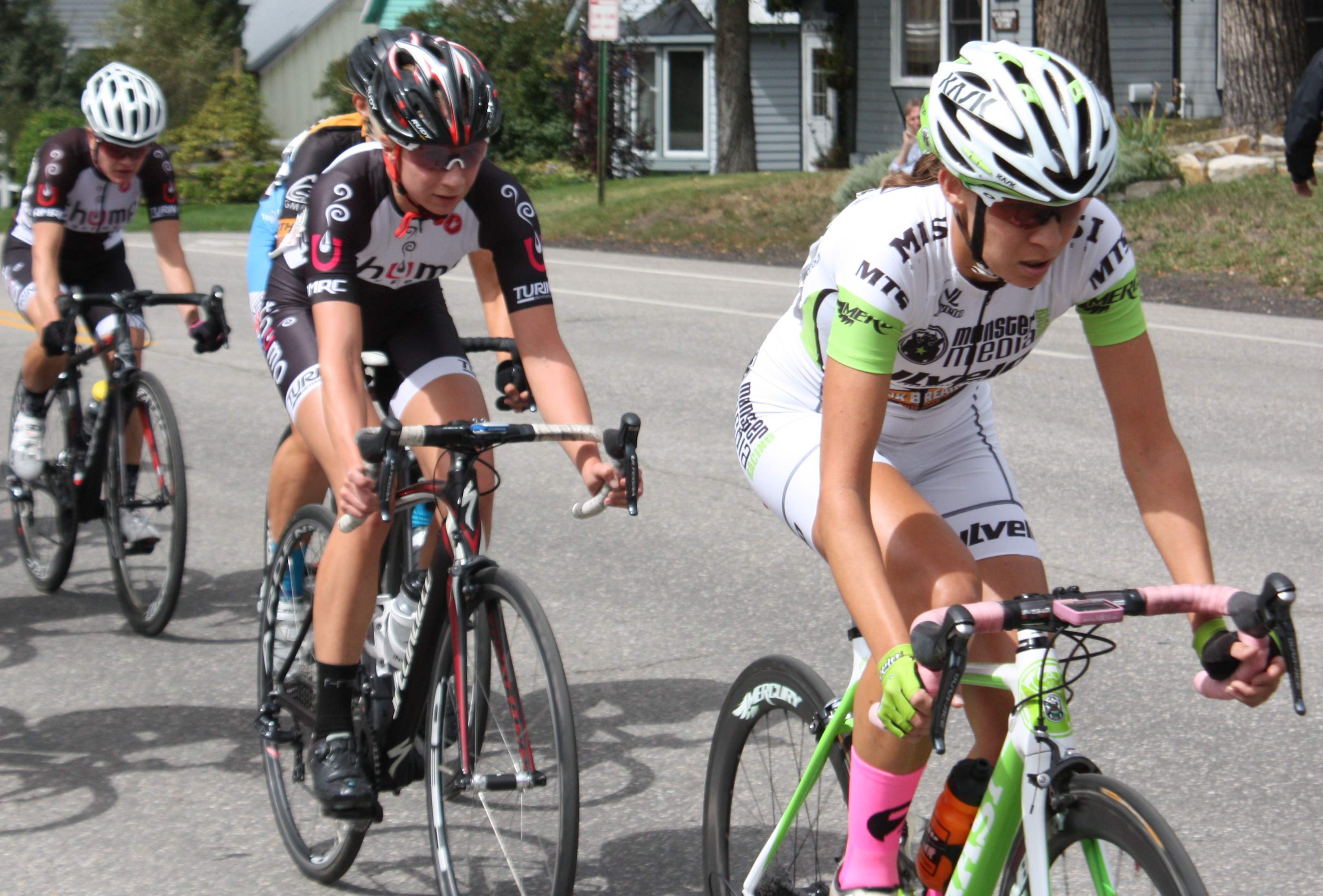 Wisconsin Tour of America's Dairylands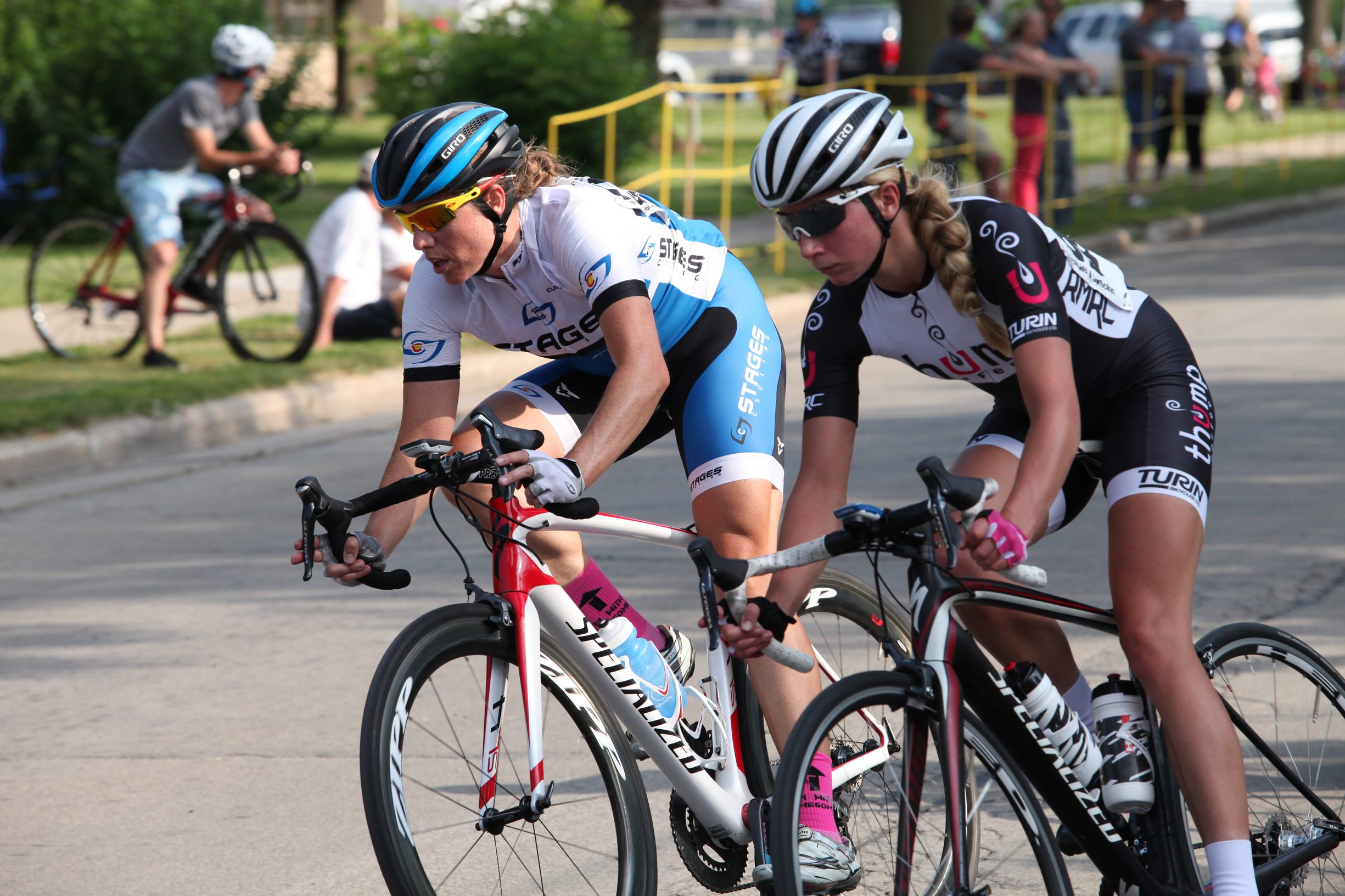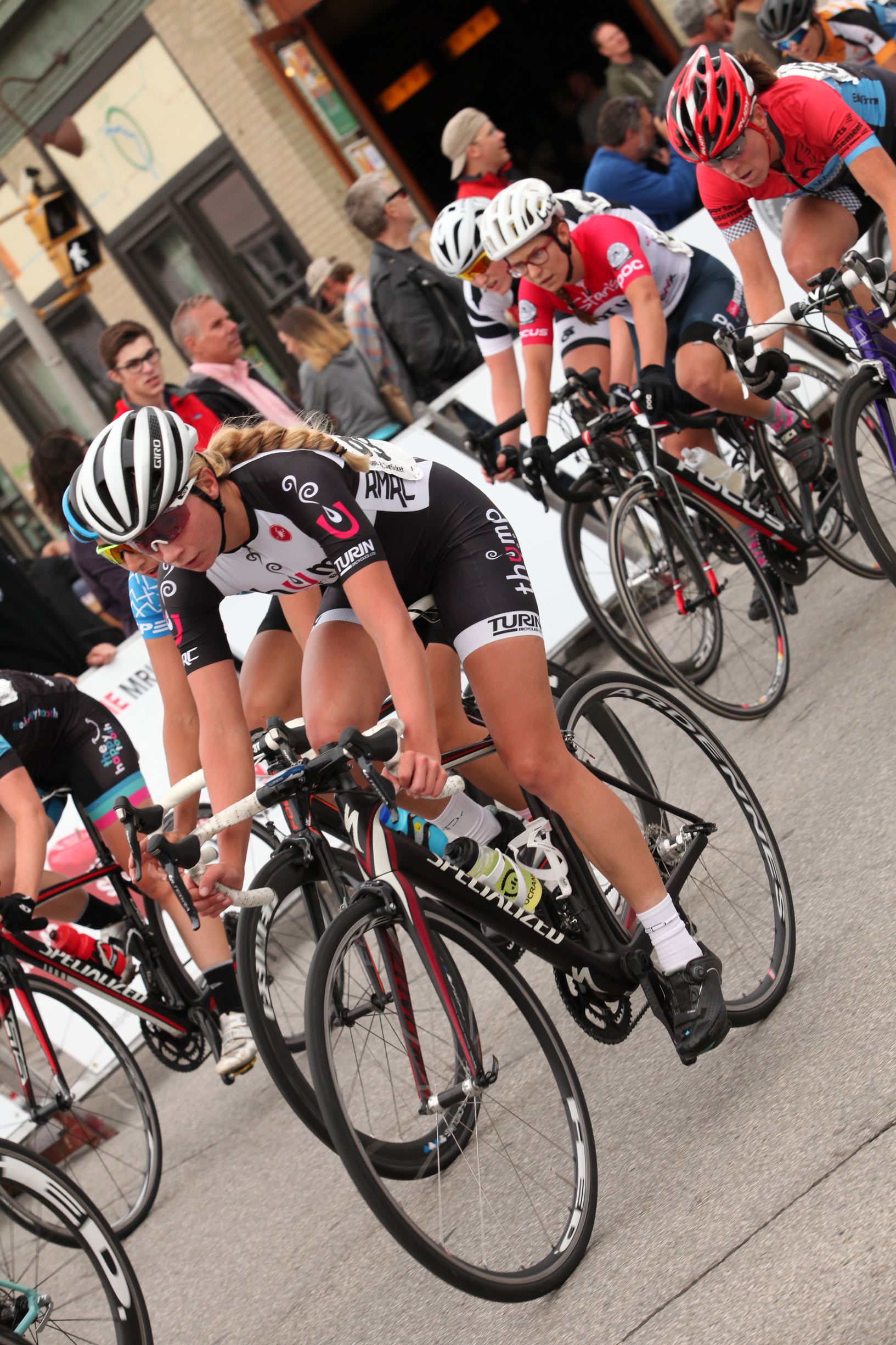 2015 Longmont Criterium / Colorado State Championship: 8th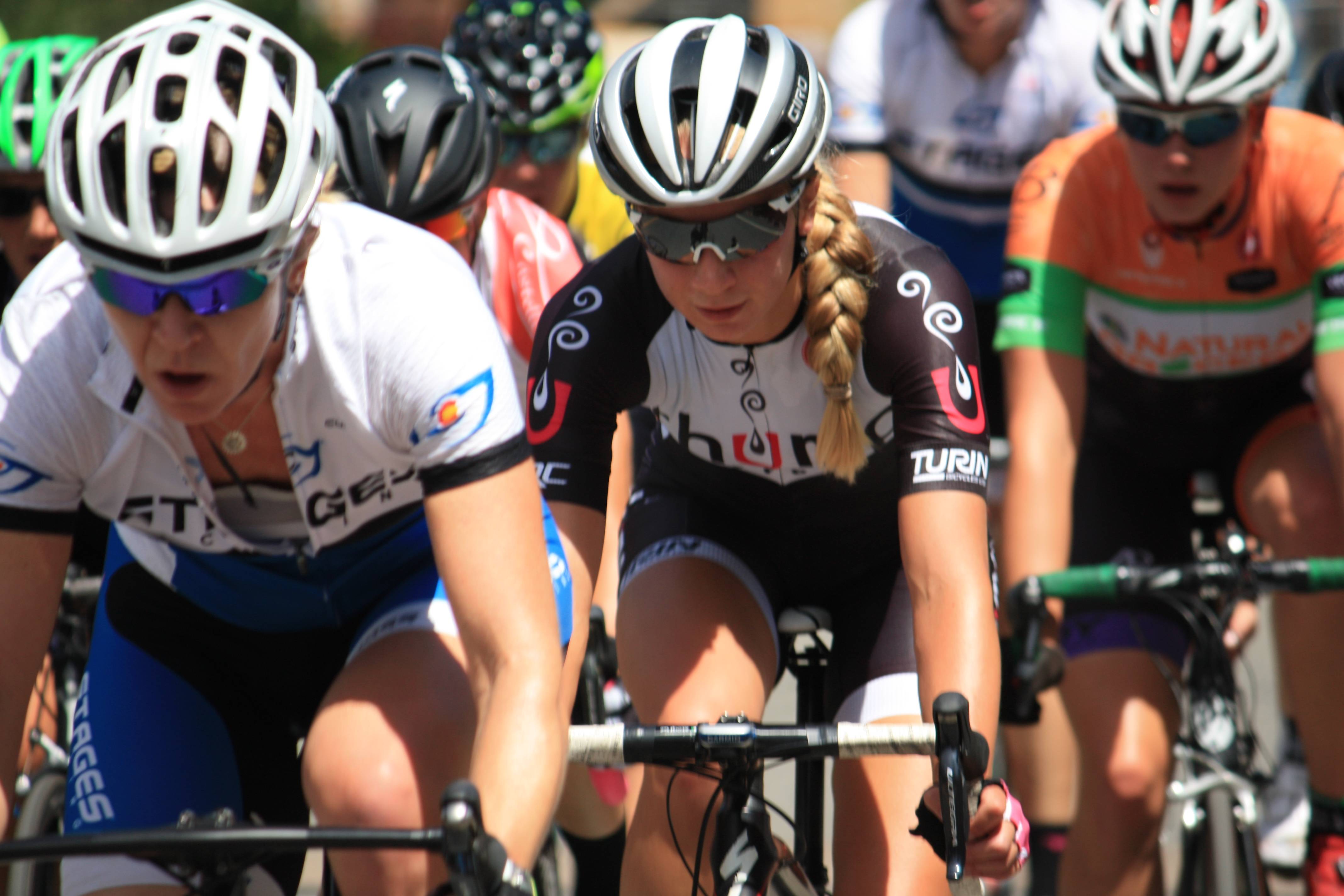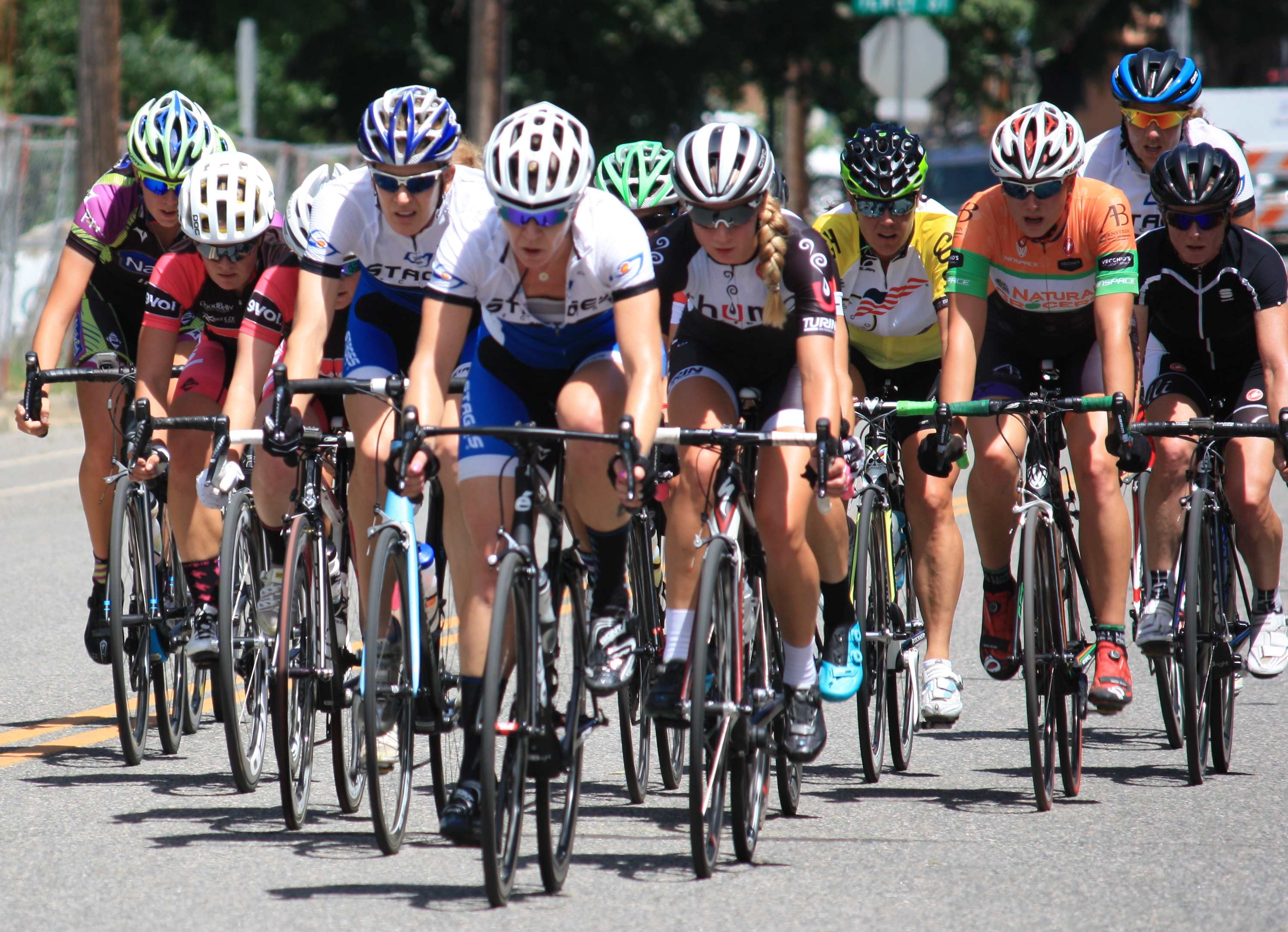 Colorado State University Women's Cycling Team
Melanie Beale's Top Pro-1-2 Cycling Results
Littleton Twilight Criterium, Littleton, CO, August 6, 2016
Criterium: PRT: 20th, 42 starters
Bannock Street Criterium, Denver, CO, July 31, 2016
Criterium: 6th, 17 starters
Intelligentsia Cup, Chicago, IL, July 20-24, 2016
West Dundee River Challenge Cat 2-3 Criterium: 1st (lapped the field!), 27 starters
West Dundee River Challenge Pro-1-2 Criterium: 16th, 5th Cat 2, 34 starters
Superior Ambulance Elmhurst Cycling Classic Criterium: 12th, 2nd Cat 2, 41 starters
Goose Island Grand Prix Criterium: PRT: 23rd, 6th Cat 2, 54 starters
Omnium: 28th, out of 48 with top 20 results
Tour of America's Dairylands, Wisconsin, June 17-26, 2016
Race the Harbor Criterium: 14th, 2nd Cat 2
Cafe Centraal Bay View Classic: 16th, 3rd Cat 2
ISCorp Downer Classic: PRT 44th, 14th Cat 2
Saint Francis Tulsa Tough, Tulsa, OK, June 10-12, 2016
Criterium: PRT: 34th, 12th Cat 2
Criterium: PRT: 25th, 7th Cat 2
Criterium: PRT: 21st, 7th Cat 2
Omnium: 30th, 9th Cat 2
2016 Redlands Bicycle Classic (CA): Pro-1-2 General Classification: 49th, 9th Cat 2
Arizona State University Polytechnic Innovation Criterium,
Mesa, AZ, April 16, 2016
Pro-1-2-3 Criterium: 1st
>
2016 Tucson Bicycle Classic (AZ): Pro-1-2 General Classification: 9th
Tour de Murrieta (CA): Pro-1-2 Omnium: 5th, 1st Cat 2
Trifecta Series (NM): Pro-1-2 1st in Criterium, Time Trial and Road Race
2015 Steamboat Springs Stage Race: Pro-1-2 General Classification: 4th
2015 Steamboat Springs Stage Race: Pro-1-2 Individual Time Trial: 5th: 25.1 mph
2015 Steamboat Springs Stage Race: Pro-1-2 Road Race: 5th
2015 Steamboat Springs Stage Race: Pro-1-2 Criterium: 5th
2015 Longmont Criterium / Colorado State Championship: 8th
Melanie Beale's Top Division 1 Collegiate Cycling Results
2015 USA Cycling Collegiate Road Nationals Individual Time Trial: 6th: 23.3 mph
2015 USA Cycling Collegiate Road Nationals Omnium: 7th
2015 USA Cycling Collegiate Road Nationals Road Race: 9th
2015 USA Cycling Collegiate Road Nationals Criterium: 9th
2015 FrostBite Time Trial: 1st
2015 Front Range Cycling Classic Road Race: 3rd
2015 Front Range Cycling Classic Criterium: 5th
2015 CU Cycling Stazio Criterium: 5th
2014 Bob Cook Mt. Evans Hill Climb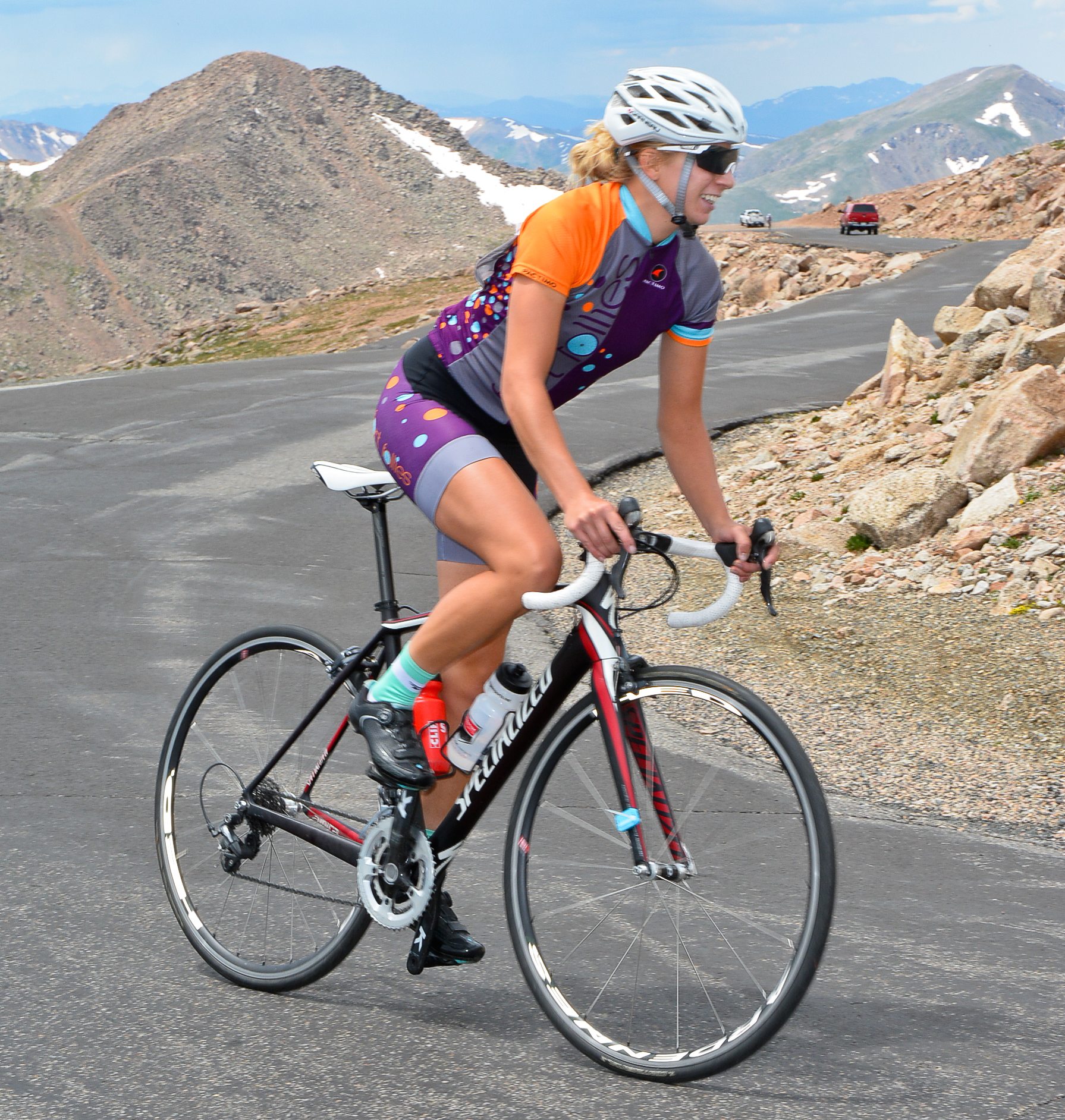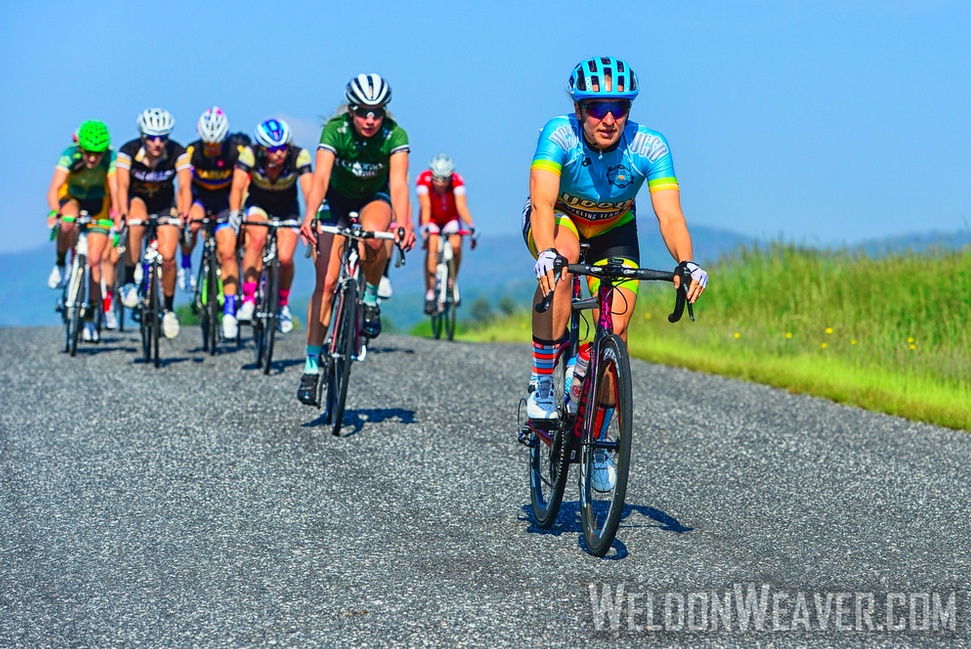 2015 Collegiate Nationals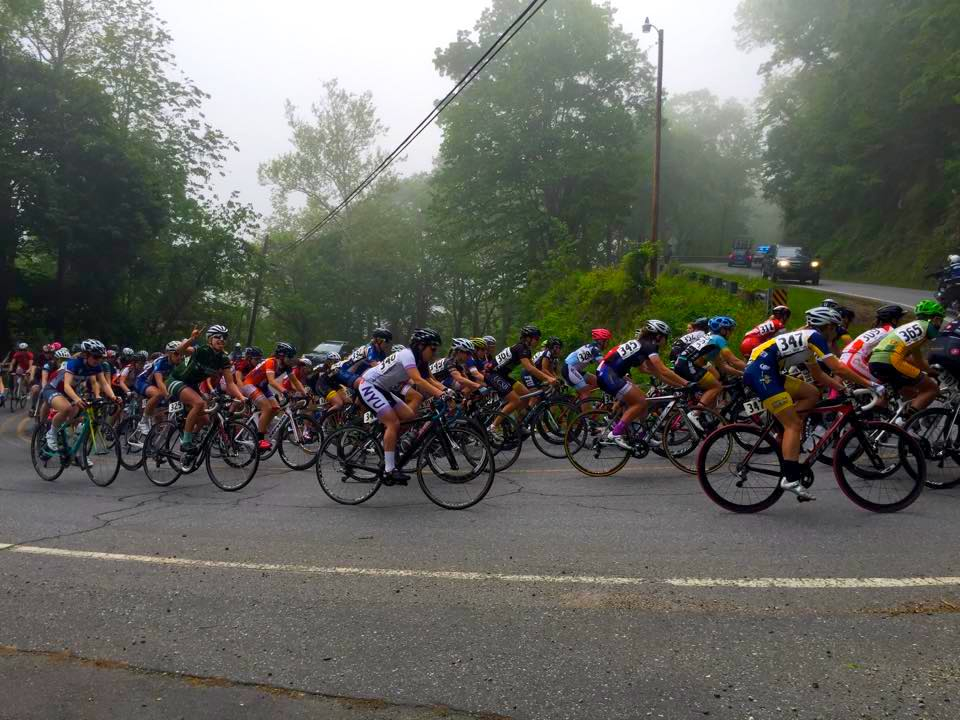 2015 Collegiate Nationals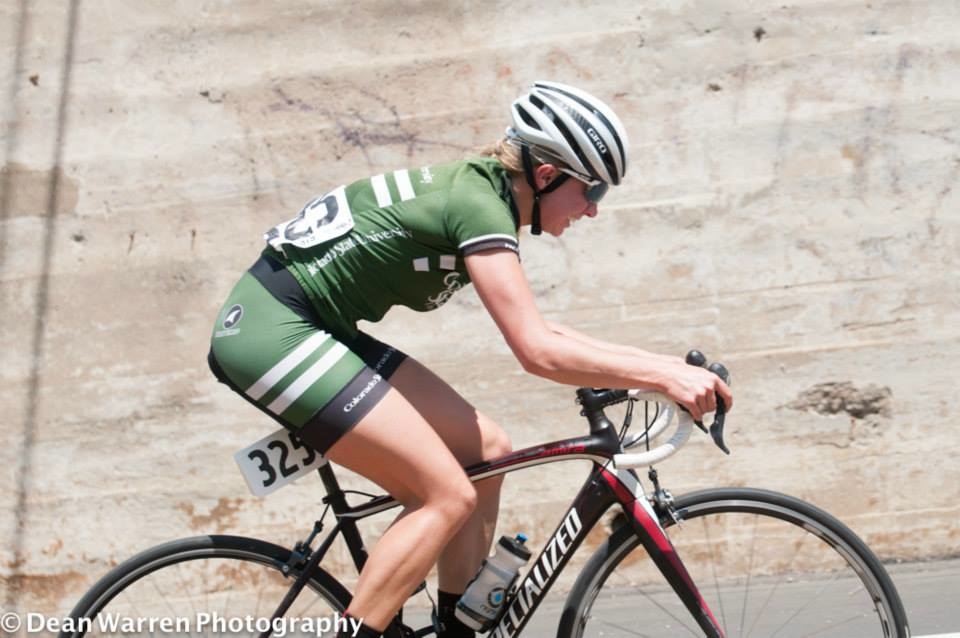 2015 Collegiate Nationals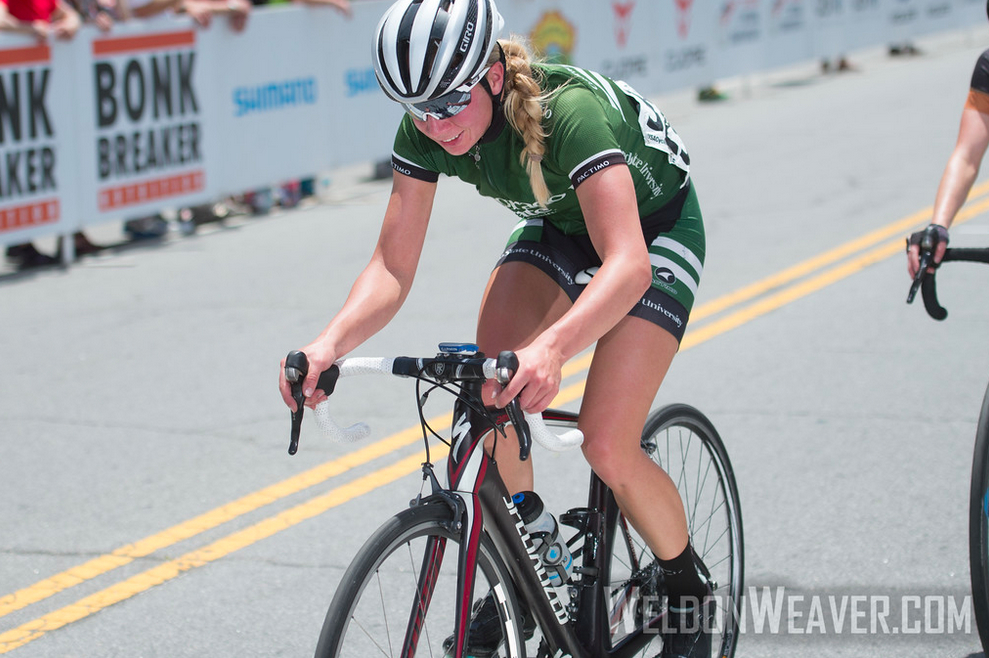 2015 Collegiate Grand Junction Criterium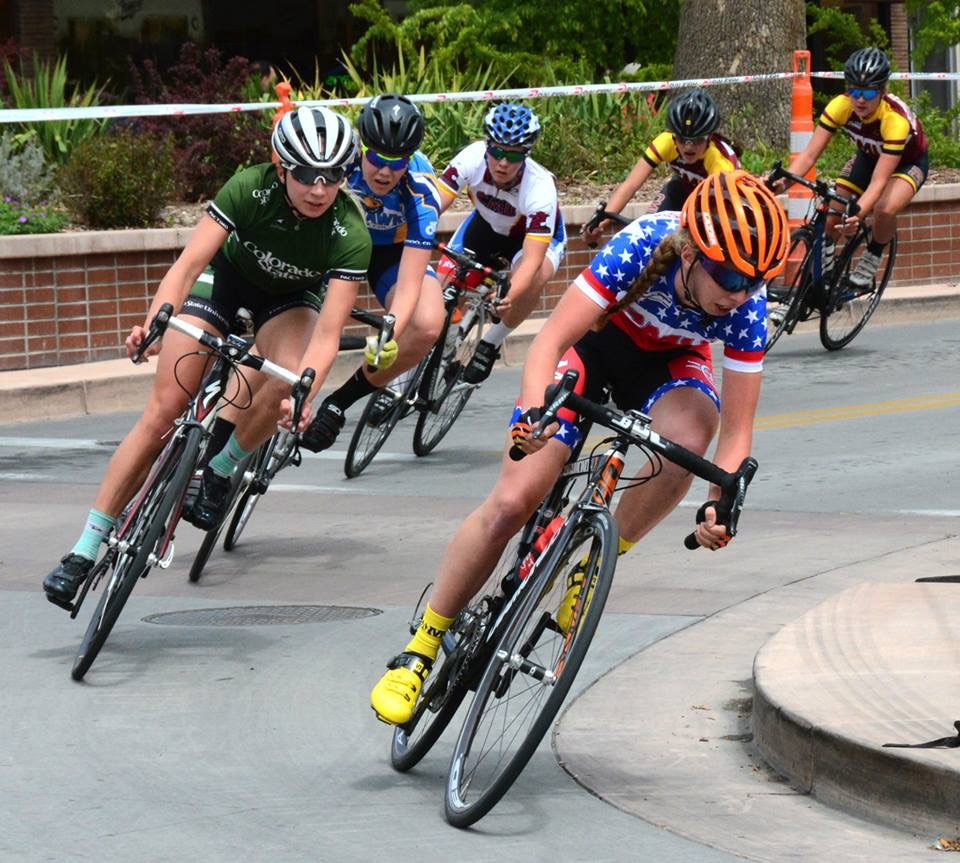 2015 Collegiate Front Range Classic Criterium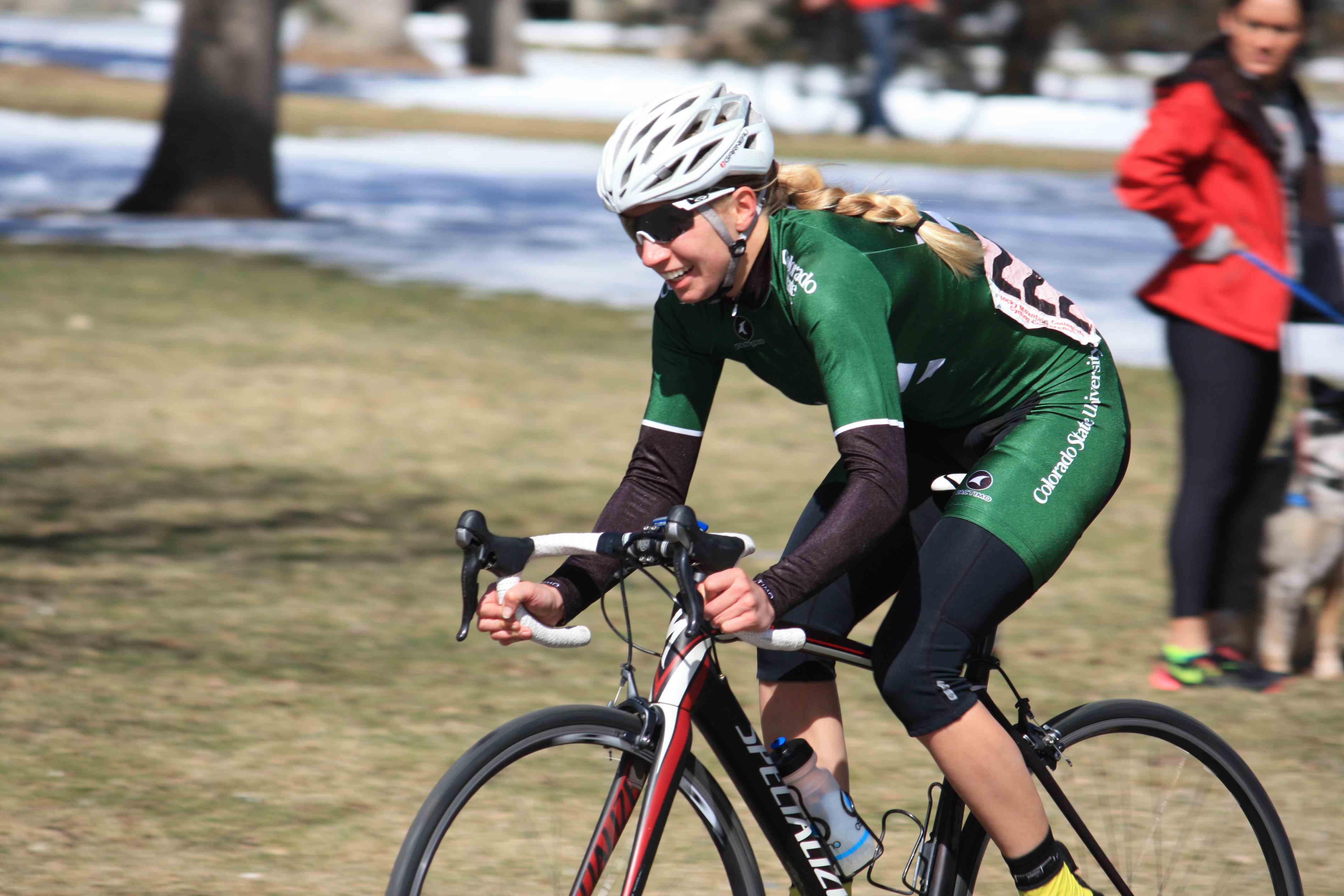 Mt. Evans recon with Dad