Monument Valley Utah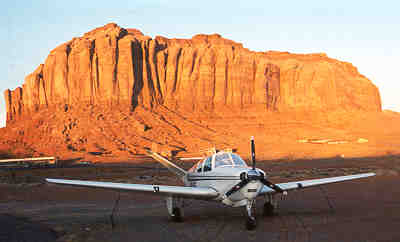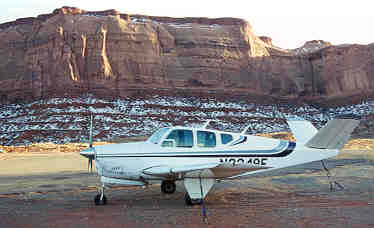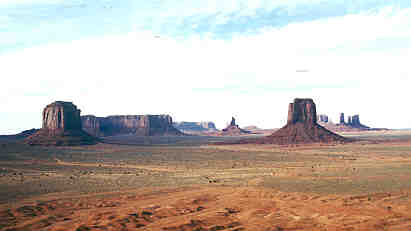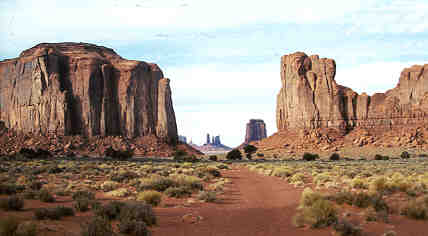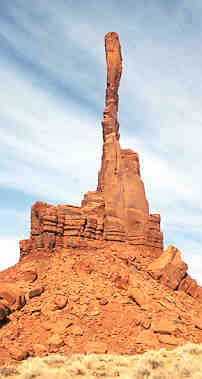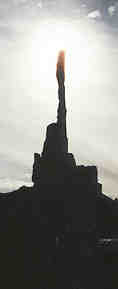 I was not able to join the Rocky Mountain Bonanza Society for the fly-in to Monument Valley so I tried it on my own in mid-February in my K35. Outstanding. Monument Valley is one of the most beautiful places I have ever seen. I have some useful information you may want to pass along to the people going.

Monument Valley airport now has an official FAA designation, 71V. The FAA computers will recognize that designation when you file your flight plan. I needed an IFR clearance to depart the Denver area and Denver Center followed me on radar until I needed to descend in VFR conditions below 10,000 feet near 71V.

You can check out the available FAA data at http://www.airnav.com/airports/. Included is lat/long data so you can set a waypoint in your GPS. That is very handy that since it is 61 nautical miles to the nearest VOR.

Lat/Long = N 37 degrees 1.00 min, W 110 degrees, 12.04 minutes

VOR/DME fixes for 71V

FMN267103
DVC218077
PGA068061

Runway 16/34: 4000 feet long.

Land uphill runway 16. Hard dirt for first 4/5 of runway. I would avoid the first 200 feet. It looked rough and the gophers were none too happy when I passed over. Takeoff downhill runway 34, asphalt for first 1/5 of takeoff run.

Elevation: 5,192
Pattern altitude: 6,200 left base for 16 (once you see the layout with the mesa just south of the airport you'll abandon any idea you had about flying a downwind leg)

There is a phone next to ramp to contact Cedar City FSS to get weather, file or close flight plans, or even get a void time IFR clearance as I needed to do. Tiedown cables are available but bring ropes, or ropes and tiedown anchors.

Useful frequencies:

CTAF: 122.9
Multicom over the monuments: 122.75
Cedar City Radio: 122.4
Denver Center: 127.55 They can pick you up above about 8,000 ft but you will need to be above 10,000 for radar service.

I took the 8 hour tour of Monument Valley and Mystery Valley from Gouldings. Our Navaho guide Tom gave us a wonderful tour of the monuments and ancient Anasazi sites. His discussion of Navaho history, customs, traditions and laws was very interesting. And, he was a great cook. He grilled great hamburgers for lunch over a wood fire. Excellent cowboy coffee too. His former mother-in-law Suzie is a 80+ year old Navaho master weaver who allowed us into her hogan to watch her weave.

Be sure to check out the sunset. Wow. And the stars are unbelievable!

Some useful web sites are:

http://www.gouldings.com/
http://www.swaviator.com/html/issueAS99/monument.html

There is a long article in Winter 2000/2001 Pilot Getaways. Check it out. (Previous issues of Pilot Getaways Magazine can be ordered by calling 1-877-PILOT-GW. http://www.pilotgetaways.com/previous.html Each issue is $4.95, plus $1.95 shipping and handling. )

Take lots of film. I used 3 rolls.
Enjoy.