LTA China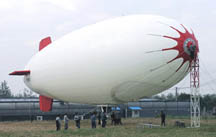 Domestic Airships to Fly Higher
Beijing, 22 December 2004 (Xinhuanet); China Daily
The Hua Jiao Airship China, a private firm engaged in commercial airship services, received flying licences for its airships from the Civil Aviation Administration of China (CAAC) yesterday.
The two manned HJ2000 Helium airships have passed the examination and test flights of CAAC and were given licenses for general use in aviation.
The company is not only the first manufacturer of this kind of aircraft in Asia but also one of the largest airship makers in the world, the company said.
The market for airships is expected to be huge because they can work in various areas for commercial use, including advertising, aviation photography, TV relay broadcasting and air sightseeing, said Lu Shiguo, president of Hua Jiao.
The two airships, which are worth 20 million yuan (US$2.4 million) each, are already the subject of orders from regular customers after test flights. Hundreds of the world's well-known brands, such as Nokia, Fuji Film, and Konica Minolta have taken advantage of this eye-catching way to promote themselves to consumers.
"I expect more co-operation with Chinese companies, particularly the top 50 enterprises in China," Lu told China Daily.
Some companies have shown great interest in purchasing the airships from Hua Jiao or jointly running the airships with the company, he said.
So far Hua Jiao has established bases in Shanghai and Guangzhou. Another five bases will be completed by the end of next year.
Lu said the company wishes to produce at least eight more airships by 2007 to cover all major cities in China.
The flying time of the airships is expected to reach 180 days every year in two years. The current figure is around 100 days a year.
Helium airships enjoy great advantages in comparison with other aircraft, such as helicopters and hot air balloons, for general use because they are of high security and low cost, said Zhou Kaixuan, deputy director of the Aircraft Airworthiness Certification Department of the CAAC.
"The costs of manufacturing and running the airships is low; they require simple bases to take off; and the requirements of airship pilots are much lower than that of airplane pilots," he said.
With the main air sac filled with helium, a kind of inert gas which is a little lighter than air, the airship is able to stay in the air for a long time, ensuring its security. In case the sac is scratched, it will take at least several hours for the airship to land.
First Manned Chinese Helium Airship Approved
Beijing, 22 December 2004 (Xinhuanet)
Chinese aviation authorities approved a new helium airship here Wednesday, the first developed entirely in China.
The HJ-2000 airship, developed by the Beijing Hua Jiao Airship Co., Ltd., was granted flight licenses by the General Administration of Civil Aviation of China (CAAC) for two airborne vehicles, ending China's history of relying on imported manned airships.
According to the Beijing company, the HJ-2000 airship is an airborne vehicle obtaining most of its lift from helium, a lighter-than-air gas.
The airship is light and can stay aloft for days at much lower costs than other aircraft. It will mainly be used for aerial advertising, photograph, patrolling and environment monitoring, the company said.
While starting to upgrade the HJ-2000 type, the company has also finished the design of HJ-3000 and HJ-4000, two types of airship to be used for aerial photograph, advertising, tourism andaerial transportation and started the design of HJ-5000 airship, which will be used for anti-terrorism and aerial patrolling purposes.