LTA Japan
History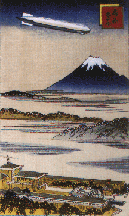 At the end of World War One Japan was awarded the German Navy's L37 (LZ75) which was a "Super Zeppelin" of the L30 or "R" class and the first ship assembled at the Zeppelin Company's satellite facility located at Berlin-Staaken.
As the first new ship from Staaken, L37 was overdue and overweight and was the ONLY L30-class ship that was never sent to raid England. Following a brief stint in North Sea "Front" service, L37 was transferred to the Baltic (along with L30) and flew in several operations in this secondary theatre. It never received the twin-engine rear gondola modification and finished its career being laid up at Seddin-bei-Stolp in late 1917 after about one year of flying.
Japan had no real interest in the ship and had her broken up in the summer of 1920, taking posession of the gas valves, instruments, a few of the engines and some other parts that they deemed important enough to study.
The large 787 foot hangar at Juterbog, near Berlin, was dismantled and erected at the Japanese Naval Air Station at Kisamagaura, near Tokyo, where it housed the LZ127 Graf Zeppelin on her 1929 flight around the world.
For a time, Japan had a determination to develop a Naval Airship Service, one of the more notable pilots being Takijuro Onishi who was trained in England after World War One and who went on to conceive the idea and tactics for the kamakaze planes of World War II. He committed sepuku on announcement of the Japanese surrender.
---
RZita@aol.com 24 Feb 2003
LCdr. Onishi, who later originated the "Divine Wind" suicide plane scheme of World War Two, took LTA training with USN personnel at Howden in 1920 and the Japanese Naval observer aboard the GRAF ZEPPELIN's 1929 "world flight" LCdr. Fuiyoshi told Rosendahl during the flight of having one ship lose control, the crew jumped out and it hit a cliff and exploded. (Years later Rosendahl would learn that Fuiyoshi had been involved in the Pearl Harbor planning phase and had survived the war and, through a Japanese gardner/landscaper living in the Toms River, NJ area was able to contact his old friend and draw conclusions for a Pearl Harbor book Rosendahl wrote but that ultimately no publisher would touch...Title was apparently "SNAFU" or some sort and it was apparently intended to give FDR and the State Department a good pasting, while voiciferously lamenting the lack of rigid airships at Pearl Harbor to prevent the attack.)
Most Japanese airships of the immediate WW1/postwar period were British or Italian designs, while the fate of the Kasumigaura shed (originally German, located at Juterbog near Berlin) is something I've never been able to nail down (though I doubt it survived much into World War II.)

---
Japan did build and fly a few blimps, some equiped with Dyak engines.
Japan seems to have terminated all LTA operations around 1932 (though I've seen 1942 cited). This does not include, of course, barrage balloons or the "FuGo" balloon bombs.
---
Andrew.Stokell@btinternet.com 24 Feb 2003
A 1936 "Flight" magazine mentioned an Eastern Hemisphere Airways proposal to operate a two Zeppelin service Tokyo - British Columbia - San Fransisco. Also, Pacific Aviation Company planned to fly Zeppelins from Tokyo to San Fransisco via the Aleutian Islands and Alaska. This never occured.
---
In recent years, Japan has flown airships for advertizing purposes. In 1984, Airship Management ServiceS (AMS) sold SkyShip 500-05 to Nikko Trading Company - the procurement division of Japan Air Lines. In Japan, the AMS representative is
NIASCO Corporation (Nissho Iwai AeroMarine Corporation)
17-22, Akasaka 2-Chome, Minato-ku, Tokyo 107-8518 JAPAN
tel: +81-3-5574-6025 | fax: +81-3-5574-6020
email: ozeki-n@niasco.co.jp
---
"Mark H. Foxwell" <markhfoxwell@earthlink.net> 24 Feb 2003
Guy Hartcup: Achievement of the Airship mentions (pp 58-59) some Japanese attempts -- mostly purchases of Parsevals and Nobile's third N-ship (semirigid), and the construction of two non-rigids by an Isabura Yamado, distinguished by a separate engine car _ahead_ of the control gondola. "Both ships crashed on landing," Hartcup says -- not clear whether he means the _first_ landing of each! A third ship was rebuilt from a wrecked Parseval by the Army, called _Yuhi_ ("Beautiful Flight") but the Army then decided it wasn't worth flying and hangared her.
There is a citation _before_ most of this information to:
Woodward, Donald: Lighter-than-Air in Japan
Bulletin Wingfoot LTA Society, v9 numbers 5-7 1961-2. No page numbers given.
Their Navy did buy Nobile's third N-ship but again wrecked it on landing-p232. They had a reparations Zeppelin shed and also a Zeppelin that they disassembled and brought parts back to Japan to analyze; no one mentions any attempt on their part to build (or even reassemble!) any rigid, let alone a ZRS scout/strike carrier fleet as I thought they should have planned on making, given their ambitions to prevail against the US fleet.
If anyone in Japan (after all perhaps what you found were not Japanese proposals but a Euro-American one to enter that market) hoped for an airship line, I guess they had to be hoping Zeppelin would make some to order. If it were an American proposal, made by people who chose to ignore the anti-Japan stance of US foreign policy at the time, not to mention the actual conduct of the war against China, perhaps they actually hoped Litchfield would make a civil rigid to buy or lease for the purpose.
---
Contemporary News
19 January 2005
Thanks to Sig Geist
On January 15, 2005 German language SUEDKURIER reported:

Zeppelin flies to Nagoya

Yesterday morning first flight over Japanese airspace - NAC wants larger airship

Mission accomplished: Zeppelin NT has flown for the first time over Japan. Yesterday morning the former airship "Bodensee" took off from the Japanese port city of Kobe where a (special) transport ship with the Zeppelin onboard had arrived on the previous Friday.

Friedrichshafen/Kobe/Nagoya - "Everything is running smoothly. We're happy". So said Zeppelin pilot Fritz Guenther to the SUEDKURIER on the phone yesterday. After a one-hour test flight, the airship returned again to the port of Kobe. There, another mooring mast was tried out and the airship refueled. Then the airship rose again and took off in the direction of the 240 km (150 mi.) distant city of Nagoya, over which 75 years ago the airship LZ 127 "Graf Zeppelin" circled during its around-the-world flight. After five hours, with Japanese Fumio Omori at the controls and Fritz Guenther the copilot, the airship landed at Nagoya.

During the small party at the Japanese airship operations base in Nagoya yesterday evening, ZEPPELIN team members had to stay "dry". Said Fritz Guenther: "We cannot even have a beer, because we're expecting snow. And when it snows, we have to go out to the airship". Tanks with warm water are standing by to rid the airship of snow.

Probably during the coming week the Zeppelin NT is supposed to continue its flight to Tokyo where Nippon Airship Corporation (NAC) is headquartered. There Japanese aviation authorities will examine the airship closely so that NAC gets final authorization to run an aviation business. "It's not our first priority, but we'll help should questions arise", said Guenther. He as well as DZR ground crew chief Christofer Sandford are helping the Japanese Zeppelin owners until the end of March to establish flight operations.

But that will not include commercial passenger operations. Rather, NAC wants to use the airship for advertising flights for its major shareholder, shipping company NYK-Lines and for the world's fair at Aichi, Japan (EXPO 2005) beginning in May. Only passengers that will be invited by NAC and NYK are allowed to fly.

"We're happy that everything finally worked out", said NAC president Hiroyuki Wantanabe yesterday to the SUEDKURIER. But he doesn't want to buy another same size Zeppelin. Said Wantanabe: "We are waiting for a larger one". That the transfer flight across Russia didn't work out still bothers him. "But", he added, "I don't even want to think about what it would have meant if something had happened with it".
6 August 2004
The Zeppelin NT Transcontinental Flight from Germany to Japan! Details at the NAC Japan website.
3 March 2004
Thanks to Sig Geist!
Zeppelin Luftschifftechnik GmbH & Co KG has sold a Zeppelin NT to the Japanese airship operator Nippon Airship Corporation (NAC). The contract was signed today (3/02/04) at Friedrichshafen by Zeppelin Luftschifftechnik's Dr. Bernd Straeter and Guenter Schwenck, as well as NAC's president Hiroyuki Wantanabe. A sale price was not named. Following Zeppelin NT's first flight six years ago, this was the first sale of a Zeppelin NT. The new owner is going to put the airship principally into sightseeing and advertising flight service. What the Japanese investors for the short term are also keeping their eyes on is the 2005 World's Fair in Aichi, Japan. By the middle of this year, the Zeppelin NT is supposed to commence its 12,000 km (7,500 mile) journey to Japan - in the air, naturally.

The "Bodensee" is the Zeppelin NT sold. She will make the journey to Japan via LZ127's historic route probably by June this year. Until that time, the media reported, the "Bodensee", one of two commercially operating Zeppelin NTs will remain in service by its owner/operator Deutsche Zeppelin Reederei (DZR). Its 2004 tourist flying season is scheduled to start in a few days, the first weekend in March.
21 January 2004
The following has been pieced together from several emails.

Nippon Hikousen Kaishya (Nippon Airship Corporation) has contacted the Zeppelin Company regarding the possibility of importing a Zeppelin NT into Japan. Professor Haruki Amanuma, a college professor, author and LTA proponent, is the NHK representative. Bernd Strater, the CEO of Zeppelin, has been quoted as saying discussions have been and are still taking place, but no contract has been signed.

The NHK website has a proposed transport route featured on their website: Trans Eurasia Ferry Flight Project.

Mr. Hiroyuki Watanabe, NHK President
e-mail: info@nac-airship.com
fax: (011) - (81) - (52) -968-7556
tel: (011) -(81) - (52) - 968-7555
4 August 2003
Japanese airship reaches stratospheric altitude in world first
Mainichi Shimbun, Japan,

A Japanese airship made history Monday after becoming the first airship in the world to reach a stratospheric altitude, officials of the National Aerospace Laboratory of Japan (NAL) said.

The unmanned 47-meter long airship left Hitachi Port in Ibaraki Prefecture at 3:21 a.m. Monday and reached an altitude of 16.4 kilometers during the two-hour flight.

NAL officials collected samples of the stratospheric atmosphere and examined the strength of the airship's body, which was made from reinforced fiber, before bringing it down in the sea some 40 kilometers off the port. The airship was successfully recovered for further examinations.

The experiment is part of the development of a Stratospheric Platform airship system. NAL is trying to manufacture a 250-meter long airship that hangs above the Earth at a stratospheric altitude of about 20 kilometers and can be used as a base for observations and monitoring of the global environment or as a broadcasting station for telecommunication purposes.
13 December 2002
October, 2001
September, 2000
Estimation of residual tropospheric delay for high-altitude vehicles: Towards precise positioning of a stratosphere airship
Toshiaki Tsujii: downloadable pdf
August 17, 1999
March 6, 1998
Flying High: Environmental, Telecom Applications for Airships

1998
Technical Feasability Studies of SPF (Stratospheric Platform) Airships

---
A few links concerning LTA in Japan
EXPO 2005 Aichi, Japan (in English)

Hikosen (Airship) Supporter's Club (only in Japanese)

Japan Buoyant Flight Association (only in Japanese)

LTA Japan (only in Japanese)
I can't read it, but there is a link to this website. I just want to say, "Domo arrigato gozaimasu!"

Some Japanese balloon prints (1935) from the collection of Bella C. Landauer
---
Information on Japanese airship activity is welcomed.