Stamps: Philatelic Resources
Zeppelins captured the imagination of the world. Not everyone could afford a flight on a Zeppelin but hundreds of thousands of letters, postcards and packages traveled abroad them. Many countries issued special stamps to commemorate the flights. The philatelic world is rich in Zeppelin stamps. This page acts as a guide to information and resources. More information may be found on my Zeppelin: Stamps webpage. Enjoy.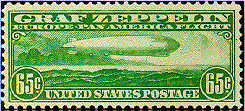 United States C13
---
An Interview with Smithsonian National Postal Museum Curator and Zeppelin Stamps Expert Cheryl Ganz
---
Books
The main catalog of stamps in the US is the multivolume Scott Catalogue -- available at most good-sized public libraries. There are specialty catalogs and books that may be hard to find such as the ones illustrated above. Check with your local libraries. Ask to borrow a copy via interlibrary loan.

Catalogo degli aerogrammi Zeppelin by Ermanno Violino (Italian)
Firenze, G. Orlandini, 1971, LCCN: 72-348144 .

Graf Zeppelin flights to England by John Duggan (English)
Ickenham (England) : Zeppelin Study Group, ISBN: 0951411446, 1998.

LZ130 Zepplinpost by John Duggan (English)
United Kingdom : Zeppelin Study Group, Germany & Colonies Philatelic Society, ISBN: 0951411403, 1989, 3rd edition.

Zeppelinpost Spezial-Katalog (German)
Lorch/Württemberg : Sieger, 2001, OCLC: 48851360 -- published annualy.
---
Images:
| | |
| --- | --- |
| Russia C??year? | Tripolitania C?? year? |
---
Societies:
American Air Mail Society
Founded in 1923, the AAMS is the second oldest aerophilatelic society in the world with over 1,500 members worldwide. The AAMS publishes the monthly magazine The Airpost Journal & the Jack Knight Air Log, as well as the American Air Mail Catalogue, and many other aerophilatelic books.


American Philatelic Society
With nearly 44,000+ members in more than 110 countries, the APS is the largest, nonprofit society in the world for stamp collectors.

American Topical Association
World's largest group of topical stamp collectors, marked the 60th anniversary of its founding at a celebratory meeting on November 3, 2009.

The Royal Philatelic Society of Canada
Canada's national society for philatelists (stamp collectors, enthusiasts and aficionados).

The Royal Philatelic Society London
Oldest philatelic society in the world, was established in 1869 as The Philatelic Society, London. Permission to use the prefix 'Royal' was granted by His Majesty King Edward VII in 1906.
---
Websites