Author / Artist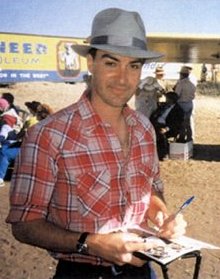 Dave Lee Stevens
July 29, 1955 – March 11, 2008
Dave Stevens was a graphic artist who did good work indeed. He was born on July 29, 1955 in Lynwood, California. Two years San Diego City College and some miscellaneous art classes later, he broke into commercial work in 1975 inking over Russ Mannings' pencil drawings for the Tarzan comic strip.
Stevens created Fear & Laughter (Kitchen Sink), Quack (Star Reach), worked at miscellaneous inking and pinch-hitting, storyboards, animation work and film art before hitting major stride and gathering international attention and a devoted following with The Rocketeer in 1982.
He is most famous for creating The Rocketeer and for his pin-up drawing style of women.
Interviews
Obituaries/Reminiscences By