Balancing out the theatrical and television films about Lawrence are a number of documentaries that attempt to present the facts and let the viewer decide. Availability varies. Please let me know of active vendors.
Lawrence of Arabia
(A&E, 2004) VHS
"Ride into the desert with the Briton who helped end centuries of Ottoman domination in the Arabian peninsula."

Chris Warren; Phillip Knightley; Michael Asher; Malcolm Brown; Steven Faux. ISBN: 0767079000; AAE-18913.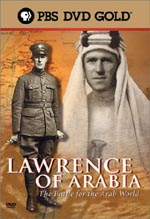 Lawrence of Arabia - The Battle for the Arab World
(PBS, 2003) DVD, VHS
An attempt to separate fact from fiction through the use of old newsreels, modern reenactments, and interviews with T.E. Lawrence's biographers. Presents both Arab and British understandings of Lawrence's role in the formation of the modern Middle East. ISBN: 0780645324
In Search of Lawrence (of Arabia)
(Fulcrum Productions, 2003) VHS
Directed by Michael Asher
Photographed by Mariantonietta Peru

"Asher and Peru retrace the footsteps of Lawrence throughout the Middle East, finding untouched remnants of his work and campaigns, including destroyed Turkish military trains."
The Adventures of Lawrence of Arabia
(Arts and Entertainment Network.; History Channel, 2001, 1996) DVD, VHS
Drawing on the accounts of American journalist Lowell who helped to create the legend of Lawrence of Arabia, Greatest Raids reveals the true story behind the myth and follows T.E. Lawrence's real wartime exploits, which only serve to prove his greatness. DVD: AAE-71229. ISBN: 0767056124
Legends of World War I
(Nugus/Martin Productions ; BBC Worldwide Americas, 1996) VHS
U-boat commander Von Arnauld holds record for most ships sunk and is remembered for treating conquered crews with dignity and compassion. Lawrence fosters Arab attacks on Turkish lines of support. ISBN: 0767600088

Lawrence of Arabia: the Life of T.E. Lawrence
(Madacy Entertainment Group; Castle Vision; Cromwell Productions, 1996) VHS
Dramatized biography of Thomas Edward Lawrence, who led the Arab guerrillas triumphantly into Damascus in the year 1918 when the Arab nation was in revolt against the Turks. His exploits earned him everlasting fame and the epithet that the world remembers, Lawrence of Arabia. Madacy Entertainment Group THM-3-6447. OCLC: 42511395

Volume 8 of The history makers: men & women who shaped our destiny
Lawrence After Arabia
(BBC, 1986)
Television documentary produced by Julia Cave for Omnibus, with contributions by Jeremy Wilson.

Producer: Julia Cave
Assistant Producer: Malcolm Brown
Narrated by Leslie Megahey
Voice of T. E: Michael Pennington

Sir Anthony Parsons (b.1922)
Edward Said (1935-2003)
General James Lunt (b.1917)
Jeremy Wilson
Canon E. F. Hall (1888-1987)
A. W. Lawrence
Suleiman Mousa (b.1920)
Auda Mohammed ab Tayi
Arthur Russell (1904-97)
Lawrence Moore (d.1989)
E. M. Forster

Lowell Thomas
Sir Alec Kirkbride
Siegfred Sassoon
Jock Chambers
St. John Armitage (b.1924)
Phillip Knightley
Hugh Leach
George Masri
Chirstopher Matheson
Ian D. Struthers
Geoffrey Tantum
Jeremy Wilson
Micharl Yardley (b.1955)
Jeffrey Young
Lawrence of Arabia: The Master Illusionist
(Mullian Creek Productions, Australia, 1983)
Producer: Mal Read
Directed by Geoff Burton & Michael Caulfield
Lawrence of England
(BBC, 1978)
Two-part television documentary written and narrated by David Lomax, with contributions by Jeremy Wilson, C. H. Carr, Clare Sidney Smith, Bill Sheaff
T. E. Lawrence: 1888-1935
(BBC, 1962)
This black-and-white television documentary, co-produced by by Malcolm Brown & Philip Donnellan, includes interviews with people from many walks of life who knew Lawrence, providing an unusual insight into his life and times.

Written and narrated by David Lytton
Voice of T. E: Cyril Cusack (b.1910)
Adviser: B. H. Liddell Hart (1895-1970)

F A. H. G.Kerry
C. F. C. Beeson (1899-1975)
Fareedah el Akle (1882-1976)
Sir Alec Kirkbride (1897-1978)
S. C. Rolls (1893-?)
A. W. Lawrence (1900-91)
Jock Chambers (1896-1987)
Sydney Smith
Clare Sydney Smith
David Garnett (1892-1981)
Pat Knowles (1906-81)
Celandine Kennington (1886-?)
Siegfried Sassoon (1886-1967)
Henry Williamson (1895-1977)