Lawrence
of Arabia T. E. Lawrence Introduction
Bibliography
Booksellers
Chronology
Documentaries
Films
Listserv
Locations
Research Centers
Society
Websites
Films: Theatrical & Television
There have been more attempts made to make a film about TEL than have ever reached the screen. Below are the ones that have been produced.
The Young Indiana Jones Chronicles
(ABC, 1992)
The Curse of the Jackal
Paris, May 1919
Palestine, October 1917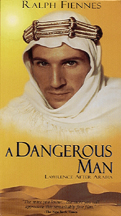 A Dangerous Man: Lawrence After Arabia
(WNET, 1990)
DVD, VHS
Christopher Menaul, director.
Ralph Fieness as TEL.
Produced by WNET/Anglia Films/Sands Films/Thirteen.
Lawrence and Feisal argue for Arab independence at the at the 1919 Paris Peace Conference. Political intrigue abounds in this character driven film. Excellent cast and production -- just don't expect Lean's epic scope in this television production. Thumbs up.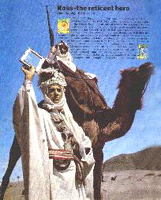 Ross: The Reticent Hero
(BBC, 1970)
A play by Terence Rattigan.
Adapted by William Emms.
Directed by Cedric Messina.
BBC Play of the Month.
Broadcast: Sunday, 16 October 1970.
If you know of its availability, please let me know.
Trivia: Alec Guiness played Lawrence in the London stage production. The play is published as Ross: A Dramatic Portrait. Excellent reading.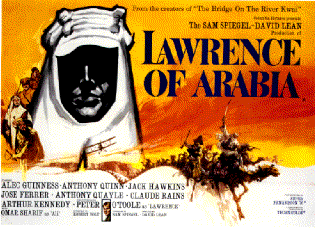 Lawrence of Arabia
(Columbia, 1962)
Blu-ray, DVD, VHS, LD
David Lean, director.
Peter O'Toole as TEL.
THE cinematic masterpiece.
David Lean's remarkable epic film -- winner of seven Academy Awards -- is one of the best films ever made. Based on The Seven Pillars of Wisdom, it is a balance (or inbalance) of fact and fiction and undoubtedly a brilliant triumph of the filmaking art.
Heroic reconstruction was undertaken by Robert A. Harris and Jim Painten. They tracked down the best 70mm film elements from around the world. Had a heck of a time reconstructing the audio stems and had to have actors re-record some segments. New masters were struck. The team called in David Lean and Anne Coates for the final director's cut. Over 30 minutes -- lost over time -- were restored to the film. The film was then distributed to select theaters in 70mm and Digital Dolby sound.
The reconstructed film is a marvel to behold on the big screen. If you ever get a chance to see this film in 70mm -- rush to the theatre where it's showing. All terms of highest recommendations apply to this work. Lean's film is as good as it gets.
Top of page
The information contained in this page is intended for educational purposes only. This site was created, written, and is maintained by John Dziadecki © 1995-2014. Images and quotes not the author's remain in the copyright of the originator. Please send comments, suggestions and possible links to: John.Dziadecki@colorado.edu.