Home Page for Professor R L Widmann
---
Professor R L Widmann
English Department, UCB
Box 226 Boulder CO 803039-0226
office: 295 Denison
phone: office--303--492-8946, cell--202--368-0945
R.Widmann@Colorado.edu
Past Chair of the Faculty Council of CU
Faculty Council office
1800 Grant--Suite 125, Denver CO 80203
R.Widmann@cu.edu
---
Spring 2011
I am teaching English 3000, Virtual Shakespeare, section 100,
and
English/Women Studies 3267, Prose Written by Women in the Last Ten Years.
---
Spring 2011, I am teaching English 3000, Virtual Shakespeare,
and English/Women Studies 3267, Prose Written by Women during the last 10 years.
Information about Fall 2011 classes will be posted here in due course.
---
In summer 2011, I am teaching an on-line Shakespeare class for UCBoulder. The class will be very similar to:
English 3000, Virtual Shakespeare, on-line
---
For courses from previous semesters and for future semesters, please go to:
www.colorado.edu/English/courses/rlw.
---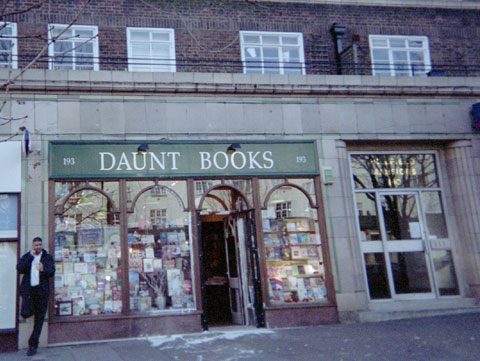 Daunt Books is my favorite store in Hampstead, London, England

---

---

During 2004-2010, I've read (and re-read some of) these works

and recommend them with special enthusiasm:



fiction:
Jhumpa Lahiri. Interpreter of Maladies**
Zadie Smith. White Teeth**
Jane Stevenson. London Bridges*
Amulya Malladi. A Breath of Fresh Air
Sapphire. Push
Mark Haddon. The curious incident of the dog in the night-time
Monica Ali. Brick Lane
Ian McEwan. Saturday*
Matt Bondurant. The Third Translation
Mary Kay Zuravleff. The Bowl Is Already Broken
Lelia Aboulela. Minaret
Anne Tyler. Digging to America**
Jane Gardam. Old Filth*xx
Ha Jin. A Free Life*
Peter Carey. His Illegal Self*
Catherine O'Flynn. What Was Lost
Yiyun Li. A Thousand Years of Good Prayers*
Jill Ciment. Heroic Measures
Padma Viswanathan. Toss of a Lemon
Indra Sinha. Animal's People
Irene Sabatini. The Boy Next Door*xx
Daniyal Mueenuddin. In Other Rooms, Other Wonders
Jane Smiley. Private Life
Jessica Jiji. Sweet Dates in Basra
Marina Endicott. Good to a Fault
Christos Tsiolkas. The Slap
Stieg Larsson. Millenium Trilogy**

* = a book of the decade
*xx = a book of the decade and quite possibly of the century
** = a book of the century

---


non-fiction:
Miles Harvey. Island of the Lost Maps: a true story of cartographic crime
Scott Malcomson. One Drop of Blood
Scott McCartney. ENIAC: The Triumphs and Tragedies of the World's First Computer
Atul Gawande. Complications: A Surgeon's Notes on an Imperfect Science
Clara Bingham and Laura Leedy Gansler. Class Action: The Story of Lois Jenson and the Landmark Case that Changed Sexual Harassment Law
David Lipsky. Absolutely American: Four Years at West Point
Arne Seierstad. The Bookseller of Kabul
John Berendt. City of Falling Angels
Hilary Spurling. Matisse the Master: ... 1909-1954
Alexandra Robbins. The Overachievers: the secret lives of driven kids
Mary Beard. Roman Triumph
Jonathan Weiner. The Beak of the Finch



drama and dance:
Margaret Edson. W;t
Lee Blessing. Chesapeake
Adam Cooper's Les Liaisons Dangereuses.
Tony Kushner. The Intelligent Homosexual's Guide to Capitalism & Socialism with a key to the Scriptures, viewed 17 May 2009 at the Guthrie in Minneapolis MN.


I recommend the following films:
Billy Elliot
Secrets and Lies**
The Hours
Laurel Canyon
Seabiscuit
Girl with a Pearl Earring
Merchant of Venice, 2004
Crash
Walk on Water
Brokeback Mountain
Babel
Michael Clayton
The Secret Life of Words
The Edge of Heaven
Milk**
Slumdog Millionaire*
Burn After Reading
Precious: the movie based on Sapphire's Novel Push**
Toy Story 3
Waiting for Superman*
* or ** = especially recommended
This page was updated on 6 October 2010.
Here is my 411 info
---
University of Colorado.