Feature Films
Movie information links provided courtesy of the Internet Movie Database.
---
The Airship Destroyer (Silent, England, 1909)
A quickie about a zeppelin raid. The model work was very obvious. The film was a great success, and was directed by Walter Booth, produced by Charles Urban. There were 2 sequels to this film "The Pirates of 1920" (1911) and "The Aerial Anarchists (1911). To quote from a movie list: "Inspired by Wells, this is one of the first real science fiction films to be made in England. The story concerns an attack on London by a fleet of airships from an unknown country. Through the extensive use of models, buildings were wrecked, prototype tanks destroyed, and railroads blown up. However, the films young hero, an inventor, launches radio controlled aerial torpedoes at the airships, and saves the day."
Above the Clouds (Columbia, 1934)
Features footage from "Dirigible". A newsphotographer scoops his rivals with the story.
Stars: Robert Armstrong.
Assassination Bureau (Paramount, 1969)
A climatic swordfight in the framework of an early Zeppelin.
Stars: Oliver Reed, Diana Rigg, Telly Savalas.
Director: Basil Dearden.
The Aviator (2004)
A brief sequence with Howard Huhes and his 1930 classic "Hell's Angels".
Stars: Leonardo DiCaprio, Cate Blanchett, Kate Beckinsale.
Director: Martin Scorsese.
The Bed-Sitting Room (1969)
A post-apocalyptic Britain and how it copes with a nuclear war. In the end a kind of british messiah descends from the heavens in a blimp.
Stars: Rita Tushingham, Ralp Richardson, Peter Cook.
Director: Richard Lester.
Black Sunday (Paramount, 1976)
Super Bowl blimp. "Bruce Dern is at his best as the deranged blimp piolt who masterminds the plot, and Robert Shaw is also great as the agent out to stop him."
Stars: Robert Shaw, Bruce Dern, Marthe Keller.
Director: John Frankenheimer.
Blade Runner (Warner Brothers, 1982)
Based on Philip K. Dick's "Do Androids Dream of Electric Sheep?", film director Ridley Scott has a blimp invite us to "Begin a new life on the off-world colonies." The blimp, the city and Scott's vision were brought to the screen by artistry of special effects wizard Douglas Trumbull.
Stars: Harrison Ford, Sean Young, Rutger Hauer.
Director: Ridley Scott.
Buck Rogers (Universal Pictures, 1940)
Movie serial -- first 2 or 3 episodes where Buck loses the airship in a snowstorm.
Charlie Chan at the Olympics (20th Century-Fox, 1937)
Chan boards the Hindenburg from NYC to Europe to arrive ahead of a suspect on an oceanliner.
Stars: Warner Oland, Keye Luke.
Director: H. Bruce Humberstone.
Chitty Chitty Bang Bang (UA, 1968)
Based on a book by Flemming, Ian Flemming. In addition to the title character, has the first helium-filled British airship -- a replica of a Lebaudy blimp -- 37,000 cu ft and 112 ft long, made for the film.
Stars: Dick Van Dyke, Sally Ann Howes, Lionel Jeffries.
Producer: Albert R. Broccoli.
Director: Ken Hughes.
Cold Turkey (MGM, 1971)
Goodyear Blimp flashes message on night sign.
Stars: Dick Van Dyke, Bob Newhart, Jean Stapleton.
Director: Norman Lear.
Daikyojû Gappa (Nikkatsu, 1967)
A juvenile giant monster is transported slung beneath two blimps towed by helicopters.
Director: Haruyasu Noguchi
Darling Lili (Paramont, 1970)
Cameo appearance by a Zeppelin bomber early in this "Mata Hari" spoof musical.
Stars: Julie Andrews, Rock Hudson, Jeremy Kemp.
Director: Blake Edwards.
Devil Dogs of the Air (WB, 1935)
A James Cagney vehicle that features some fleet ops with a unique two-second shot of a late MACON dropping a Sparrowhawk. Distant, tiny and quick, but unique.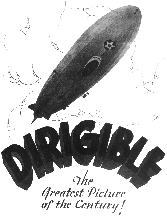 Dirigible (Columbia, 1931)
Airships, airplanes, and the South Pole. Features the U.S.S. "Los Angeles" and Lakehurst
Based on a story by Frank Wead
Director: Frank Capra.
Don Winslow of the Navy (Universal, 1942)
12-chapter serial features a U.S. Navy rigid airship in several chapters.
Stars: Don Terry, Walter Sands, Anne Nagel.
Directors: Ford Beebe and Ray Taylor.
Foreign Correspondent (UA, 1940)
Stars: Joel McCrea, Larainne Day, Herbert Marshall.
Director: Alfred Hitchcock.
Goldfinger (MGM/UA, 1964)
Just after the main titles you'll see a blimp on the right side of the screen.
Stars: Sean Connery, Honor Blackman, Gert Frobe.
Director: Guy Hamilton.
The Great Race (WB, 1965)
Jack Lemmon as "Professor Fate" accompanied by Peter Falk
includes a hot-air balloon and a fanciful airship to spy on Tony Curtis
Director: Blake Edwards.
Hardly Working (Paramount, 1981)
This is the one where Jerry goes from job to job. During his stint as a mailman in Florida he delivers mail to the Goodyear Blimp base, and, finding no one around, he takes the blimp for a ride!
Star & Director: Jerry Lewis.
Hell's Angels (Astor Pictures, 1930)
WW1 saga has a good Zeppelin raid scene in it (with some typical Hollywood embellishment - did the Germans ever really cut the cloud car loose with someone still in it?!?!) as well as some great WWI dog fight and bomber scenes.
Stars: Ben Lyon, James Hall, Jean Harlow.
Director: Howard Hughes.
Help! (UA, 1965)
The Beatles -- from Beethoven to Blimp.
Director: Richard Lester.
Here Comes The Navy (WB, 1934)
A Cagney comedy with the perpetual misfit bouncing from the ARIZONA to the real MACON. As far as I can tell the cast and crew actually went to Sunnyvale and filmed a typical MACON undocking and launch operation. There is a very good closeup of the stern beam and bridle. Since this was fine grain 35mm the quality is much better than we usually get. And it's unique to that picture, even though some stock Navy film is also used.
Hidden Valley (Monogram Pictures, 1932)
Bob Steele and Gertrude Messinger -- and the Goodyear blimp: Volunteer! The typical B-western story involves a cowboy and a gang of crooks searching for a secret treasure. The hero is injured and the plot is resolved when (of all unlikely things) the blimp and the protagonist's allies come to the rescue.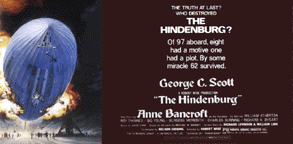 The Hindenburg (Universal, 1975)
Based on the stabotage theory. Good feel for the times and for transatlantic travel aboard the amazing ship. And yes, the LZ129 had a Bluthner piano on board its first season flights -- but not this one.
Stars: George C. Scott, Anne Bancroft, William Atherton.
Director: Robert Wise.
Hole in the Head (MGM/UA, 1959)
Musical/comedy with a blimp in the opening
Stars: Frank Sinatra, Edward G. Robinson, Thelma Ritter.
Director: Frank Capra.
Hope and Glory (Columbia, 1987)
"A funny, poignant, truthful, and enjoyable child's-eye view of London during The Blitz." Hard to miss the barrage balloon.
Stars: Sarah Miles, David Hayman, Derrick O'Connor.
Director: John Boorman.
Indiana Jones and the Last Crusade (Paramount, 1989)
In their quest for the Holy Grail, Sr. & Jr. exit Germany via ILM's passenger Zeppelin, complete with F9C clone.
Stars: Harrison Ford, Sean Connery.
Producer: George Lucas.
Director: Steven Spielberg.
Island at the Top of the World (Disney, 1974)
Verne's dirigible travels to the North Pole and discovers an island with a colony of Vikings. Go figure.
Director: Robert Stevenson.
Kiki's Delivery Service (1989)
Majo no Takkyubin
A dirigible plays a big part.
Director, Screenplay, Production: Hayao Miyazaki
King of the Texas Rangers (Republic, 1941)
This serial features a ZR3-like airship that takes a bad-guy's hook-on plane in the first and last chapters. Forgettable other than it is one of the few times Hollywood featured the hook-ons.
Laputa: The Castle in the Sky (US: Buena Vista, 1986)
Tenku no shiro Rapyuta
"In an imaginary kingdom where new technology mixes with old and giant airships ply the skies, a young boy, an evil mastermind, a forgotten princess, a band of sky pirates, and a legion of doomsday robots battle to discover or protect the secrets of the legendary floating city called Laputa." Animated.
The League of Extraordinary Gentlemen (US: 20th Century Fox, 2003)
English-uniformed raiders devastate a German Zeppelin works, the flaming skeletons collapsing in Hindenburg-style devastation.
Stars: Sean Connery.
Director:Stephen Norrington.
Lost Zeppelin (Tiffany, 1930)
Naval airship crashes in Antarctica
Madam Satan (MGM, 1930)
Strange musical aboard a passenger ship.
Stars: Kay Johnson, Reginald Denny, Lillian Roth.
Director: Cecil B. DeMille.
Master of the World (Disney, 1961)
Based on the Jules Verne novel.
Stars: Vincent Price aboard a fantastic airship.
Director: William Witney.
Mummy Returns (Universal, 2001)
Starnge airship allows the fearless crew to escape supernatural sandstorms.
Stars: Brendan Fraser, Rachel Weisz, John Hannah, Arnold Vosloo.
Director: Stephen Sommers.
Murder in the Air (WB, 1940)
Involves a US airship named the USN Mason (not a typo). Surprisingly enough, the Mason -- which is testing the super secret Inertia Projector -- crashes off the coast of California. It all appears to be shot using studios mock ups and props. I don't remember seeing any prototype footage in the movie. This film is the source of the crash scenes in the 1946 history of the rigids.
Stars: Ronald Reagan as 'Brass' Bancroft
Director: Lewis Seiler.
The Quest (Universal , 1996)
Stars Jean Claude Van Dam as an American fighter in the 1920s who gets entered into a global martial arts tournament in the Far East. Roger Moore plays an English con man. At the height of the tournament, he and his assistant try to make off in the night with the heavy grand prize by sailing away in a hovering vintage white blimp. The blimp is real and is in many shots, though Moore and companion are caught when the blimp is shot and deflated.
The Red Tent (Paramount, 1969)
Recreation of Nobile's doomed arctic voyage
Stars: Sean Connery, Claudia Cardinale, Peter Finch.
Director: Mikhail Kalatozov.
The Rocketeer (Disney, 1991)
Based on Dave Stevens' graphic novel character Cliff Secord -- a hot pilot who stumbles across a one-man rocket pack. Explosive climax on the LZ130 "Luxemburg" with remarkable effects from ILM. This is a highly underrated film.
Stars: Bill Campbell, Jennifer Connely, Timothy Dalton.
Director: Joe Johnston.
S1 (Nordisk [a Danish company], 1913-Silent)
Set in Germany, it features a generals daughter, played by Asta Nielsen, who gets a ride in a zeppelin, namely LZ10 Schwaben. The film used the airship extensivly --- in the hanger, on the ground, and in the air with vistas mainly of the Ruhr. Apparantly, Nielsen used the ship for a leaflet drop advertising a new cinema.
Scarface (Universal, 1983)
Goodyear blimp makes an appearance over Miami's night sky.
Stars: Al Pacino, Michelle Pfeifer.
Director: Brian DePalma.
Sky Captain & The World of Tomorrow (Paramount, 2004)
Looks like it took its inspiration from Fleicher's classic Superman cartoons. In fact, it looks like a comic. Laden with state-of-the-art deco visuals -- including the usual exploding dirigibles.
Stars: Jude Law, Gwyneth Paltrow.
Director: Kerry Conrtan.
A Star is Born (First Artists, 1976)
Streisand vehicle with the blimp's shadow passing over a stadium.
Steamboy (Triumph Films [Sony], 2005)
Animated. The title character is abducted by a pressure airship, and the comic villain escapes in another.
Director: Katsuhiro Otomo
Thank God it's Friday (Columbia Picures, 1978)
With a Goodyear blimp nightsign footage .
This Man's Navy (MGM, 1944)
Definitive WWII Navy airship movie with extensive filming at NAS Lakehurst
Stars: Wallace Beery, James Gleason, Tom Drake.
Director: William A. Wellman.
Thunder In The City (Columbia, 1937)
Movie begins and ends with multiple blimps flying on an ad campaign over New York and London
Stars: Edward G. Robinson, Nigel Bruce, Ralph Richardson.
Director: Marion Gering.
A Ticklish Affair (1963)
Finale features a rescue from an aerial ladder into a U.S. Navy blimp gondola
Stars: Gig Young, Red Buttons.
Director: George Sidney.
Two Minute Warning (Universal, 1976)
Football and blimp as a sniper spotter.
Stars: Charlton Heston, John Cassevetes, Martin Balsam.
Up! (Disney/Pixar, 2009)
A house, lifted by balloons, sails the sky and a Hindenburg-size dirigible grace this wonderful film.
Directors: Pete Docter, Bob Peterson.
View to a Kill (UA, 1985)
Bond is shaken, not stirred, atop the Golden Gate Bridge via blimp.
Stars: Roger Moore, Christopher Walken, Grace Jones.
Director: John Glen.
Waterworld (Universal, 1995)
Postapocalytic airship in search of land.
Stars: Kevin Costner, Dennis Hooper, and the Pacific Ocean.
Director: Kevin Reynolds.
White Diamond (Marco Polo Film AG, 2004)
Documentary released as a feature film. A helium filled balloon journeys of the rainforest of Guyana. Stunning.
Stars: Graham Dorrinton.
Director: Werner Herzog.
Wings (Paramount, 1927)
Academy Award winner, silent film. WW1 bombing raids.
Stars: Clara Bow, Charles Rogers, Richard Arlen.
Director: William A. Wellman.
Zeppelin (WB, 1971)
WW1 secret sabotage mission to Scotland. Great re-creation of an early combat Zeppelin.
Stars: Michael York, Elke Sommers
Director: Etienne Perier.