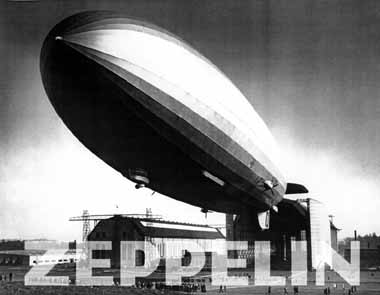 Archiv der Luftschiffbau Zeppelin GmbH
ZEPPELIN was the name given to the duralumin-internal-framed, dirigibles invented by the persistent Count Ferdinand von Zeppelin. The LZ1 made its initial flight from a floating hangar on Lake Constance, near Friedrichshafen in Southern Germany, on 2 July 1900.
The Zeppelins were used in both war and peace. In the era before the widespread use of the airplane, they were used for aerial excursions in Germany and made regularly scheduled passenger flights across the Atlantic to Brazil and the United States. In demonstration flights, the Graf Zeppelin traveled to the Arctic and to Palestine, and also circumnavigated the globe. The U.S. Navy acquired a Zeppelin as part of its own dirigible program (LZ126/ZR3).

Zeppelins logged in over a million miles of passenger travel without loss of life. The tragic destruction of LZ129 Hindenburg on 6 May 1937, and the onset of WW2 marked their demise. The last of the Zeppelins, LZ130 Graf Zeppelin II, was subsequently restricted to military use and, along with the globe-trotting LZ127 Graf Zeppelin, was dismantled in 1940.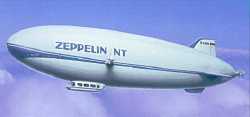 In 1994, the Zeppelin Luftschifftechnik GMBH in Friedrichshafen announced plans to test new technology in the construction and manuvering of passenger / cargo-carrying dirigibles. Preliminary tests were completed and flight tests of the NT began 18 September 1997. Flights led to certification. On 15 August 2001, the Deutsche Zeppelin Reederei began commercial passenger flights. By early 2003, three ships had been built and flown and others planned.
It's been over 100 years since Count Zeppelin's first flight. Today, his legacy endures, his vision thrives and his dream is alive.