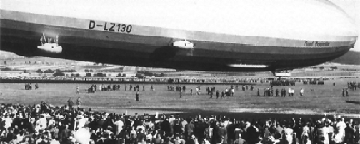 < LZ130 Graf Zeppelin II was built in 1937.
ZEPPELIN is a name that has passed on into cultural legend. Many have forgotten Count Ferdinand von Zeppelin after whom these ships are named, but very name evokes visions of giant passenger ships voyaging across land and sea.
Three years after the demise of LZ129 Hindenburg, the LZ127 and LZ130 were dismantled in 1940 ending the golden era of the great passenger ships. But they have never been forgotten. Members of their crews and their passengers diminish yearly but what they did and experienced lives on.
Today, the Zeppelins have returned. In 1997, the Zepplin Luftschifftechnik built a new airship -- the LZ NT. The ship is certified. Commercial passenger flights began 15 August 2001.
This website gives you a place to begin learning about both the history and the present of the Zeppelin airships.