About the Artist
Annie's artwork is inspired by a deep love of nature. She grew up playing in the woods and by the lakeshores in Minnesota. Her approach to the changing and often subtle colors and light found in nature shows the influence of both summers spent in Maine and her present home in the Colorado mountains. Annie spends as much time outdoors as she can, whether hiking, climbing, skiing, biking, running— or just quietly sitting, taking in the beauty around her. Although a friend introduced Annie to watercolors when she was a young adult, it has only been within the last twelve years or so that she discovered a real passion for watercolor painting. She started taking classes and hasn't stopped. Her quiet time now often
includes painting somewhere in a beautiful setting. She has painted on location in Greece, the San Juan Islands, Maine, Crested Butte, Guatemala, Nepal, and, of course, the Nederland and Indian Peaks area where she lives. Many of her paintings are inspired by reflective time spent in these beautiful places.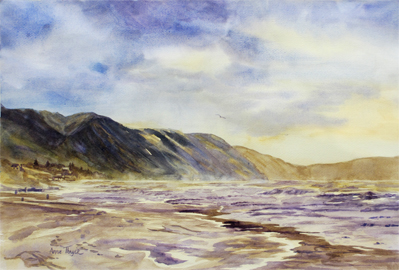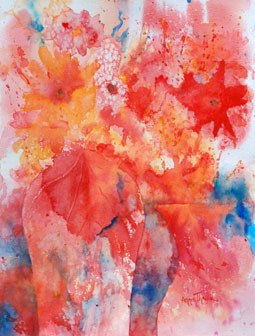 Artist Statement
One of the things I love about watercolor painting is the playful nature of it. I am fascinated with how the paint moves and flows, creating a sense of motion and energy. I find my most interesting paintings are those I don't try to control. When I can remove the need to produce something and instead let my joy and a sense of discovery lead me into the painting, then it takes me where it wants to go. Watercolor painting allows me to combine my love of nature, color, and movement into a very satisfying creative expression. For me, painting is like a dance. I most often have to stand up while I'm painting so I can move with the flow. My desire is to work from my heart and capture what I'm feeling inside. The more I learn to do this, the more fun I have painting, and then I sing, "How can I keep from painting!" I hope you will find something that moves you or connects you with the places I love.