Welcome to the Living Materials Laboratory at the University of Colorado Boulder. Our experimental and computational materials science research integrates biology with polymer and cement chemistry to create sustainable, biomimetic, and living materials for the built environment. We focus our experimental efforts on elucidating fundamental process-structure-property relationships of the new biological building materials that we create and our computational efforts on embodied carbon and carbon storage using product- and whole-building life cycle assessment.

Our group is led by Associate Professor Wil V. Srubar III (CV). Prof. Srubar holds a PhD from Stanford University, as well as BS and MS degrees from Texas A&M University and the University of Texas at Austin, respectively. To date, Prof. Srubar has received $14.5 Million in sponsored research funding as Principal Investigator and $13.2 Million as Co-PI or senior personnel. He is the author of more than 100 technical journal papers, book chapters, and conference proceedings, and he is a recipient of the NSF CAREER Award. He is an active member of the American Society of Civil Engineers, the Architectural Engineering Institute, and the American Concrete Institute.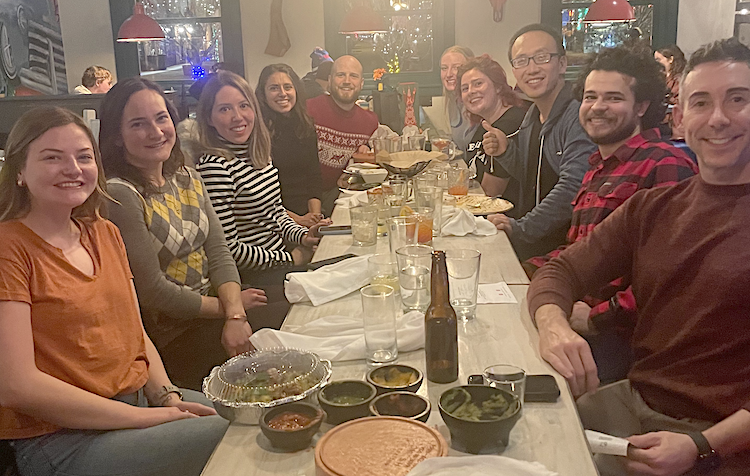 2022 Holiday Party! L to R: Melissa Frey (CVEN PhD), Isabel Russell (CVEN BS/MS), Dr. Cansu Acarturk (Postdoc), Danielle Beatty (MSE PhD), Matt Jungclaus (AREN PhD), Madalyn Murphy (CHBE BS), Rebecca Mikofsky (MSE PhD), Dr. Jie Ren (Postdoc), Nicolas Dowdy (MSE PhD), Dr. Wil Srubar (PI). Not Pictured: Martin Torres (AREN PhD) and Austin Data (CVEN PhD).
---
Recent News



University of Colorado at Boulder / Department of Civil, Environmental, and Architectural Engineering
© 2013 W Srubar III