---

---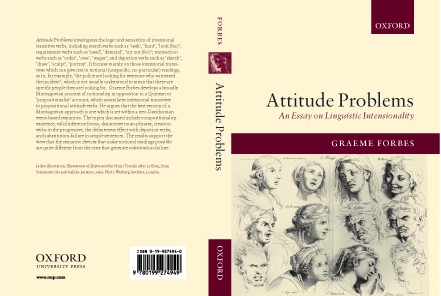 Published by Oxford University Press in Fall 2006. As with Modern Logic, below, I did the typesetting myself. So far as I can see, there is only one typesetting gaffe, though unfortunately, it greets the reader early on, namely, in the Table of Contents, which I reproduce (minus gaffe) here. I've also prefaced the Preface to this file, since some people have told me that towards the end it gets interesting. This is the toned-down version -- OUP wondered if Draft 1 was actionable!
The Press's page for the book on its US website is here, and on its UK website, here.
---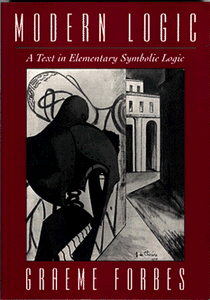 Modern Logic, Oxford University Press, 1994. A textbook in logic. The third printing corrects the vast majority of typos, slips and mistakes in the first printing, and the fourth printing (summer 1999) eliminated a good portion of the remainder. So far as I know. I still have a small handful of minor corrections to make next time I get the chance to produce new proofs.
Material related to this book, including TOC and sample chapters, may be found by clicking here.
---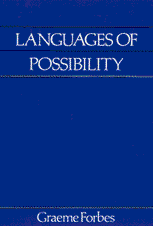 Languages of Possibility, Basil Blackwell, April 1989. Volume 9 in the Aristotelian Society Monograph Series. There are reviews in The Philosophical Quarterly (1990) 271-3; The Journal of Symbolic Logic 56 (March 1991) 351-52; and The Philosophical Review 103 (1994) 139-142.
---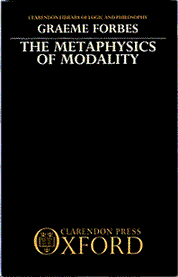 The Metaphysics of Modality, Oxford University Press, Clarendon Library of Logic and Philosophy series, May 1985. Now out of print, but an e-version is available here. The main reviews which appeared were in Mind (1986) 135-8; Philosophical Books (1986) 65-72; The Philosophical Review (1988) 127-31; The Journal of Philosophy (1988) 329-37; Noûs (1988) No.3; The Philosophical Quarterly 38 (1988) 365-70; and Philosophy and Phenomenological Research (1990) 615-619.
---
---
Return to Graeme Forbes's Home Page