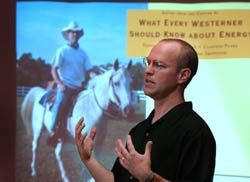 Photo Courtesy Casey A. Cass/University of Colorado at Boulder





Thanks for stopping by! hannigan@colorado.edu
I reside in the mechanical engineering department at the University of Colorado at Boulder. I am also involved in the environmental engineering program, the Center of the American West, and the educational arm of the CU Energy Initiative. I thoroughly enjoy teaching courses to both mechanical and environmental engineering students. I have an active research program that focuses on air pollution and energy use. New items of interest for all: I am teaching two classes in the coming Fall (2009): Sustainable Energy and Aerosols. Be sure to register!