Infidel Kings and Unholy Warriors: Faith, Power, and Violence in the Age of Crusade and Jihad
(New York: Farrar, Straus & Giroux, 2014)
Download Table of Contents
An in-depth portrait of the Crusades-era Mediterranean world, and a new understanding of the forces that shaped it.

In Infidel Kings and Unholy Warriors, the award-winning scholar Brian Catlos puts us on the ground in the Mediterranean world of 1050–1200. We experience the sights and sounds of the region just as enlightened Islamic empires and primitive Christendom began to contest it. We learn about the siege tactics, theological disputes, and poetry of this enthralling time. And we see that people of different faiths coexisted far more frequently than we are commonly told.

Catlos's meticulous reconstruction of the era allows him to stunningly overturn our most basic assumption about it: that it was defined by religious extremism. He brings to light many figures who were accepted as rulers by their ostensible foes. Samuel B. Naghrilla, a self-proclaimed Jewish messiah, became the force behind Muslim Granada. Bahram Pahlavuni, an Armenian Christian, wielded power in an Islamic caliphate. And Philip of Mahdia, a Muslim eunuch, rose to admiral in the service of Roger II, the Christian "King of Africa."

What their lives reveal is that, then as now, politics were driven by a mix of self-interest, personality, and ideology. Catlos draws a similar lesson from his stirring chapters on the early Crusades, arguing that the notions of crusade and jihad were not causes of war but justifications. He imparts a crucial insight: the violence of the past cannot be blamed primarily on religion.
- Honorable Mention (European and World History) 2015 American Publishers PROSE Awards for Professional and Scholarly Excellence
- 10 best books of August [2014] (The Christian Science Monitor)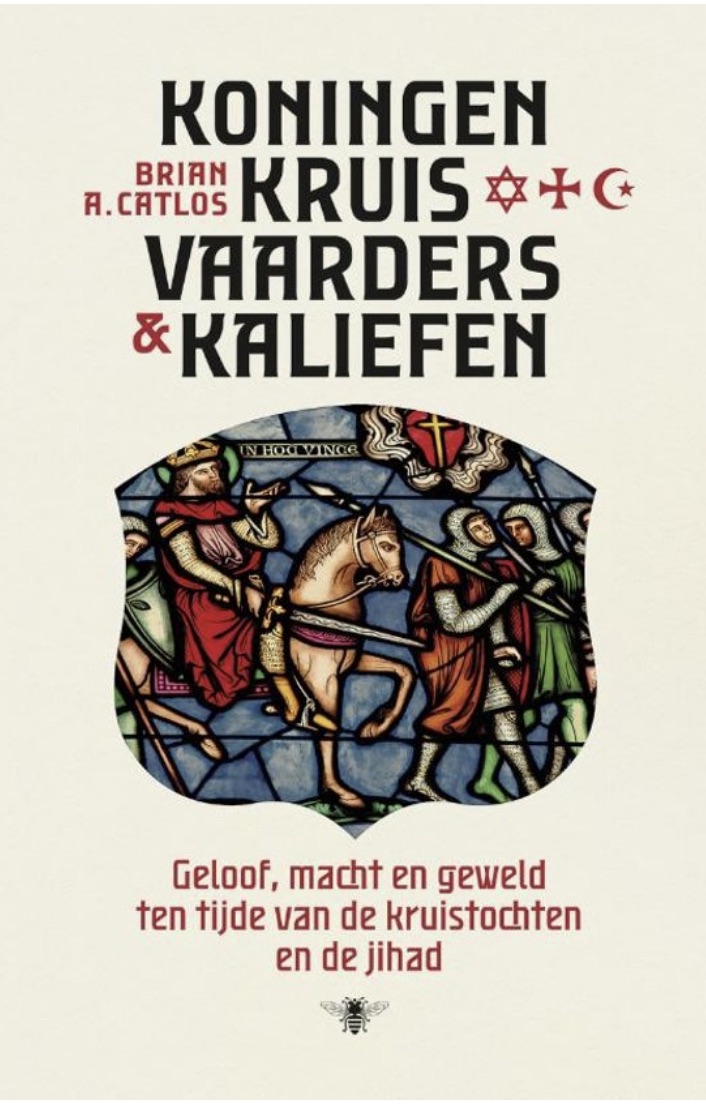 Dutch translation: Koningen, kruisvaarders & kalifen. Geloof, macht en geweld ten tijde van de kruistocten en de jihad (Antwerp: De Bezige Bij, 2015).
Praise for Infidel Kings
"Brian A. Catlos takes us on a tour of a medieval Mediterranean world in which Muslims, Christians, and Jews all worship the same twin gods of power and wealth. They lived together, fought together, and traded together, saving religion for those Machiavellian moments when it was useful for pursuing politics or destroying rivals. Catlos's age of Crusade and jihad is not one of faith but of power and violence, in which people of all religions are intertwined in a vast Game of Thrones. The result is a vivid historical narrative, as well as a provocative allegory for the present."
- David Nirenberg, professor of Medieval History and Social Thought, University of Chicago

"Absorbing and illuminating, Infidel Kings and Unholy Warriors deepens our appreciation of an era that seems so improbable now: those centuries when Muslims, Jews, and Christians were twined in one another's destinies."
- Tamim Ansary, author of West of Kabul, East of New York

"In this fast-paced narrative of coexistence and warfare in the medieval Mediterranean, Brian A. Catlos shows how the language of religious strife has concealed the political and economic struggles that heralded modernity."
- Thomas F. Glick, professor of History, Boston University

"Through a series of illuminating vignettes, Brian A. Catlos provides new insights into the complex relations between Christians, Muslims, and Jews in the medieval Mediterranean. His lively narrative and command of the sources allow us to see the nature of both the antagonism and cooperation between the three groups. This is an excellent book and a wonderful portrait of an important aspect of Mediterranean society."
- Teofilo F. Ruiz, professor of History, University of California, Los Angeles.
"Panoramic in its scope and precise in its obervations, Infidel Kings will fully engage those new to the history of the crusading age and, at the same time, instruct those who know--or thought that they knew--quite a bit about the period."
- Phil Daileader, associate professor of History, The College of William and Mary
One of "Five new books on the Middle Ages worth a look!" at medievalists.net (November 2014)
Reviews
"A dramatic review of Mediterranean history in the Middle Ages."
"The author moves from west to east as he examines this complex world through the stories of various individuals.... These people, and a wide host of others, come alive in the author's energetic prose."
A vivid history of "the collaboration and integration of the Muslim, Jewish, and Christian peoples of the Mediterranean that laid the foundation for the modern world."
Kirkus Reviews (1 June 2014)
"Clearing away distorted religious histories, Catlos opens prospects for interfaith realism in the future."
Book List (1 June 2014) *starred review
"Catlos alternates focus between figures whose stories have survived the passage of time—while accreting diverse myths and legends—and on those who have slipped into obscurity but who lived lives as fascinating and remarkable as they are unfamiliar."
Publishers Weekly (9 June 2014) *book of the week (25 August 2014)
"... a violent journey from the western to the eastern Mediterranean... feels like an action-packed collection of adventure stories rather than a historical presentation or argument... Rather than follow the path of previous historians, Catlos points to an issue that is still relevant in politics today: the constant struggle for power and self-interest, regardless of religion, as the root of conflict in the Mediterranean"
Shepherd Express (28 August 2014)
" Scholar Brian Catlos argues that the Crusades were more a struggle for power than a battle about religion, and stresses the many moments of cultural integration and strategic cooperation during the era."
Christian Science Monitor (28 August 2014)
"...a fascinating and complex account of diversity, collaboration and conflict in the period when medieval Christianity met the Islamic golden age..."
Shelf Awareness (from History in the Margins; 29 August 2014)
"It is, as Catlos writes, "the collaboration and integration of the Muslim, Jewish, and Christian peoples of the Mediterranean that laid the foundations for today's globalized world." This is the value of "Infidel Kings and Unholy Warriors" for us today."
Buffalo News (31 August 2014)
"Catlos … unfolds a detailed history of power, politics and religion in the Middle East. … Catlos contends that religion was neither the sole nor overriding factor in Christian-Muslim battles. Yet the aftermath of those hostilities has clear and disturbing ramifications in today's turbulent events in the Middle East."
Wichita Eagle (28 September 2014)
"This compelling account of the Crusades era debunks the clash-of-civilizations paradigm in which the period is typically cast... Catlos does not overlook the violence of the period but argues that it was stoked more often by money and power than by religion and ideology."
The New Yorker (6 October 2014)
"Brian Catlos really can write. His narrative focuses on the lives of a series of extraordinary individuals, some well-known (Reynald of Chatillon and the Cid), some less so (Yusuf ibn Naghrilla). Through rebuilding and retelling their colourful careers and exploring the pressures and events that shaped their lives, Catlos paints a vivid picture of the dynamic world of the mediaeval Mediterranean that – at times – makes his work very hard to put down. Indeed, Infidel Kings stands as testimony to the power of story-telling within the context of a professional and well-researched piece of popular history..."
• Nicholas Morton, Nottingham Trent University
Islam and Muslim-Christian Relations (November 2014)
"To say that the book is scholarly and well documented does not entirely do it justice. It is exciting to swoop through history that is not usually generally taught or known, and yet contains the seeds for many of the conflicts of today. I cannot recommend this book highly enough."★★★★★
San Francisco Book Review (November 2014)

"Brian Catlos' "Infidel Kings and Unholy Warriors,"deftly manages to compose a narrative that explores the period's often dizzying historical, political and cultural complexities while simultaneously infusing the text with moments of entertaining, accessible prose..."
Al-Jadid (December 2014)
"The place of religious belief in sparking execrable acts of violence is as crucial as any we face as medievalists or as students of the Mediterranean... Brian Catlos is to be commended for making such a substantial contribution to that discussion."
- Jay Rubenstein, University of Tennessee - Knoxville
The Medieval Review (21 August 2015)