Kingdoms of Faith: A New History of Islamic Spain
(New York: Basic Books, 2018)
A magisterial, myth-dispelling history of Islamic Spain spanning the millennium between the founding of Islam in the seventh century and the final expulsion of Spain's Muslims in the seventeenth In Kingdoms of Faith, award-winning historian Brian A. Catlos rewrites the history of Islamic Spain from the ground up, evoking the cultural splendor of al-Andalus, while offering an authoritative new interpretation of the forces that shaped it. Prior accounts have portrayed Islamic Spain as a paradise of enlightened tolerance or the site where civilizations clashed. Catlos taps a wide array of primary sources to paint a more complex portrait, showing how Muslims, Christians, and Jews together built a sophisticated civilization that transformed the Western world, even as they waged relentless war against each other and their coreligionists. Religion was often the language of conflict, but seldom its cause–a lesson we would do well to learn in our own time.
Instructors: Request an examination copy here.
- Book club distribution: Bookspan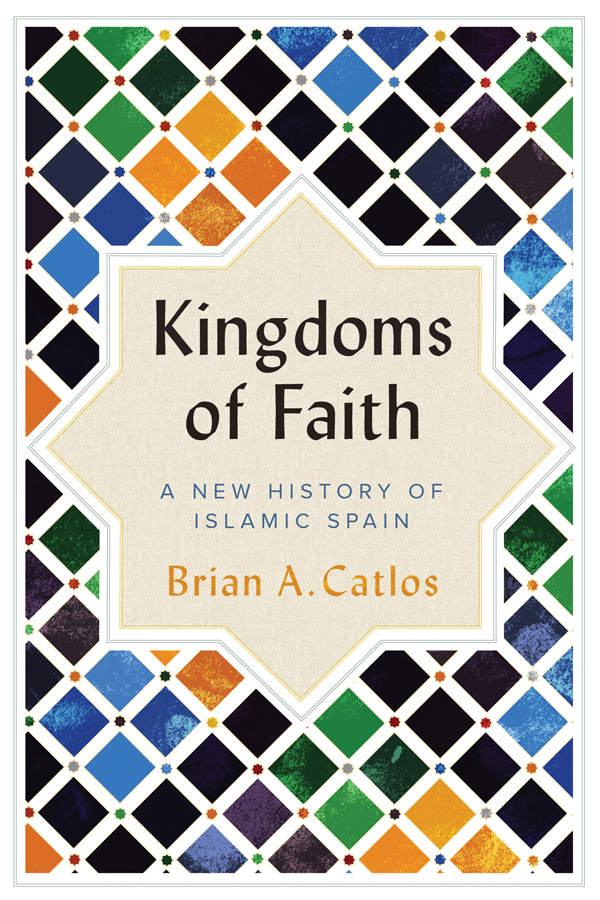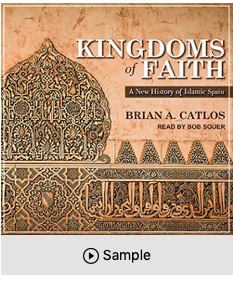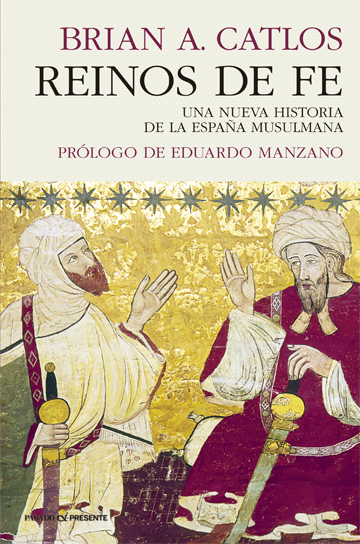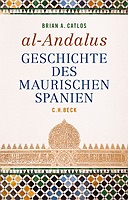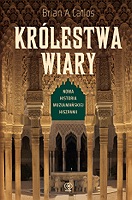 - UK & Commonwealth edition: Hurst & Co.;
- Audiobook (Tantor Media, 2018), available at audible.com;
- Reinos de fe. Una nueva historia de la España musulmana [foreword by Eduardo Manzano] (Barcelona: Pasado y Presente, 2019);
- Al-Andalus Geschichte des maurischen Spanien (Munich: Beck Verlag, 2019);
- Królestwa wiary. Nowa historia muzułmańskiej Hiszpanii (Posnan: Wydawniczy Rebis; forthcoming December 2019)
- 十字架上的新月:伊斯蘭統治下的西班牙(711-1614)[Complex Chinese] (Taipei: Owl, 2020);
- UK revised paperback 2nd edition (Hurst, 2021)
- Simplified Chinese translation (Beijing: Gingko, forthcoming 2022);
- Korean translation (Seoul: Ghil, forthcoming 2022);
- Russian translation (Moscow: Medina, 2022)
Download the Table of Contents here

Advance praise:
"This is a lively and interesting new account of medieval Spain and Portugal which steers away from the usual stereotypes and gives us a new, and much more nuanced account of relations and interactions between the various communities and faith groups in the peninsula."
- Hugh Kennedy, professor of Arabic at SOAS, University of London, and author of Caliphate: The History of an Idea
"Brian Catlos's Kingdoms of Faith offers an insightful and nuanced view of Islamic Spain from its origins in the eighth century to the poignant demise of Islamic presence, as exemplifed by his brilliant reflection on Cervantes's fictional Morisco character, Ricote. Based upon a masterly command of sources and the secondary literature, Catlos eschews the hyperbolic descriptions of Islam in Iberia and the exaggerated claims of tolerance while, at the same time, showing its many accomplishments and enduring legacy. It is a brilliant, well-written, and well-researched book that will force historians to see the Islamic presence in the peninsula in a new light."
- Teofilo Ruíz, distinguished professor of history, UCLA

"In Kingdoms of Faith, Brian A. Catlos takes us through the kaleidoscopic interplay of Muslim-Christian relations, bringing clarity to a complex narrative. His deft analysis illuminates the forces brought to bear in creating both the myth and reality of life in 'Moorish' Spain."

- Thomas F. Glick, professor of history, emeritus, Boston University, and author of Islamic and Christian Spain in the Early Middle Ages
"Mediterranean studies have been shaped in an informative and innovative way by Brian Catlos' contributions in the recent decades. His incursion now into the history of a specific region and polity – that of al-Andalus (Medieval Iberia under Muslim rule) - brings to the fore the same qualities that characterize his previous work: an inquisitive and incisive mind that hones in on perceptive questions, combined with the ability to recreate past events in an appealing manner for a wide audience."

- Maribel Fierro, Research Professor, Institute of Languages and Cultures of the Mediterranean, CSIC (Madrid), and editor of The Western Islamic world: eleventh to eighteenth centuries (The New Cambridge History of Islam, II)
"Kingdoms of Faith constitutes a fresh and original contribution to the history of al-Andalus, rooted in the author's profound knowledge of medieval iberian history. Catlos has managed to produce a very well-written and lively narrative that provides an up-to-date synthesis of the most recent developments in this field of history."
- Alejandro García Sanjuán, professor of History, University of Huelva, and author of Coexistencia y conflictos : minorías religiosas en la Península Ibérica durante la Edad Media
'Spirited, probing and original, this is a key history of Muslim Spain. Its unique perspective illuminates the vexed issue of religious, political and cultural interaction between Christians, Jews and Muslims, revealing its vital importance to the history of modern Europe."
- Elizabeth Drayson, professor of History, University of Cambridge, author of The Moor's Last Stand
"A brilliant narrative history of the rise and fall of Muslim Spain. This balanced, lucid, and myth-breaking account sheds light on a unique society that has too often been demonised, romanticised or simplified."
- Matthew Carr, author of Blood and Faith: The Purging of Muslim Spain, 1492–1614
"A sweeping narrative of lost possibilities now achingly, exigently relevant to Europe's contemporary aspirations. I wish this invaluable and impressive book every success."
- David Levering Lewis, author of God's Crucible: Islam and the Making of Europe, 570-1215
Reviews:
"I had always imagined the world of the Spanish Reconquista to be a crudely binary affair... Mr. Catlos shows how instead the intimate interactions that took place with the Islamopile kings of Seville allying with their Moorish friends in Granada against Christian rivals and attempting to imitate the luxusious lives of their sophisticated Moorish contemporaries in the Alhambra..."
- William Dalrymple "12 Months of Reading" in The Wall Street Journal (14-15 December 2019)
"....Kingdoms of Faith is a masterful balancing act that covers a gargantuan timespan and manages many different perspectives to reach an understanding of the power dynamics at play in the history of Islamic Spain. It achieves a clear, cohesive and even humanising vision of Spanish history that is... a highly valuable contribution to the field and an exceptional read for non-specialists."
- Stephan Venmans Journal of Muslims in Europe 8 (2019)
"One of the 7 Best Islamic History Audiobooks of All Time" (Book Authority,2019)
Religion, Best Sellers #10 (Library Journal, March 2019)
"Only one instance of mass beheadings is offered, but this is dismissed as mere legend.... Mass crucifixions are reduced to three men, one long dead."
- Darío Fernández‐Morera The Historian (81:1, 2019)
"25 Good History Reads" (World Magazine, 27 September 2018)
"The ambition of Brian Catlos in this excellent new account of the period is to provide not just a thoroughly up-to-date history but one that resists the narrative tug of both Right and Left. In over 400 dense but fluent pages, he has forged a tight synthesis of the latest research in a fresh portrait of nearly a millennium of history, whose lasting impact is still monumentally under-appreciated by its unknowing Europeans heirs."
- Damian Howard, The Times Literary Supplement (17 May 2019)
"In Kingdoms of Faith: A New History of Islamic Spain, Brian Catlos, a historian at the University of Colorado, expertly navigates between these clashing interpretations and presents a balanced account of the Muslim occupation of Spain and its consequences... Catlos has produced an excellent political history of al-Andalus."
- Robert Irwin, The New York Review of Books (21 March 2019)
"Through repeated reuse and misuse over the years, the story of Islam in Spain has acquired a thick crust of legend and mythology. Brian Catlos's new history is valuable not only because it offers a reliable foundation for any discussion of the subject, but because it offers little comfort to either side in modern political disputes... Kingdoms of Faith is an exceedingly well-written and thoroughly researched book. Catlos's emphasis throughout on nuance and complexity is an essential corrective to the stark dichotomies proposed in much contemporary mythology."
- Philip Jenkins, Christian Century (7 November 2019)
".... Catlos unpacks historical interpretations that ignore facts or are flawed by religious partisanship, national myth, or imaginative legend.... Noteworthy is the author's examination of ethnic and sectarian interactions: Arab-Berber, Muslim-Christian, Muslim-Jewish, Christian-Jewish, etc. Especially instructive for today's world is Catlos's scrutiny of the Reconquista and Inquisition and their negative impact on Spain's Muslims and Jews. Summing Up: Recommended. Upper-division undergraduates through faculty and professionals."
- CHOICE (November 2018)
"Catlos has fundamentally changed the terms of an important debate by offering a wiser alternative to a path "between" eternal civilizational struggle and a glittering civilization of tolerant pluralism: a history of "Islamic Spain" fully integrated into broader Mediterranean and Eurasian patterns and which thus cannot be reduced to religious rivalry, foreign invasion, or indigenous legitimacy."
- Claire Gilbert, Reading Religion (AAR: 23 October 2018)
"... Catlos has prodoced a substantial new synthesis, drawing on the latest Spanish-language scholarship... this is a gripping, colourful and humane account of a period that should be known better."
- Nicola Clarke, History Today (October 2018)

"Brian Catlos's new book ... is a richly layered tapestry of kings, amirs, princes, ministers, knights, renegades, turncoats, scholars, clerics, slaves, craftsmen, merchants, consorts, palaces and fortresses, featuring Christians, Muslims and Jews....Catlos knows how to tell a story."
- Asian Review of Books (4 September 2018)
"A history of Islamic Spain counters centuries of romantic myths... Catlos rightly notes how the reconquista wasn't solely religious in motive and had enlightened spells. Christian and Muslim knights fought together on both sides of most battles. And after the Muslim metropolis of Toledo came under Christian rule, the translation of its famed Arabic libraries led to the discovery of classical learning essential to the Renaissance..."
- The Financial TImes (3 August 2018)

"Catlos imparts an intimate sense of how members of different ethnic and religious communities negotiated subtle alliances and engaged in long-lasting cultural exchanges. The final lesson is that the legacy of Islamic Spain—"nine hundred years of creative engagement that took place despite religious difference" — endures."
-The New Yorker (23 July 2018)
"In this new history of Islamic Spain, Al-Andalus, Catlos (The Victors and the Vanquished) aims to correct misconceptions of the region from its two common historical narratives... Relying on primary sources and considerable recent scholarship from Spain, North Africa, and Europe, he succeeds in producing a lively, engaging history. VERDICT Recommended for readers of Spanish, Islamic, and European history"
-Library Journal (starred review) (1 May 2018)